School16 Tech Sales Bootcamp: An Honest Review
The tech industry nowadays is overflowing with a lot of tech jobs ranging from product management, digital marketing, software sales, and a lot more. However, a lot of people cannot advance in their desired career development in tech companies because they simply lack the skill.
The good news is there are plenty of online courses that offer to teach practical skills to help you snatch a tech sales job. One of the best tech sales BootCamp that I can recommend is School16 Tech Sales Bootcamp for its comprehensive learning modules and its impressive job placement rate.
If you want to have a good shot with tech sales and make a name for yourself in the tech industry, School16 will help you land a job. This article will help you to understand how School16 operates and how it maximizes its modalities to help you master tech sales and those skills needed in significant tech positions.
School16 Tech Sales Bootcamp in a Nutshell
School16 Tech Sales Bootcamp is a 40-hour course divided into seven modules: Introduction to tech sales, understanding customer journey, building relationships in the space, leading conversations with clients, understanding the buying process, reviewing customer data and analytics, and advanced sales techniques. It also offers additional resources such as a sales dictionary, tech sales templates, and webinars.
The bootcamp has three main goals: to give you the skillset needed for a successful career in tech sales; to teach you how to build relationships with clients; and finally, to provide guidance on how to use data and analytics in order maximize your success as a tech salesperson.
This part-time, virtual course is perfect for busy professionals or students. Twice a week, classes take place on Zoom in the evenings. There is no need to worry as homework assignments can be completed conveniently at any time of the week.
School16's Course Content that Helps you land Tech Jobs
The course content is divided into seven modules, each focusing on a particular subject that will help you build your skills in tech sales. Each module contains several lessons to help you understand the topics better. The modules are: Introduction to Tech Sales; Lead Qualification Methodologies, Communication Tactics of Top Sellers, Moving Deals through the Sales Funnel, Understanding the Consultative Sales Process, and Customer Success and Account Management.
Personally, I am in awe of the simplicity of the sales courses offered by School16 as it only targets core business roles in tech companies. In other words, these courses are straightforward but teach tech sales with advanced learning concentration.
These modules are designed to help you understand the basic concepts of tech sales, such as customer journey mapping and sales techniques, while also providing advanced topics such as data analysis and how to use it to improve your sales performance.
Each module offers hands-on training through case studies and interactive assignments to understand the topics better. The School16 team also provides a forum for students to ask questions, share experiences, and discuss their progress with other learners.
Whether you are doing software sales or product management in technology companies, School16 got your back.
Core Competencies that can help you carve your success through School16
The tech world is a complex universe. Thus, it would be best if you had tech sales bootcamps to hep you make your place in big tech companies. At the end of the 8-week BootCamp, you will be able to :
• Understand what tech sales is and how it can help you grow in your career;
• Learn the basics of customer journey mapping;
• Master the art of communication so that you can build relationships with clients;
• Understand the buying process and learn how to move deals through the sales funnel quickly;
• Learn how to use data and analytics to maximize your performance in sales; and
• Understand the consultative selling process, customer success, and account management techniques.
Sales skills mentioned above are key to great sales jobs. School16 made sure you are ready to shine. One common misconception nowadays is that tech jobs equal coding jobs. The truth is, they are entirely different. Even those with no college degrees and zero writing skills can take their game to the new level and have a shot in technology career options.
Is School16 Tech Sales Bootcamp for Everybody?
School16's courses are specialized role awareness classes to ensure that each mentor teaches tech sales even to those with zero background in tech. Practically, the School16 Tech Sales Bootcamp is for everybody. Aspiring salespeople holding non-tech background will have a better shot at switching careers and fulfilling their career goals.
Those with backgrounds in product management and digital management, especially in the customer service industry, will surely get valuable and practical skills for career oriented assignments.
The School16 tech sales BootCamp specifically tailored it for students who already have experience or interest in this area, such as product managers, operations professionals, and customer support staff with an affinity towards technology. While prior knowledge of tech fields aids your success here – even former entrepreneurs are welcome – they also advise any budding applicants without technical backgrounds to first take their Technology Career Acceleration Program before applying.
Are School16's Technology Career Acceleration Program and Tech Sales Bootcamp just the same?
No, School16's Technology Career Acceleration Program and Tech Sales BootCamp are not just the same. The Technology Career Acceleration Program is a short-term course designed for those with no prior knowledge or experience in the tech industry.
It is a great way to get an introduction to the field of technology and understand what it takes to succeed in tech sales. The program helps students to develop their basic technical and analytical skills, as well as provides an introduction to the world of customer relationship management (CRM).
On the other hand, School16's Tech Sales Bootcamp is designed for those with some knowledge or experience in technology and are looking to deep dive into tech sales. This bootcamp focuses on refining and developing the students' existing skills, such as working with data and analytics to maximize sales performance. It also covers topics like consultative selling and customer success as well as account management techniques.
School16's Faculty: Are They Good?
The School16 team is full of experienced and highly qualified members. Most of them have great reputations in the tech industry and are renowned for their groundbreaking work in the field of tech sales.
The mentors at School16 bring years of real-world practical experience to give students a unique learning opportunity. They guide you on how you can apply the theoretical knowledge you learn to real-world scenarios.
Moreover, when it comes to the BootCamp, School16 has a robust support system in place for all its students. They have a dedicated customer success team who are available 24/7 to answer any queries or doubts that may arise.
There's a Scholarship Option but its Tuition and Payment Options are Pretty Decent
School16 offers a variety of flexible payment options, making it easy to get the education you need without taking on too much risk. The full tuition for one course is only $3500 and students can choose from scholarships or repayment plans if needed.
Even those currently unemployed have an option: deferring payments until they find employment again. Employed individuals should also consider expensing their School16 tuition through their employer.
All students have the opportunity to make their dreams of higher education a reality with their flexible and affordable payment plans. With no interest attached, you can spread out your tuition payments into monthly installments that work for any budget.
Career Development Scenarios for School16 Tech Sales Bootcamp Graduates
The engaging program offered through the 8-week BootCamp will prepare you for a career in tech. After completing the course, you will now have a chance to land high-paying tech positions such as software account executives, channel sales leaders, and more.
Not only will the skills you learn in this BootCamp help you gain access to such jobs but it can also give you a strong start in any tech-related career.
At School16, they strive to create opportunities for their students to help them secure a better future. The courses are created in such a way that they equip you with the skills and knowledge needed to land your dream job.
Their tech sales boot camps also come with dedicated one-on-one sessions, career counseling and mentoring, access to a network of industry professionals and a comprehensive job search platform.
These tools and services can help you find your desired position in the tech industry and provide you with the skills necessary to succeed in that role.
Is doing Tech Sales a High-Paying Job?
Technology career is a lucrative one. These careers include, but not limited to, Account Executive, Customer Success Manager, Business Development Representative, Sales Development Representative, Account Manager, and those engaged in the customer service industry.
Building skills through tech sales bootcamps will boost your chances of having a decent job with a good salary. Those in tech sales are enjoying relatively high salaries, credited in part through the experiential classes offered by bootcamps.
To illustrate the competitive salary enjoyed by tech BootCamp students seeking career growth, I scanned Glassdoor for median salaries of select tech sales jobs. I am surprised at how much one can get from doing these jobs, considering that no previous experience is required!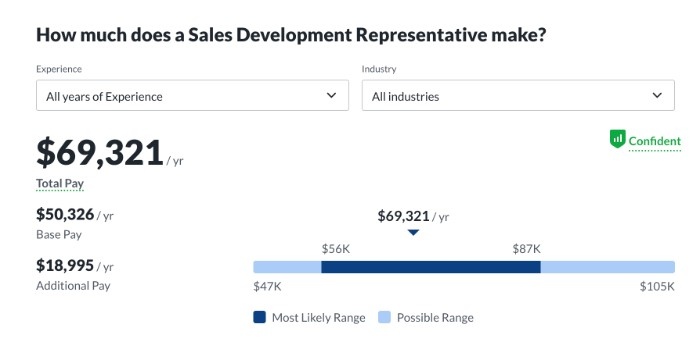 According to Glassdoor, Sales Development Representatives can look forward to a salary that is well above the median for U.S.-based jobs, with an average of $50,326 per year and estimated total pay reaching up to around $69,321 annually. Plus additional compensation on top! Not bad, eh?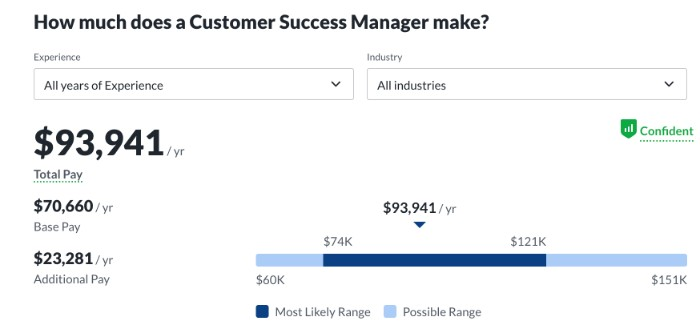 The estimated reward is substantial for those interested in a career as Customer Success Manager! Glassdoor data suggests that this profession typically pays around $93K per year in the US. The majority of employees enjoy an average salary near $71K annually, with additional cash bonuses and other compensation adding to their income for an overall projected earning potential of more than one hundred thousand dollars each year.
The Tech Industry is Rapidly Evolving. So should you.
A college student facing difficulties in landing a job should rethink his or her strategy. Technology is quickly changing and to keep up with the industry, one should have an updated skill set.
Taking tech sales boot camp classes will greatly benefit students in this endeavor. It is a great way to get the knowledge needed for a successful future in the tech industry, while also giving them access to the necessary resources they need to thrive in the job market.
Hiring managers are looking for those who are knowledgeable in the technology field and can quickly adapt to the ever-evolving industry. With a Tech Sales BootCamp, one can learn the essential skills needed to excel as a tech salesperson and increase their chances of landing a well-paid job.
Challenges to Expect upon Enrollment
When you enroll in a School16 program, you will be faced with various challenges that can make it difficult to complete the course.
School16 does its best to ensure student success by offering 24/7 support and assistance, as well as providing resources for students to use when needed. Students should also prepare themselves mentally and emotionally for the journey ahead.
It is important to remember that consistency and dedication are key when it comes to mastering new skills. It may take time to reach a desired level of proficiency in any given skill, but if you stick with the program and stay focused, success can be yours! There are too many online reviews about tech sales BootCamp that say this is the best and that. But at the end of the day, it is really up to you to acquire those new sales skills to grab any of the many jobs available in the tech world.
Tech companies are relying on Tech Sales Bootcamps to source their talents
Sourcing talented individuals to fill in positions in the tech industry is becoming increasingly difficult. Companies are turning towards tech sales boot camps as a source of qualified professionals, allowing them to quickly identify and hire top talent with the right skillset.
Tech Sales BootCamp graduates typically have an advantage over other candidates, since they have already been trained and tested on aaS products, software development tools, and other advanced technologies. Moreover, having gone through the program allows them to demonstrate their knowledge and experience in the field during interviews.
Additionally, companies are looking for individuals who have a deeper understanding of customer service and sales processes, something which tech boot camp graduates already possess.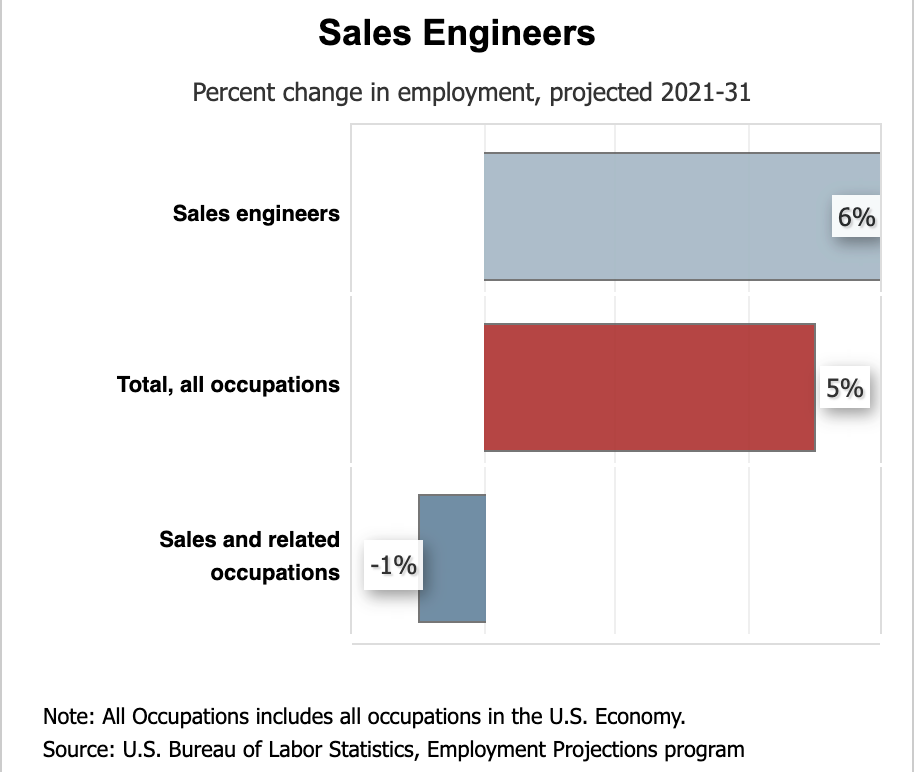 The job outlook for Sales Engineers — that fancy title to describe salespeople doing tech sales — is also promising. According to the US Bureau of Labor Statistics, the demand for sales engineers will be high in the next decade.
If you're looking for a job with plenty of opportunities, becoming a sales engineer may be the right move! Employment in this profession is expected to rise steadily over the next decade – more than 6,900 openings are projected annually on average. Not only that but many retiring workers will open up even more spots which means your chances look great. Thus, enrolling in School16 Tech Sales Bootcamp is thus a good idea!
School16 Tech Sales Bootcamp Review: The Final Verdict
Overall Rating: 8.2/10
Best Features: Evening classes, practical courses, shorter time for completion, affordability, zero interest in payments, and scholarship options
Without a doubt, the School16 Tech Sales Bootamp is a force to reckon with. Work on your own success by enrolling in this practical course that I bet you cannot get through university courses. A college student who wishes to take a shot in tech sales, product management, software sales, software engineering and more can really put into action the practical applications offered by School16 tech sales bootcamp.
If your wish is to land a job and if you are tired of an internship program that doesn't really work, the career support and active community set forth by School16 can help build your confidence. Aspiring salespeople will find the industry mentor who teaches marketing principles a valuable gift to help them be a part of a professional team.
The usually long and tedious job search is made easier by School16. Job placement assistance will easily jumpstart your career, either in tech sales positions or those engaged in the customer service industry. With a sound job search strategy and all the right credentials acquired through this bootcamp, you can be sure to make an impression!