Mechatronics Engineering Degree: Will It Have a Great ROI In The Future?
In a world brimming with bright potential for technological advancements and automation, wouldn't it be exciting to take on a career that lets you explore this possibility? Lucky for dreamers like you, there's a college degree that helps you achieve this aspiration. A path in learning mechatronics engineering technology is generating buzz online for its challenging and exciting career path.
Although not much is known about a mechatronics engineering bachelor's degree because of its up-and-coming nature, there's so much to unpack about this degree and this is what this article is all about.
This will elaborate on the mechatronics degree, possible career paths, expected salary, job satisfaction, and more. Hop in to discover whether mechatronics engineering is worth your time or not!
What Is a Mechatronics Degree?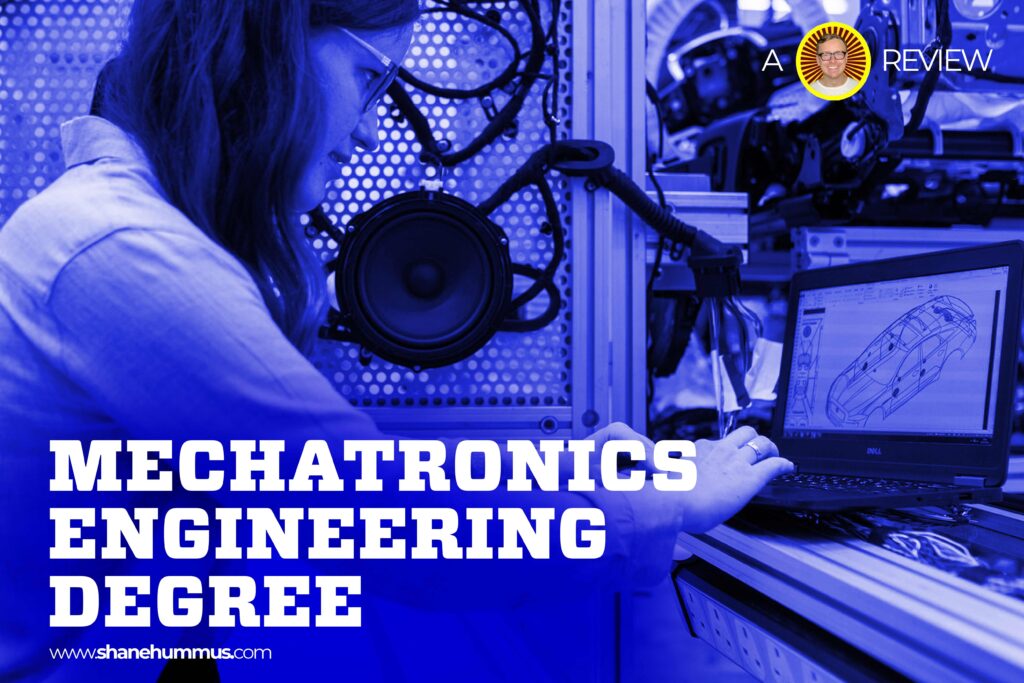 This emerging field of study is a degree that combines the fundamentals of electronics, mechanics, and computer science.
In addition, a mechatronics engineering bachelor degree is a multidisciplinary program that aims to produce graduates who can take automation, manufacturing processes, and systems at the forefront of technological evolution.
Being equipped with the techniques, skills such as graphical communication and project management, combined with hands-on experience from a mechatronics degree makes it easier for graduates to design and build machines that can accomplish tasks automatically.
Aside from learning the different parts of machines, a mechatronics degree will help you understand programs, computers, applications, and software to interact with programmable logic controllers.
If you have this insatiable curiosity and are passionate about robotics systems, have a knack for project management, willing to go out-of-the-box to innovate, and are willing to sharpen your brain for bouts of challenges that require critical thinking, a mechatronics engineering bachelor degree is a program that you might want to consider.
How Long Will It Take to Finish a Degree in Mechatronics Engineering Technology?
Similar to other engineering degrees, acing the mechatronics engineering technology typically takes around four years to complete, provided that you are an incoming freshman or first-year student with no prior college credit.
In specific instances where a student has completed an associate degree that consists of adequate science and math courses, the mechatronics engineering bachelor degree completion may be cut in half.
It is important to consider that depending on your chosen university, some may offer accelerated programs or different learning modalities that will accommodate students.
Career Path and Job Market Demand For Graduates of Mechatronics Engineering Technology

Employment opportunities for graduates of mechatronics engineering are projected to have a declining rate of 4% from 2021 to 2031.
However, according to the US Bureau of Labor Statistics, an estimate of about 1,100 job openings is expected every year for individuals who know the use of mechatronics engineering technology.
These employment openings are due to the need of replacing workers who exited the workforce, transferred to another industry, or those who are retired.
What Jobs Can You Get With Techniques and Skills in Mechatronics Engineering Technology?
With a degree in mechatronics engineering, you'll have the skills and knowledge to work in a wide range of industries and pursue a variety of exciting and challenging jobs. Some of the include the following:
Robotics Engineer/Technician
Like its namesake, a robotics engineer or technician designs and builds robots or robotics systems. These robots can be used in a variety of applications, such as automated manufacturing, medical procedures, space exploration, and more.
Robotics professionals use their complex knowledge of mechanical engineering, electronics, and computer programming to create robots that can perform specific tasks.
Control System Designer/Troubleshooting Engineer
Equipped with the applied and dynamic knowledge of mechatronics technology and other related sciences, a control system designer or troubleshooting engineer controls the behavior of devices, pieces of machinery, and even systems.
Aside from this main responsibility, control system designers or troubleshooting engineers are also capable of developing, designing, innovating, or maintaining systems that optimize the interaction between machines and programs.
Automation Engineer
An automation engineer designs and develops automated systems that help increase productivity and efficiency in manufacturing plants, warehouses, and other facilities Some of them are employed in advanced manufacturing that use programmable logic controllers and smart machines for problem solving.
These systems typically involve the use of machines and computers to perform tasks that were previously done by humans. Try to think of automated teller machines! These are possible with the help of an automation engineer.
Product Design Engineer
Responsible for designing and developing new products, improving existing ones, and ensuring that they are both functional and aesthetically pleasing, product design professionals utilize their extensive knowledge of various areas of engineering principles to create innovations intended for the use of the people.
In addition, product design technicians test and evaluate prototypes and ensure compliance with the quality and safety standards of their innovations.
Mechanical Design Engineer
Mechanical design professionals develop and design mechanical systems and concepts that include a variety of tools, engines, and machines. Typically, they use computer-aided design (CAD) software in creating models.
Overall, a mechanical design engineer plays a key role in the development of mechanical systems and components, from concept to launch. They use basic knowledge, different engineering technology, and creativity to design systems and components that meet the needs of the user and solve technical problems.
Job Outlook After Completing a Mechatronics Degree

Despite the projected decline as stated by the U.S. Bureau of Labor Statistics, the job outlook for mechatronics engineering graduates is generally positive, with many opportunities available in a variety of industries.
Since the application of mechatronics engineering technology combines the principles of mechanical, electrical, and computer engineering, graduates of mechatronics engineering are said to have a diverse set of skills such as project management, graphical communication, and problem solving capabilities are highly sought after in the job market.
It is also important to remember that knowledge and skills in mechatronics engineering technology involves multidisciplinary fields of studies that aim to design and develop complex systems and products.
According to the BLS, the industries that primarily employ professionals who are recognized by the engineering technology accreditation commission are the following: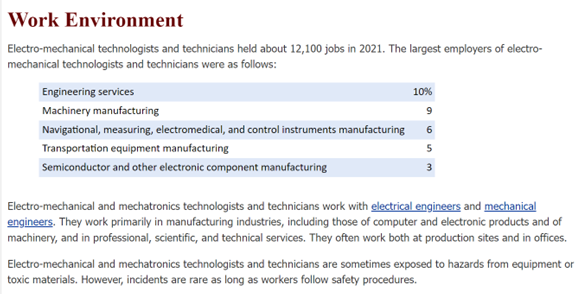 Aside from these primary industries, the continued rise of smart technologies, the need for automation, and even AI (artificial intelligence) integration, the demand for individuals who understand the engineering technology of mechatronics might grow.
Average Salary of a Mechatronics Engineer

In the data dated May 2021, provided by the BLS, the median annual wage for mechatronics technologists and technicians was $60, 360. This average annual wage is at least $15,000 higher than the total median wage of other occupations.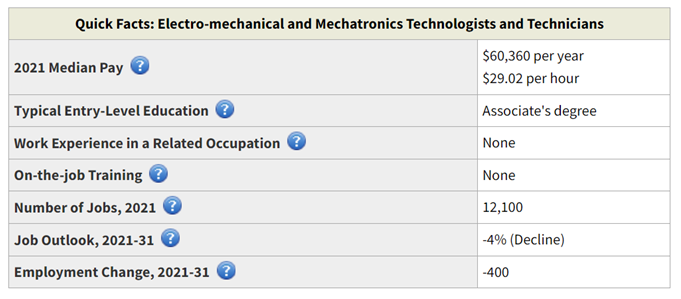 Since the figure provided by US BLS identifies this median salary for mechatronics technologists and technicians (who graduated with an associate's degree), this median pay might increase.
Factors such as industry, seniority, experience, and skill level might affect the change in a mechatronics engineer's median pay.
According to Glassdoor, a mechatronics engineer might earn from $59,000 – $144,000 a year. This average annual salary includes all industries and all years of experience.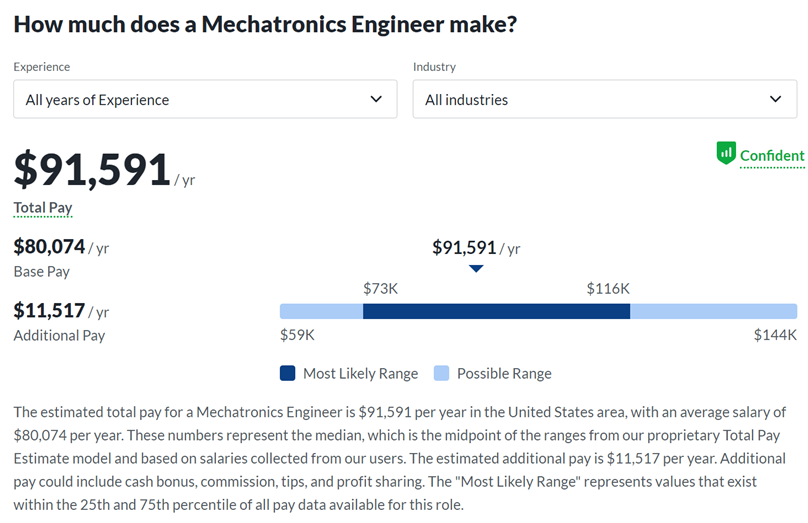 If, for example, you utilized your mechatronics degree to pursue a career in robotics, you can expect an annual salary range of $67,000 to $156,000.
As for graduates who are looking to build their careers and become mechanical design engineers, Glassdoor estimates an annual median pay of $96, 734 for all industries and all years of experience.
Job Satisfaction from a Mechatronics Engineer's Perspective

Despite the seemingly complex and difficult concepts that mechatronics engineering students need to learn, grasp, or understand, those who successfully conquered this hurdle and are now working as one are apparently happy with their careers.
A survey done by CareerExplorer indicated that professionals duly recognized by the engineering technology accreditation commission rate their career happiness with a whopping 3.5 out of 5.
This high job satisfaction might come from different factors such as salary considerations, suitability to personality, work environment enjoyment, and meaningfulness. Take a look at this data compilation from CareerExplorer.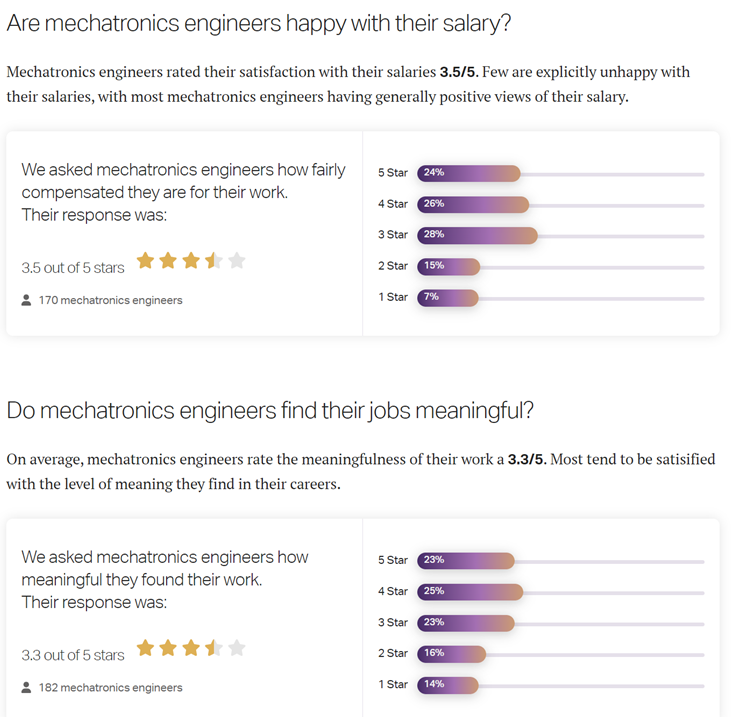 How Do Mechatronics Engineers Fare in the Real World?
To give you a glimpse of the real-world concerning mechatronics engineers, I looked into Reddit and read through responses about a wide variety of discussions regarding this degree. Here's what I found.
How is Your Life Now that You're a Mechatronics Engineer?
Scouring through Reddit, this thread answered a curious question from a current mechatronics engineering student about life as a professional after graduating from the degree.
Among the many answers in the thread, this one stood out the most for its elaborate discussion of the career possibilities of the degree.
I compared the Glassdoor estimate for a mechatronics engineer's annual salary with what professionals are receiving in real-life.
This Reddit user was confirming whether $90,000 is a reasonable offer for an entry-level mechatronics engineer and this thread discussed that the salary offer is a great starting point.
Does a Mechatronics Engineering Degree Offer Good Career Opportunities?
Projections by the BLS might offer a useful overview for aspiring mechatronics engineering students.
However, the information presented might not be enough to convince anyone who's looking to make a career out of their passion in mechanics, electronics, and computer science.
This Reddit thread discussed the broad and flexible scope of learning which is helpful for identifying career opportunities later on.
Is a Degree in Mechatronics Engineering Technology for You?
If you're still weighing out whether this degree is right for you, it's ideal to look into your skills, interests, and future career aspirations. Since mechatronics engineering is a complex and multidisciplinary degree, it requires a level of understanding, focus, and commitment to finish.
Here's a checklist that might help you arrive at a more informed and more secure decision.
| | | |
| --- | --- | --- |
| | Yes | No |
| INTERESTS: Do you have an unwavering passion for working with mechanical systems, computers, and electronics? | | |
| PERSONAL PREFERENCES: Are you naturally curious about things and how they work? Do you want to solve complex solutions and do you have the heart to innovate? | | |
| ATTITUDE: Can you keep up with the fast-paced nature of the work involved in mechatronics engineering? Are you willing to learn and continually upskill? | | |
| REQUIRED SKILLS: Do you have strong analytical skills, a robust foundation in physics and mathematics, and the creativity to approach problems from an out-of-the-box perspective? | | |
| CURRICULUM: Are you willing to pursue and learn from the courses integrated into the mechatronics engineering degree curriculum? | | |
| COST: Is the cost of studying for a mechatronics engineering degree from your potential educational facility within your budget? | | |
| TIME COMMITMENT: Can you render four to five years to complete this degree? | | |
| PRE-REQUISITES: Have you completed the prerequisite courses necessary to get enrolled in the mechatronics engineering degree? | | |
| ACCREDITATION: Is the facility you're considering duly accredited by the Engineering Accreditation Commission of ABET? | | |
| CAREER GOALS: Do you think that obtaining a degree in mechatronics engineering aligns with your long-term career plans? | | |
| JOB PROSPECTS: Is there a sustainable and flourishing employment market for mechatronics engineering graduates? | | |
How to Choose the Best Institution To Learn Mechatronics Engineering Technology?
While an institution will not significantly impact your success as a mechatronics engineering professional, selecting the best option for this degree might give you an advantage in terms of skills, learnings, and hands-on experience.
The main factors you should assess are the following:
Program Accreditation
Make sure the program is accredited by a recognized agency involved in engineering technology accreditation commission such as ABET (Accreditation Board for Engineering and Technology). Accreditation ensures that the program meets high standards of quality and that your degree will be recognized by employers and other universities.
Curriculum
Look at the courses offered and ensure that they cover the necessary topics in mechatronics engineering. Consider if the program offers practical experience through internships, co-op programs, or hands-on projects.
Facilities
Check if the school has modern labs, equipment, and technology for mechatronics engineering. A well-equipped facility can provide hands-on learning experiences and prepare you for real-world applications.
Faculty
Research the faculty members and their qualifications. Check if they have relevant industry experience or research expertise in areas that interest you.
Cost
Compare tuition fees, scholarships, and financial aid options from different schools. Consider the total cost of the program, including textbooks, housing, and other expenses.
Industry Partnerships
Look for schools that have partnerships with industry leaders in mechatronics engineering. Such partnerships can offer opportunities for internships, research collaborations, and job prospects after graduation.
Advantages and Disadvantages of a Mechatronics Degree
If you are considering a degree in mechatronics engineering, it is important to weigh the pros and cons of this decision. Pursuing this field of study has its advantages and drawbacks that should be carefully evaluated.
A mechatronics degree strategically combines electrical engineering, mechanical engineering, and computer engineering which opens up a wide range of job opportunities. You can either go into aerospace, industrial automation, fluid mechanics, robotics, automotive, advanced manufacturing, and others.
On the other hand, becoming a student trying to learn the application of mechatronics engineering technology is an expensive undertaking. This is due to the cost of specialized equipment and facilities. Moreover, the coursework for this degree is rigorous, always requires critical thinking, mentally challenging, and time-consuming.
FAQs About Mechatronics Degree
Are there any specializations I can pursue with an understanding of mechatronics engineering technology?
It is important to understand that a mechatronics degree is a specialized field of study already. However, if you want to further your studies in a more specific application, you can choose to study more about automation, advanced manufacturing, control engineering, electrical engineering, automotive electronics, robotics, and instrumentation with programmable logic controllers.
What are the courses I will learn while pursuing a degree in mechatronics engineering?
Since a mechatronics degree is a multidisciplinary field of study, you will need to be knowledgeable about a lot of things. These include calculus, physics, chemistry, statistics, engineering, algorithms and data structures, machine design, and many more.
How is a mechatronics degree different from other engineering degrees?
Unlike other engineering degrees that specifically focus on one area of specialization or application, a mechatronics degree combines the study of three different fields – electrical, mechanical, and computer systems. Simply put, a mechatronics degree is a specialized field of study.
Mechatronics Engineering Degree: Final Verdict
Salary: 9.5/10
As presented by the BLS, the average annual wage for mechatronics assistant/technician who graduated with an associate's degree reaches up to $60,360. Despite not earning a bachelor's degree, this financial return offers a promising progression for students who are looking to further studies or complete post-graduate courses.
Satisfaction: 9/10
I have limited interaction with individuals who have a sufficient understanding of the fundamentals of mechatronics within my circle. However, reading through the posts from actual mechatronics graduates about their career fulfillment is enough to convince me that people find meaning and satisfaction in the flexible opportunity and industry that this degree paves the way to.
Demand: 7/10
Eventhough a mechatronics engineering degree is a specialized field of study, the declining rate as stated by US BLS, and the overlapping fundamentals and skills taught in other engineering degrees may offer limited and specific job opportunities to mechatronics degree graduates.
X-Factor: 8.5/10
The overlapping and combined knowledge of electrical, computer, and mechanical studies makes mechatronics engineering degree holders effective, flexible, and adaptable in a highly-technical workplace and industry.
With the current state of technological advancement, demand for automation, and need for individuals who have multidisciplinary skill sets in the fields of studies earlier mentioned, degree holders can utilize their relevant skills and hands-on experience to elevate their value in an otherwise competitive labor setting.
Final Score: 8.5/10
To sum it all up, a mechatronics engineering degree is an exciting choice for students who want to open their horizons in a wide variety of industries. Since you'll have adequate techniques, skills, and exposure in either electrical, computer, or mechanical fields, you can explore different fields of work and open career possibilities that deliver attractive pay and meaningful work.
Alternatives to Mechatronics Engineering Degree
If you don't think that mechatronics engineering will suit your career preferences, there are tons of degree options that you can assess before making a final decision.
You can either focus on becoming an electrical engineer, a mechanical engineer, a civil engineer, an aerospace engineer, or a software engineer.
These are just a few examples of the many engineering pathways available to you. Each one offers a unique set of challenges and opportunities, so it's important to research your options and choose the one that best aligns with your interests and goals.