What is the Entry Level Digital Marketing Salary for the Most Common Digital Marketing Job Titles?
Digital marketing jobs have proven to be one of the most stable career opportunities this world offers. Working in a digital marketing role meant that you have the potential to earn figures which are way above the average salary, especially for entry-level positions.
The best thing about it is the fact that you do not necessarily need a bachelor's degree to get a job to be an entry-level digital marketer. Multiple websites are now offering courses and boot camps that can give you the skills and knowledge that can help you qualify for digital marketing jobs.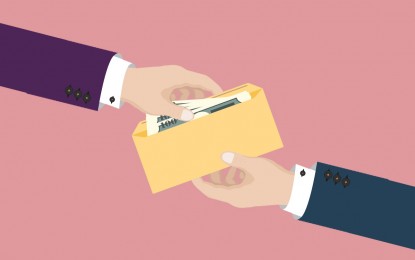 The Rising Demand for Digital Marketing Roles in 2022

There are over 69,059 search results on LinkedIn when you search for entry-level digital marketing positions. Highlight the fact that the number of results is 69,059… that is in the U.S. alone and the search results are only about ENTRY LEVEL Digital Marketing Jobs!

There are over 5.16 billion people who use the internet worldwide. This number is expected to grow as technology and innovation continue to develop all over the globe. Business owners are already accepting the fact that marketing campaigns should be done digitally to stay competitive in their chosen markets.
The facts presented simply mean one thing: Digital Marketing Jobs are and will continue to pop up and will be in need of a huge labor force!
Digital Marketing Job Titles with their Corresponding Digital Marketing Salaries
Now that we have discussed a brief overview of the number of opportunities available for aspiring digital marketing specialists, let's talk about actual figures now.
Listed below are the job title and its equivalent annual average digital marketing salary.
Digital Marketing Specialists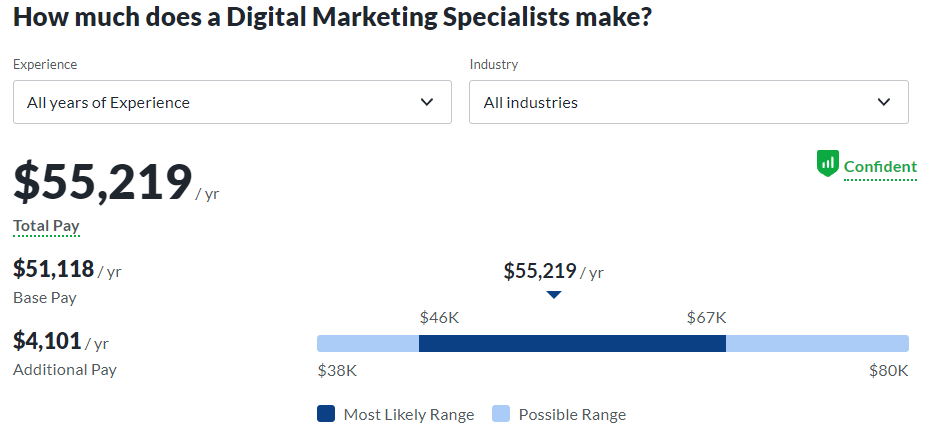 Generally, people who are involved in the digital marketing field hold the job title of "Digital Marketing Specialist". They are the people tasked with carrying out marketing campaigns through the use of various digital channels and various digital marketing efforts.

Comparing the national average annual salary of an average U.S. citizen, a digital marketing manager/specialist already has the financial edge. According to Glassdoor.com, the average digital marketing specialist salary is $55,219. This just goes to show that the digital marketing industry is indeed growing and digital specialists and digital marketing managers are being paid generously.
Email Marketing Specialist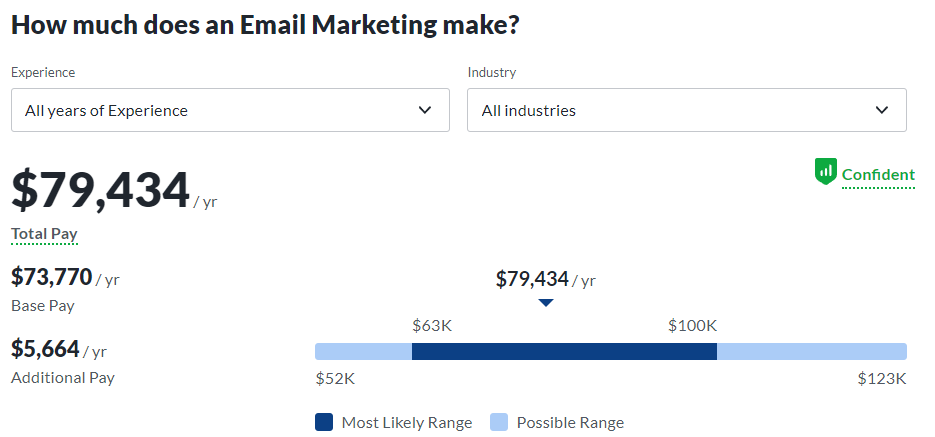 Email marketing specialists are in charge of executing and monitoring a variety of email marketing campaigns. From ensuring that the emails are perfectly written, analyzing various potential email recipient details, monitoring email marketing strategy effectiveness, and more!
With $79,434 as an annual average salary, dealing with these email-related tasks makes the effort definitely worth it!
Social Media Manager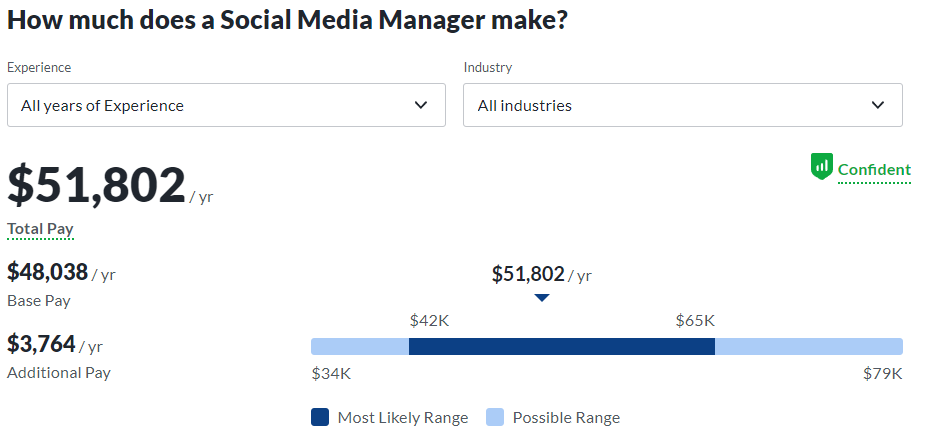 Social media marketing strategy has become highly effective because a good digital marketer can identify growth opportunities, and plenty of that is found in crowded social media platforms.
Social media managers are responsible for using social media to promote their products and services online! Whether it be creating a cool Instagram photo, making a funny Tiktok, creating a Twitter poll, or all the other social media marketing strategies, social media managers are paid a decent amount to basically manage social media accounts!
Content Strategist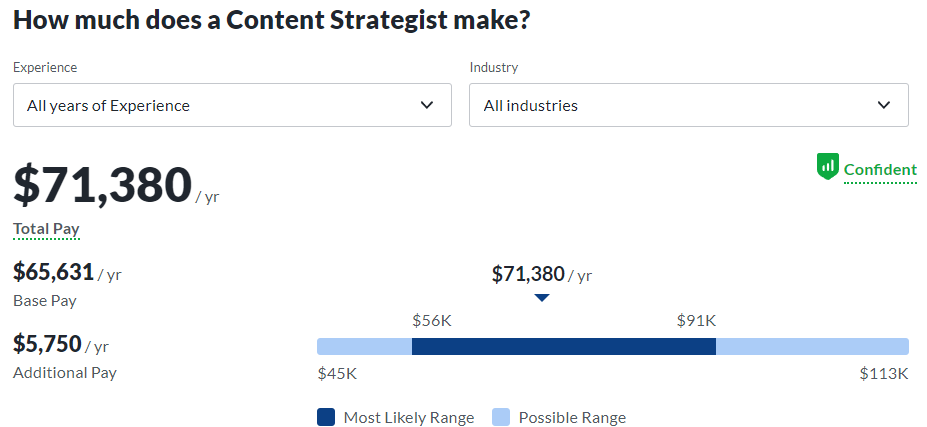 To excel in digital marketing and meet business goals, the digital marketing team must be able to produce high-quality content that is relevant and engaging. This is where the content strategist performs content marketing functions.
Planning, developing, proofreading, editing and even the actual publishing of content fall under the job description of a content strategist. With an average annual pay of $71,380 per year, generating and implementing ideas for content is definitely worthwhile!
E-commerce Specialist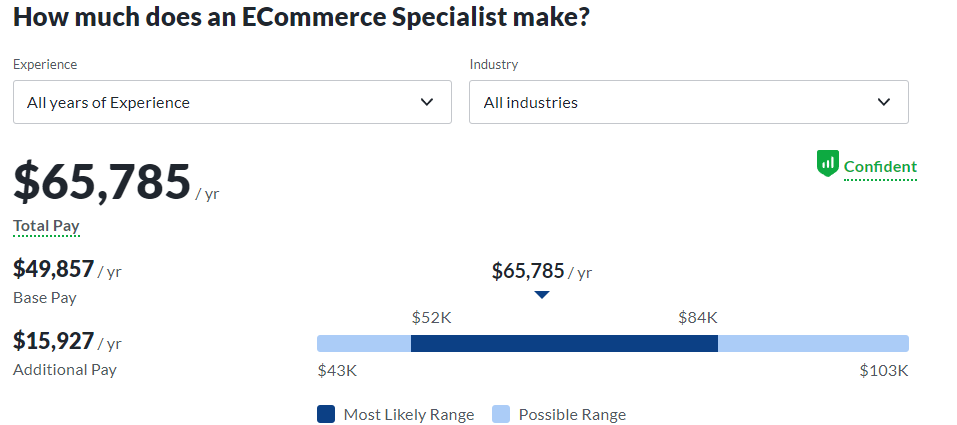 E-commerce marketing specialists are responsible for managing, maintaining, and developing stores in online channels. They are also responsible for generating new marketing strategies based on business analytics.
E-commerce marketing salary is currently at $65,785 according to Glassdoor.com. That is decent pay for a role that requires technical skills.
Digital Marketing Analyst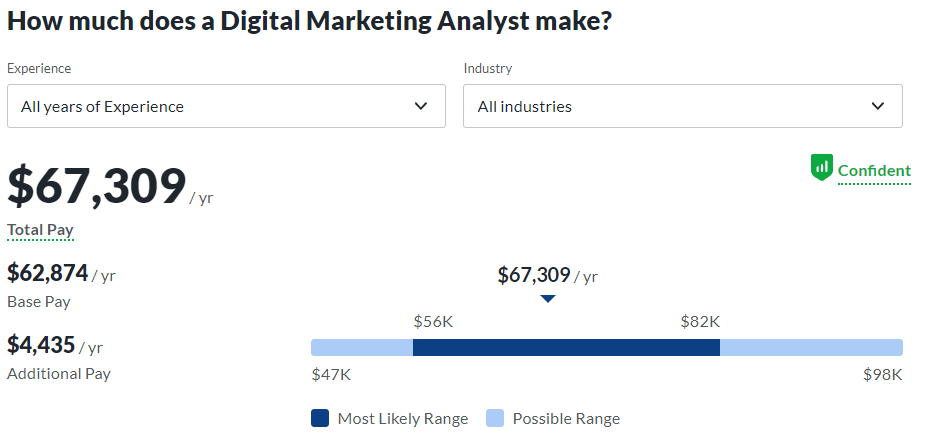 Digital marketing analysts are tasked with handling the analytical processes and technologies which enable digital marketers to effectively evaluate the success of their digital marketing efforts. Some of the modern software/applications that digital analytics need is Google Analytics, Hevo Data, Whatagraph, and Supermetrics.
People that are involved with digital analytics have an average annual salary of $67,309!
Pay-Per-Click Analyst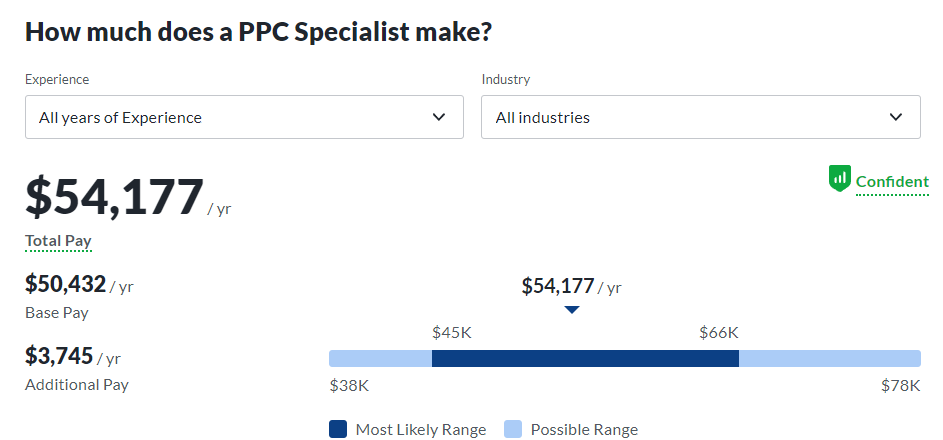 Pay-Per-Click is the process where companies place an advertisement on a website and they are required to pay the host of the website when a user clicks on the advertisement. A good example of this type of digital marketing process is Google Ads.
The average salary of Pay-Per-Click Analysts is $54,177. Speaking of dollars, these types of analysts are also sometimes responsible for optimizing the budget allocated for paid strategies they are implementing.
Content Marketing Manager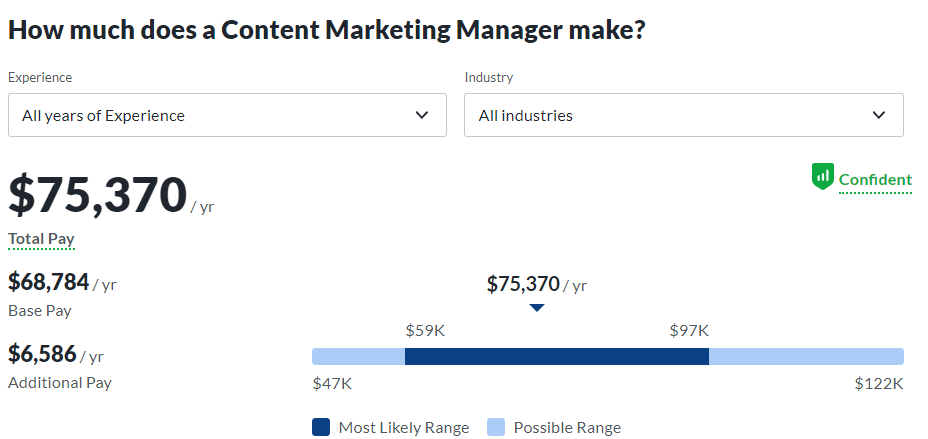 Content marketing managers are responsible for handling the daily operations of the content marketing team. They are tasked with increasing web traffic and brand awareness through online content marketing processes.
Content marketing managers earn about $75,370, which is quite a bigger amount than most digital marketing roles.
Search Engine Optimization Specialist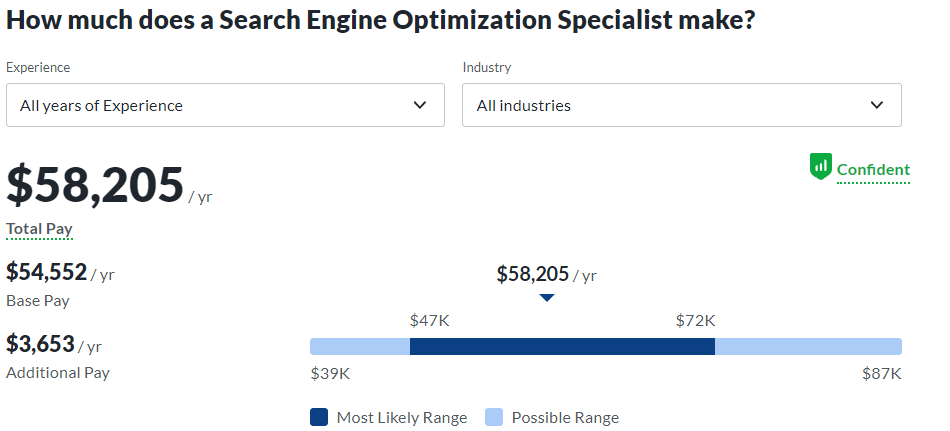 Tasked with website optimization and increasing organic traffic, Search Engine Optimization Specialists spend hours studying keywords, interface improvements, and all other possible technical improvements to rank higher in the search engine result pages.
Search engine marketing salary is about $58,205 per year.
Chief Growth Officer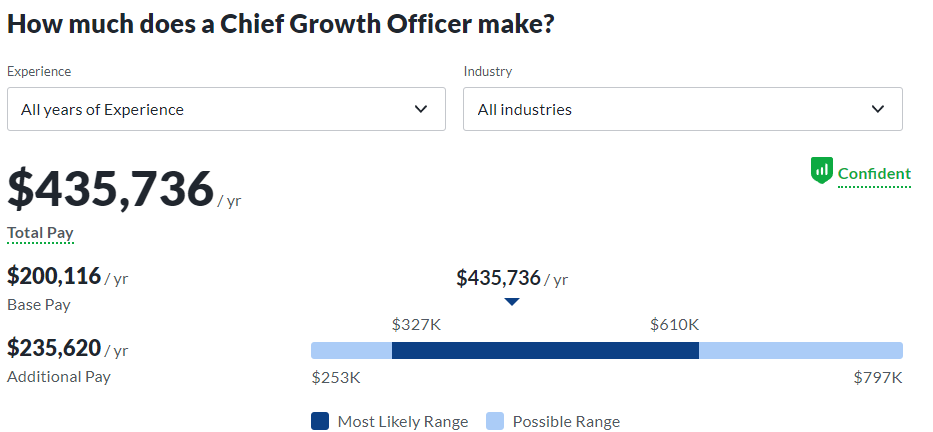 Bringing home probably the highest digital marketing salaries there is are Chief Growth Officer. These types of digital marketers are the ones with the most digital marketing experience, skills, knowledge, and of course responsibility in the entire digital marketing team.
They are responsible for overseeing and leading all the digital marketers so that the marketing goals are met, which in turn, will mean meeting the business goals as a whole.
Creating of KPIs, monitoring the performance of every digital marketing marketer, ensuring that marketing strategies are effective, and setting budgets for marketing campaigns, are just a few of the roles of the Chief Growth Officer.
What Factors Affect Your Digital Marketing Salary?
Experience and Knowledge
Experience and knowledge simply mean competence. Digital marketing managers earn bigger amounts if they prove that they are competent enough for the company to entrust huge responsibilities to them.
Knowledge in digital marketing can either be gained through further digital marketing job experiences or by enrolling in certifications or even getting a relevant bachelor's degree.
Digital Marketing Job Title Applied For
Digital marketing depends highly on various specific tasks which require specific digital marketing skills. Some of these tasks are more technical than others, this also means the compensation will be quite bigger.
The Pay-Per-Click Analyst has a different job description from a Content Strategist. The Content Strategist basically leans toward management and leadership roles already due to the nature of the job.
With this being said, you can already expect that the national average salary for these two jobs is also different.
Different Companies, Different Digital Marketing Salaries
Removing aside the argument of who has more refined digital marketing skills, a digital marketing manager from one company may earn a different amount from a digital marketing manager from another company.
The companies applied to contribute greatly to the overall digital marketer salary. If the company you applied for has a generous profit-sharing system, then you might just bring home bigger pay than your fellow digital marketing professionals who may or may not be more skilled or experienced than you!
Country of Operations Its National Average Salary Trends
People migrate to other countries due to economic conditions and the advantage of currency conversion. Although digital marketing can be a remote job, the aforementioned logic still applies to it.
If you are looking for bigger additional pay then look for employers that are situated in countries with favorable monetary compensation.
Conclusion and Key Notes
Being Thorough In Your Job/Career Search Leads to Better Chances of Having a Good Digital Marketing Salary
Choosing a digital marketing company to apply to or even planning to have your own digital marketing business to run, you already are basically setting your pay in the future!
Understanding and studying how a digital marketing manager earns in a certain company is a good move before actually applying.
Finding a good company that pays you well and just simply knowing your actual worth will aid you in finding digital marketing jobs which will compensate you fairly, and on some occasions, handsomely!
Keeping your Digital Marketing Job Due To Excellent Performance Should Eventually Lead To Financial Growth Opportunities
If you are a digital marketing specialist or a digital marketing manager with quality outputs on a consistent basis, then a promotion or raise is just a matter of "when."
Unless you are working under bad management that abuses the rights of the employees, you should be able to have additional pay as the years go by.
The day you earn more may come sooner and become more probable if you are exhibiting a good work ethic and you are continuing to gain knowledge and skills through online courses or other means to become a better digital marketer.
Digital Marketing Campaigns Require Competent Digital Marketers
Digital marketing campaigns are becoming more complex due to global competition. This is one con that digital marketing has in return for having the benefit of being able to market all over the globe with ease.
So, in a competitive field, it is only logical to give a bigger digital marketer salary to the most competent ones.