Marketing Roles You Should Know
Many historians believe that the concept of MARKETING began in 1500 BCE (before the common era). Marketing, as we know it now, has already evolved to include much more specific tasks and require much more technical skills due to modernization. In this article, you will learn more about marketing by knowing the common marketing job titles, marketing roles, and their average salary.
What are Marketing Campaigns?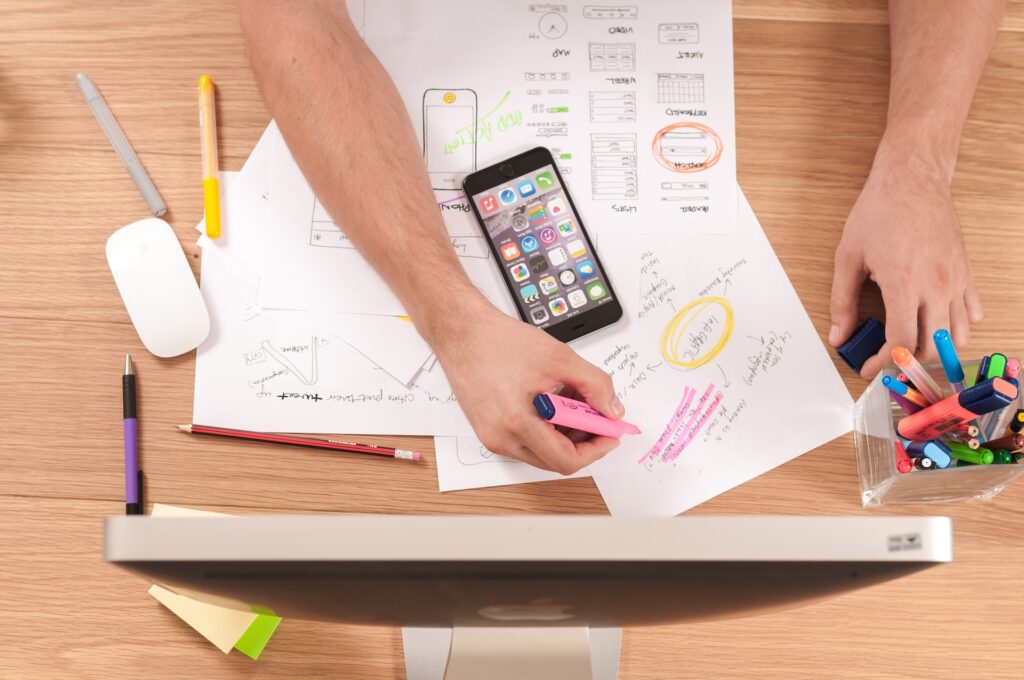 First off, let's understand what are marketing campaigns. Marketing campaigns are organized courses of action with the end goal of endorsing and selling products and/or services carried out by an entire marketing team.
Famous examples of successful marketing campaigns are Nike's "Just Do It" campaign, Coca-Cola's "Share a Coke" campaign, and Snicker's "You're Not You When You're Hungry" campaign.
See? Even just hearing the campaign line makes you remember a bunch of advertisements, product branding, and other brand marketing initiatives.
Here's a quick video about marketing to help you understand fully this article:
The Marketing Job Market
In modern times, thanks to the Internet, people became capable of sharing information globally in a blink of an eye. Information that is being shared globally includes marketing content which basically paved the standardization of the field of "digital marketing".
As the statements above describe, marketing didn't become obsolete, it just evolved with technology! After all, wherever and whenever there are products and services that need to be sold, there is a need for a marketing team that carries out the necessary marketing functions.

If you go to LinkedIn and type "MARKETING" in jobs, even with 3 experience level filters, the search results still go over 400,000 easily. This goes to show how abundant jobs and opportunities are in the marketing world!
Examples of the Most Common Marketing Job Titles
Let's first enumerate the most common marketing job titles for traditional marketing practices.
Marketing Assistant
Marketing assistants are tasked with supporting the marketing managers and executives in the execution of projects which are all directed to the maximization of company profits.
Tasks of marketing assistants include developing and executing marketing campaigns, performing market and client research, creating reports on the status of the marketing programs, etc.

If you search "marketing assistant" on LinkedIn right now, even with experience level filters, you will have 55,170 results which just shows how in-demand marketing assistants are nowadays!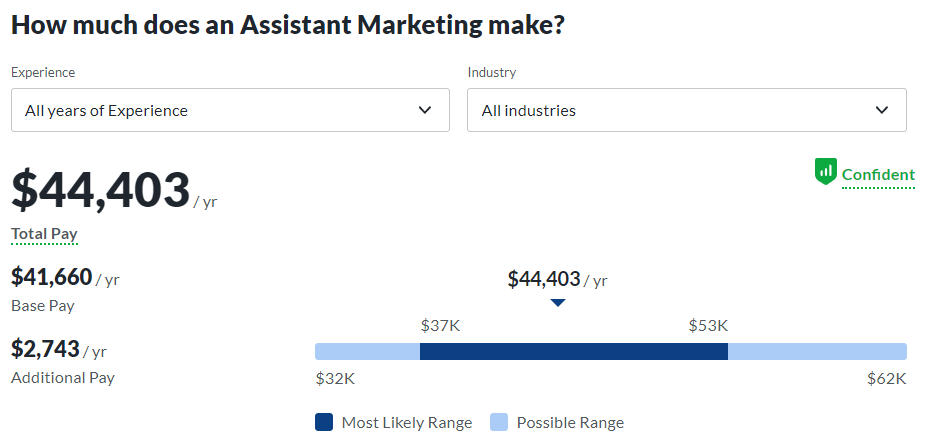 A marketing assistant, which is commonly an entry-level role, earns an average of $44,403 per year. That amount and the amounts of the other common marketing job titles to be discussed later on varies highly depending on every company's compensation structure.
Marketing Specialist
The roles of a marketing specialist include creating advertising campaigns, effective pricing strategies, and analyzing the demographic data of their target audience. The information they analyze and disseminate is vital to the performance of the marketing teams in their daily operations.

Upon searching on LinkedIn, there are 17,682 search results for marketing specialist roles. To be a specialist in marketing means you must have decent experience in the said field, and for such a role, that is quite a high demand.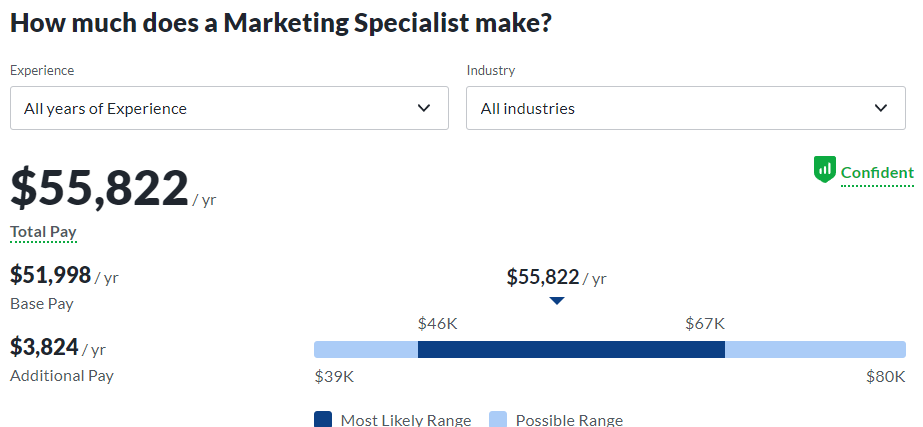 As the tasks enumerated above show, the role of a marketing specialist is a bit more technical and leans on the data analysis side compared to the marketing assistant role. This just means that a higher average figure of $55,822 per year is fair compensation.
Marketing Analyst
A marketing analyst role requires a lot of research and study. This role is primarily tasked with monitoring and forecasting marketing and sales trends. This role is also responsible for understanding consumer behavior through a thorough analysis of the sales data from both the company's brand and the competitor's performance.

There are 20,664 search results if you search for a marketing analyst on LinkedIn. For a highly technical job, the search for the most competent manpower is on.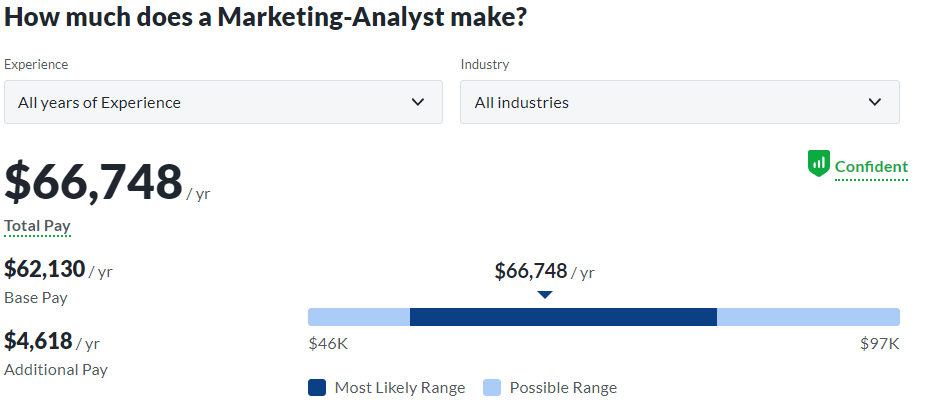 The more laborious the work, the higher the pay. Hours of data research and analysis are fairly compensated with an average of $66,748 per year according to Glassdoor.com.
Marketing Manager
Marketing managers are tasked with undertaking market research, understanding the market trends and customer preferences, creating a marketing strategy and marketing budget, overseeing the creation of marketing materials and content, monitoring the efficacy of existing marketing campaigns and strategies, and even supervising the marketing teams.
This marketing job title entails not only marketing skills and experience, but also high levels of interpersonal skills. Basically, being a marketing manager means executing technical marketing functions while performing leadership functions too.

The job title of marketing manager has 28,192 search results on LinkedIn. This is rather logical because entry-level jobs require plenty of manpower to handle, and finding a good marketing manager is the tricky part.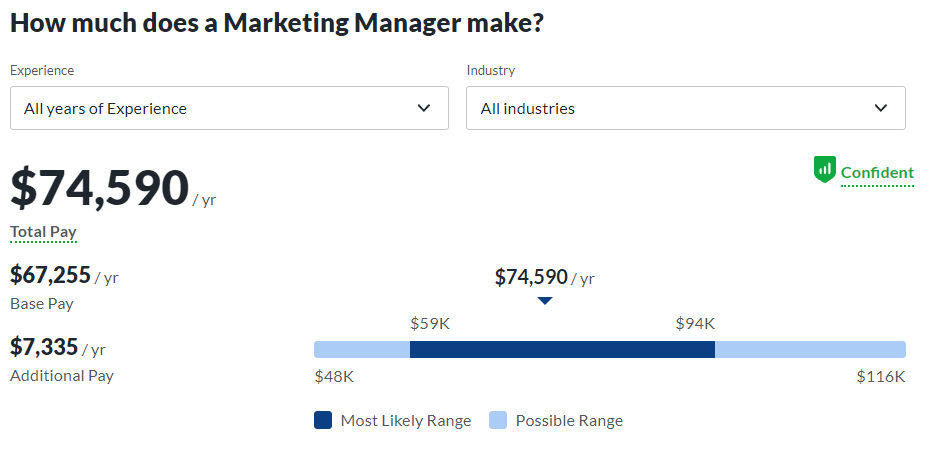 Marketing managers are paid an average of $74,590 per year. That's a decent bag for a role with hands-on responsibilities.
Marketing Consultant
Let's start adding more experienced job titles to the list!
Marketing consultants are the manpower that has been working with marketing for years already which allows them to have more reliable marketing comments and suggestions!
Marketing consultants are responsible for helping companies understand customer behavior better, identify effective marketing campaigns, and even resolve technical marketing issues in the performance of daily operations.

According to LinkedIn, there are 10,805 search results for the marketing consultant job title.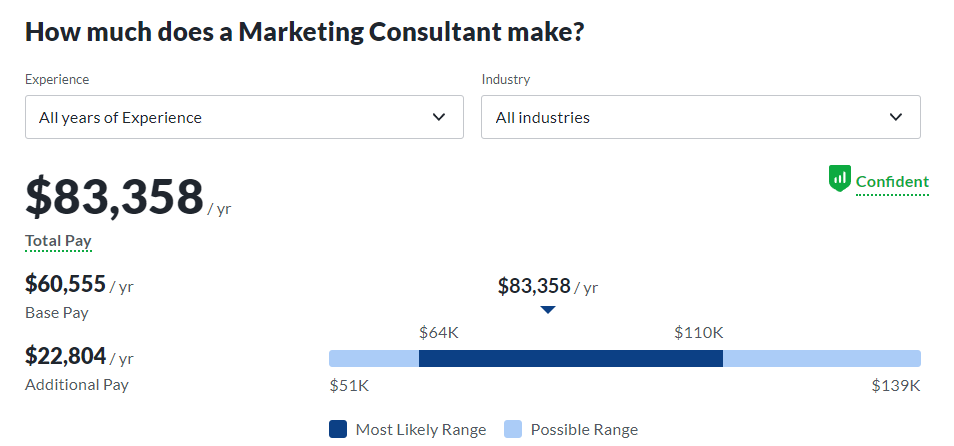 Aside from the degree of responsibility, the experience can also push your salary upwards. Marketing consultants have a lot of experience in their resumes which makes it reasonable that they earn about $83,358 per year. That's just a few thousand more to reach 6 figures!
Communications Manager
The role of the communications manager is to manage the internal and external communication aspects of marketing. To elaborate, their tasks include: managing communications with vendors and agencies to localize communications and marketing activities; preparation of detailed media reports, press releases, and marketing materials, developing a great multi-platform communications strategy, propelling the brand's image through consistent strategy and messaging, and other communications-related tasks.
To put it simply, a communications manager is to be responsible for ensuring that the marketed products and services align with the business goals by overseeing the entire communications aspect of marketing.

The communication manager role has 8,896 search results on LinkedIn right now! For a highly-specific task, it has a lot of demand in the business sector right now.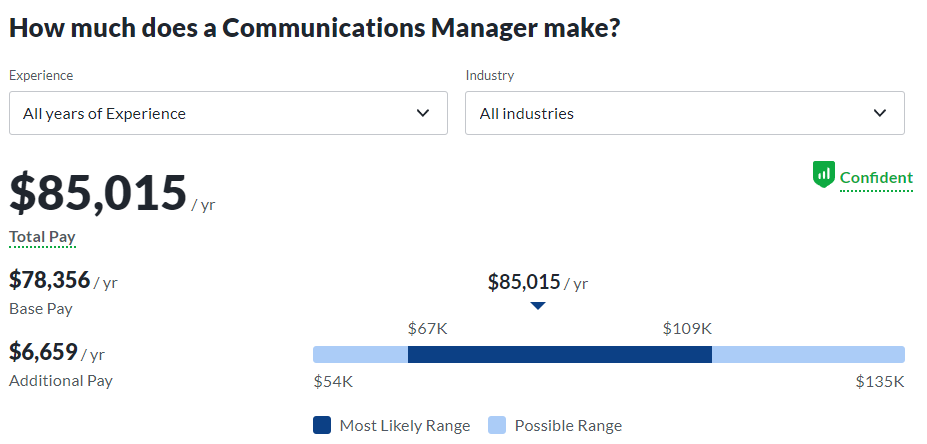 The role of communications manager requires a person to have the necessary marketing competencies, language proficiency, and interpersonal skills. With skill requirements like that, $85,015 per year seems rather fair!
Product Marketing Managers
The job description of a product marketing manager is basically telling the story of the product/service to the market.
The product marketing manager must be able to genuinely understand how the products and/or services align with the overall vision and business strategy, they then turn that understanding into a compelling message to capture the attention, and at best, the loyalty of the market.

This public relations-related marketing job title has 19,280 search results on LinkedIn.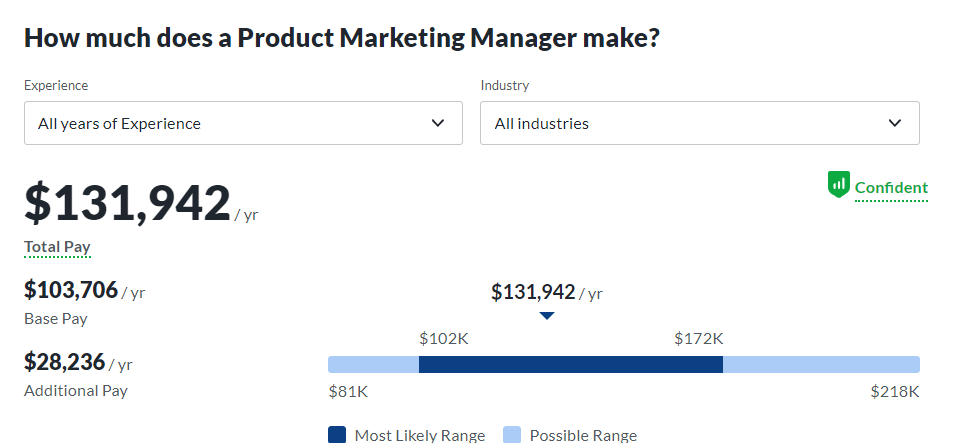 Usually, a product marketing manager has a lot of years of experience in marketing. Remember that their role is not simply communicating a message to the market, but their role is about creating compelling statements that will engage the public and increase overall marketing effectiveness.
Vice President of Marketing
The vice president of marketing is already considered an expert in the field of marketing who takes responsibility for the overall marketing outcomes of a business. From analyzing existing brand and marketing strategies and improving them if needed, leading the entire marketing department and delegating the necessary marketing tasks fairly, preparing budgeting reports, scheduling meetings with marketing teams to discuss marketing trends, and a whole lot more responsibilities are on the vice president's shoulders.
The vice president of marketing is considered to be a director-level executive. This high-ranking marketing title usually reports directly to the president, CMO, CEO, or COO.

It is no surprise that this high-level position has only 650 search results. Most vice presidents in marketing have years of service in a single entity for them to be entrusted with such a crucial rank.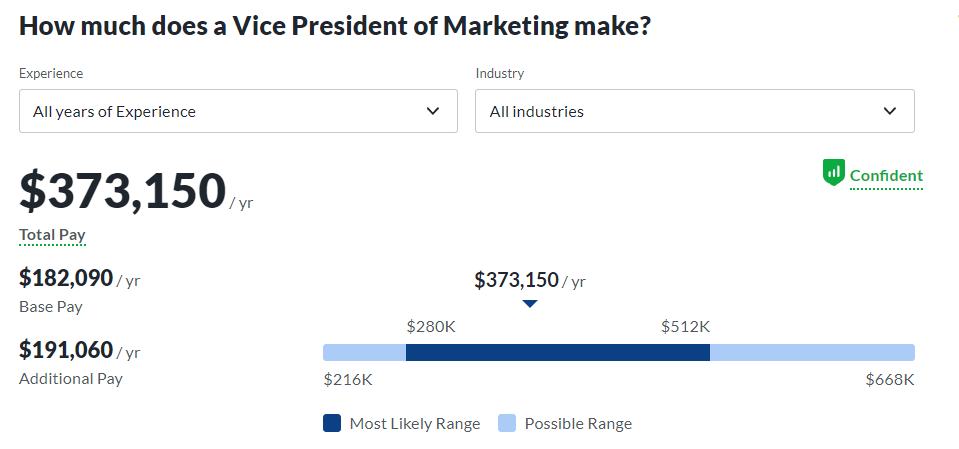 A rank so high that carries huge responsibilities means an easy 6 figures. Vice presidents in marketing earn about $373,150 per year according to Glassdoor.com.
Chief Marketing Officer (CMO)
The chief marketing officer is tasked with overseeing the entire marketing plan, brand management, product development management, price planning, advertising initiatives, and all other marketing decisions necessary for the overall business success. This marketing leader is an agent of change. Most marketing titles can not affect the overall business success, however, a single decision of a chief marketing officer can easily mean success or failure!
Chief marketing officers must also have incredible leadership skills. Excellent chief marketing officers have a good feel of the marketing landscape through either the research he/she accumulates by his/herself or the data he/she receives from other marketing titles below him/her.

The highest ranks have the trend of having few search results on LinkedIn. The chief marketing officer only has 398 search results.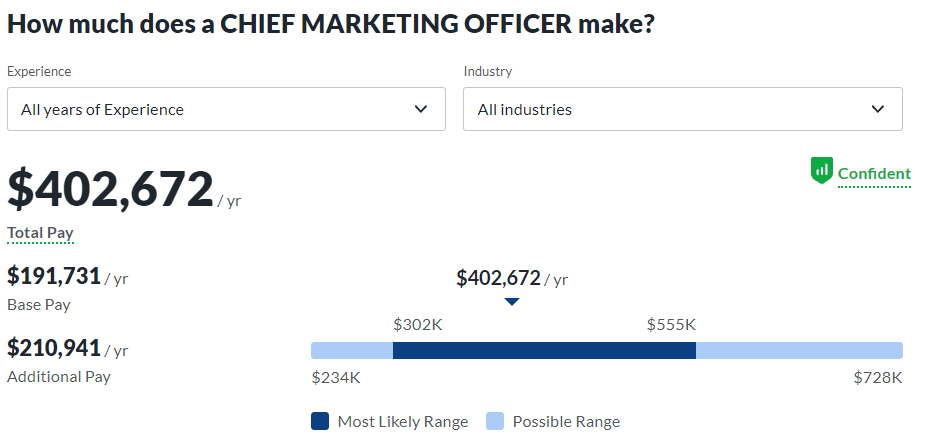 According to Glassdoor.com, the chief marketing officer role has an average pay of $402,672 per year. That's a hundred thousand dollars leap from the vice president of marketing!
Most Common Digital Marketing Job Titles
Digital marketing is the process of promoting products and services through the use of digital channels. It is the evolution of marketing due to the continuous integration of technology and the power of the internet in how humans do their daily tasks.
Types of digital marketing include: search engine optimization, social media marketing, content marketing, email marketing, marketing analytics, etc. Logically speaking, the more types/sub-types an industry has, the more manpower it needs…
Now that we have discussed the traditional marketing job titles, let's now talk about the digital marketing ones.
Digital Marketing Manager
As mentioned earlier, digital marketing has a lot of types. To hold the title of digital marketing manager, you are expected to be well-versed in the whole scene of digital marketing!
Digital marketing managers are responsible for planning digital marketing campaigns and they also execute digital marketing strategies on online platforms to assure digital channels are optimally used for marketing purposes. They are also tasked with analyzing metrics and identifying digital trends which can boost their marketing effectiveness.

According to LinkedIn, this marketing role has 2,205 search results on its website right now.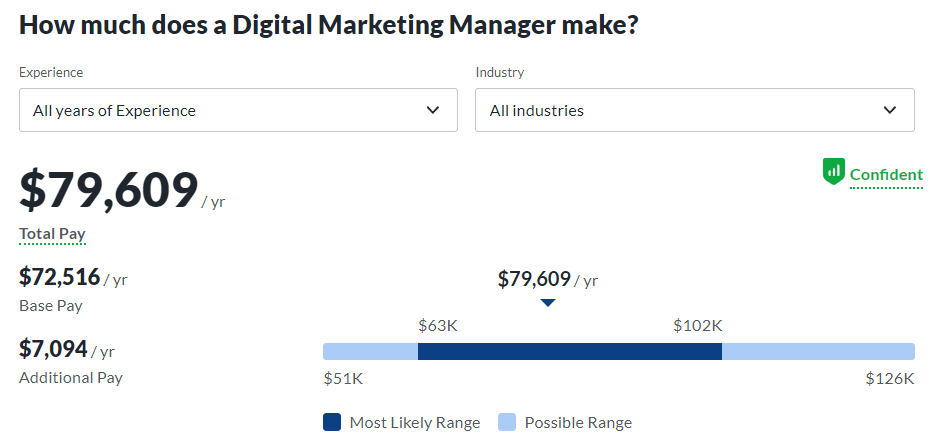 In an ideal work setting, handling a lot of responsibilities simply means more pay! A digital marketing manager generally earns an average of $79,609 per year according to Glassdoor.com.
Email Marketing Specialist
Email marketing specialists are tasked with creating engaging emails and monitoring a variety of email marketing campaigns. They ensure that the email design and layouts are fully optimized. They also handle the personalization of each email to hit the right demographic segmentation while proofreading every email content to assure high-quality outputs.
Email marketers are also familiar with using mail marketing tools such as HubSpot, Omnisend, SendPulse, Mailchimp, etc.

Doubling the search result of digital marketing managers, email marketing specialist has 4,273 search results on LinkedIn.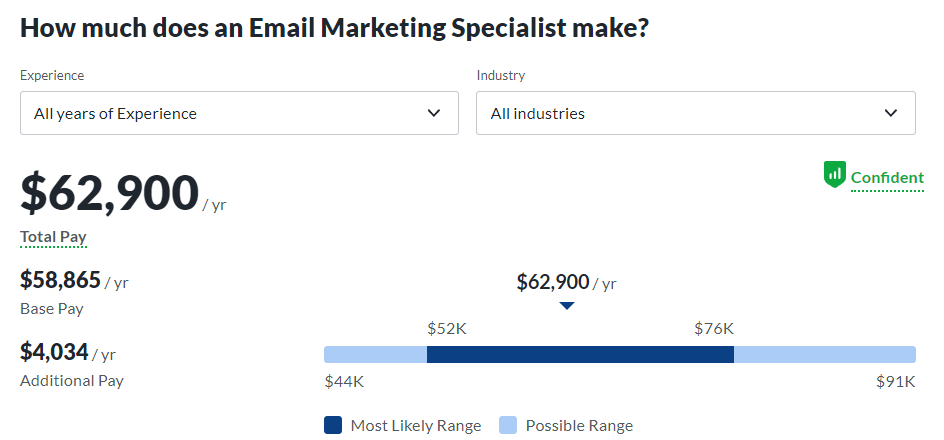 Email marketers are paid an average of $62,900 per year according to Glassdoor.com. Handling the email side of marketing alone, that's a big bag!
Social Media Marketing Manager
Social media marketers are tasked with handling the social media campaigns that a company has. Creating high-quality content, responding to direct messages, interacting with social media users, monitoring and creating reports about social marketing campaigns, and all other social media-related tasks are shouldered by the social media manager.
Aside from being familiar with social media platforms such as Facebook, Instagram, Twitter, etc., social media managers must also be familiar with other social media management tools such as Buffer, Loomly, Canva, and more!

Just a few hundred away from the email marketing specialist, this marketing role has 3,883 search results on LinkedIn.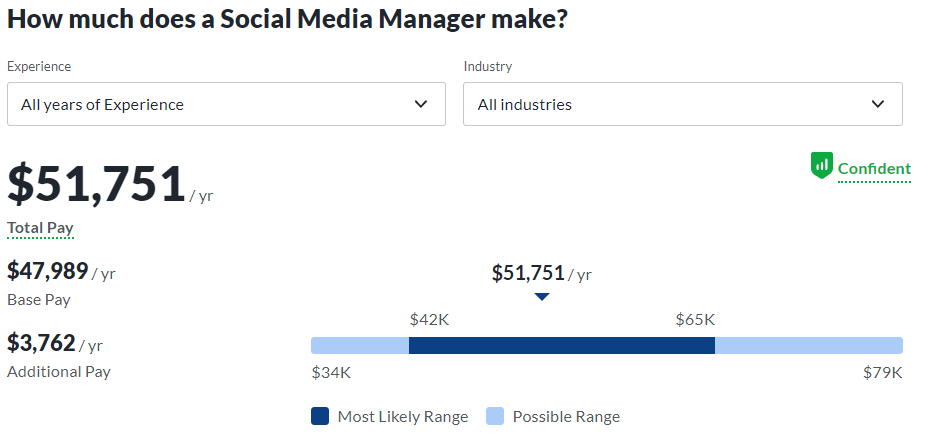 For managing one or more social media accounts, social media managers are paid an average of $51,751 per year. Imagine just using social media and getting paid a decent amount, that's definitely a good marketing career path!
Content Marketing Manager
Content marketing is a marketing strategy used to gain the attention of the target audience by creating and sharing relevant and high-quality articles, videos, podcasts, and other media available.
Content marketing managers are usually responsible for planning, developing, and implementing the overall company's content marketing strategy. This responsibility includes the management of the creation and production of online and offline content used for marketing the products and/or services of a business.
Content marketing managers use tools such as Buzzsumo, Yoast, and Ahrefs which all aid in content creation and management.

Content may be used in social media, emails, and other outlets. It is no surprise that there are 8,721 search results about content marketing managers on LinkedIn.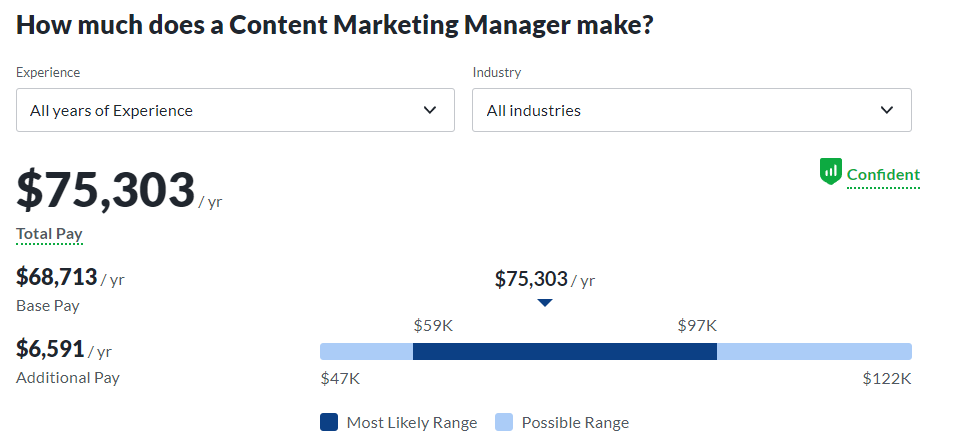 Whatever content the content marketing team produces, is the content that the other marketing personnel will use in their daily operations. This vital role earns an average of $75,303 per year!
Search Engine Optimization Specialist
The main role of a search engine optimization specialist is to ensure that the company websites rank higher in the results pages of search engines. Examples of tasks an SEO specialist handles are keyword research, improving the website's overall interface to achieve user-friendliness, backlinking optimization, reducing the website's loading time, and all other related tasks that are under good SEO practices.

There are over 1,641 search results for search engine optimization specialists on LinkedIn.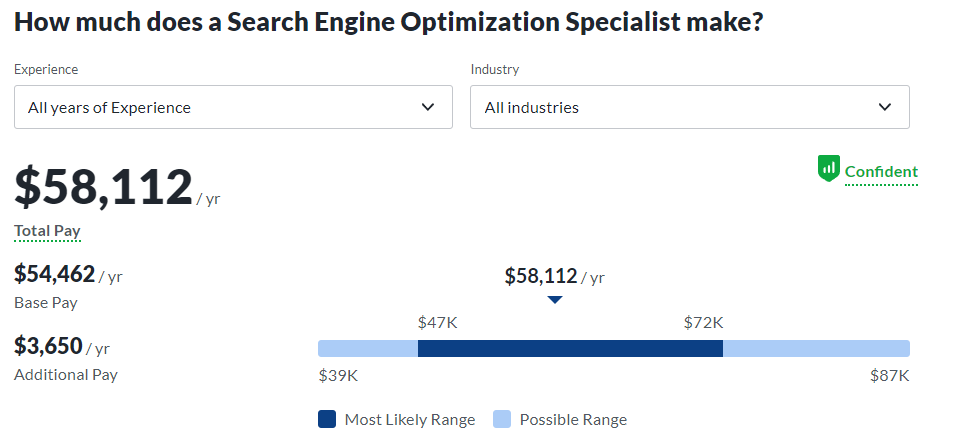 Search engine optimization specialists earn $58,112 per year which is quite low compared to other roles but still higher than a social media manager's yearly pay.
Community Manager
Community managers sometimes referred to as "Content and Community Managers", are tasked with creating the business' overall brand voice and image. They are also tasked with managing and handling public relations which can be done by both market research, interacting with the target audience through surveys and other related mediums of communication, and ensuring that marketing teams are creating content that aligns with the overall business goals.
Tools a community manager can use are Social Baker, Brand24, Napoleon Cat and etc.

Communication, whether it be internal or external, is vital in running a business. It is no surprise that there are 29,045 search results when you search for a community manager on LinkedIn.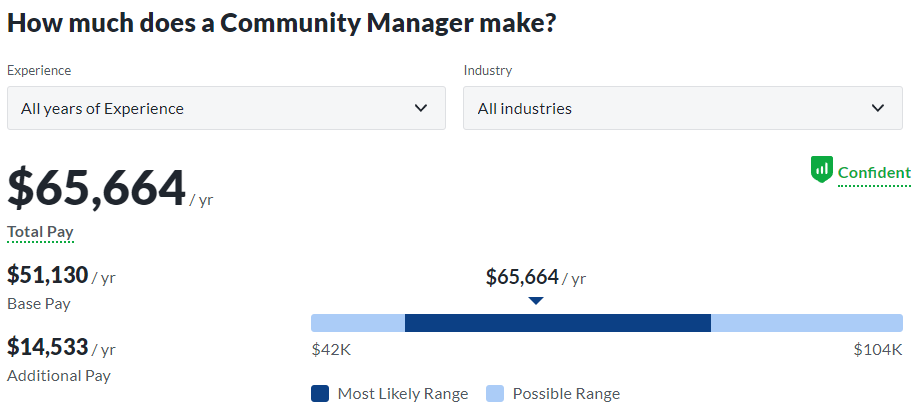 This role which relies heavily on high levels of interpersonal skills is paid an average of $65,664 per year according to Glassdoor.com.
Graphic Designers
Graphic design is not necessarily a specific type of digital marketing. However, the value of graphic design is crucial in creating engaging and effective content which will be used to attract potential customers.
Graphic designers are tasked with creating visual text and imagery concepts, by hand or with the aid of computer software. Their main goal is to communicate ideas that will captivate the consumers and boost the marketing effectiveness of the marketing campaigns through their artistic outputs.
Photoshop, Sketch, InDesign, and After Effects are some of the most useful tools for graphic designers.

A single marketing team can create multiple campaigns in a single business cycle! Therefore, it is no surprise that graphic designers have a pretty high demand with 7,615 search results on LinkedIn.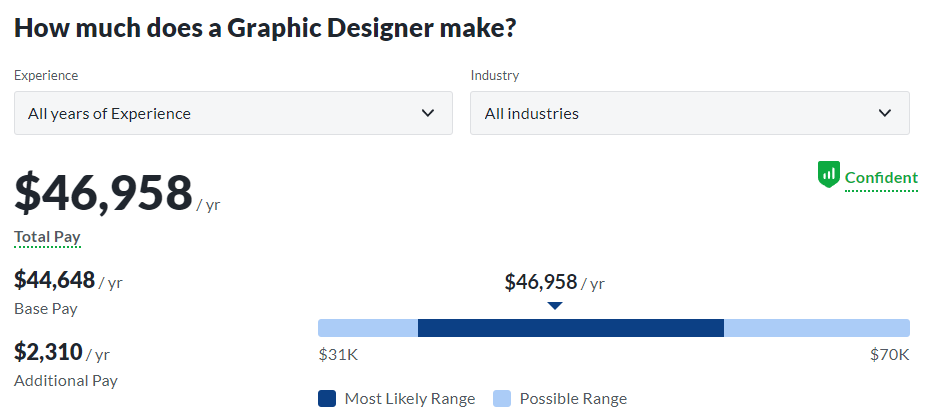 Graphic design does not necessarily need a diploma to learn. Just like drawing, a lot of practice and self-learning can get you far in this field. This is one of the reasons why graphic design has a decent but not that high average salary. Graphic designers earn roughly about $46,958 per year.
Pay-Per-Click Specialist
A pay-per-click specialist is someone who specializes in the paid marketing process of digital marketing. With the aid of market research and a clear understanding of marketing analytics, the pay-per-click specialist target specific audiences with their marketing strategies in various paid marketing platform with the goal of earning the best possible return on investment.
SEMrush, Spyfu, Adespresso, and Google Analytics are a few tools that are relevant for a pay-per-click specialist's daily task execution.

The pay-per-click specialist has the lowest number of search results in the list with only 17 search results.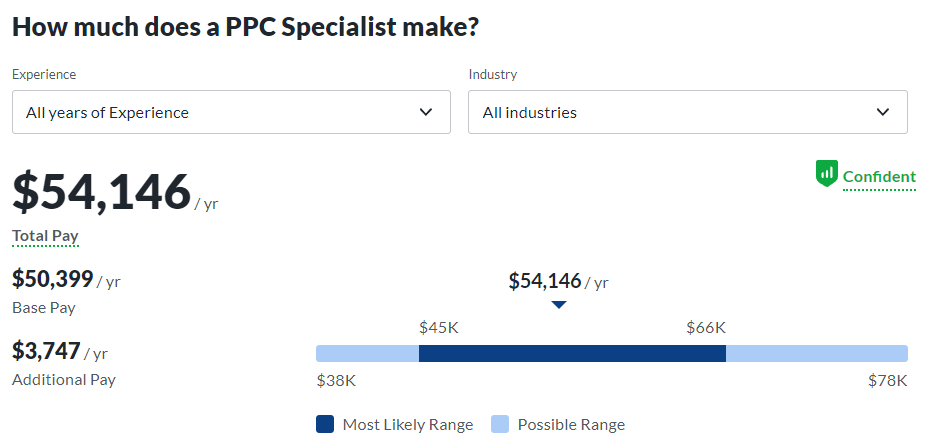 However, it still has a higher pay compared to social media managers. The pay-per-click specialist is paid an average of $54,146 per year.
Affiliate Marketing Manager
Affiliate marketing managers are responsible for establishing, maintaining, and improving the business relationship in an affiliate marketer. They handle the recruitment process of aspiring affiliate marketers, track sales performance from the affiliate sites, and of course, expand the retailer's network to drive more sales transactions. To be a manager in affiliate marketing also means being able to systematically address and resolve affiliate issues and concerns should they arise in daily operations.
Tools that are useful for affiliate marketing managers include, but are not limited to iSpionage, AffJet, Google Analytics, and Voluum.

Affiliate marketing managers have a pretty high demand due to the continuous sprouting of affiliate marketing businesses. There are 16,025 search results for this marketing career path on LinkedIn.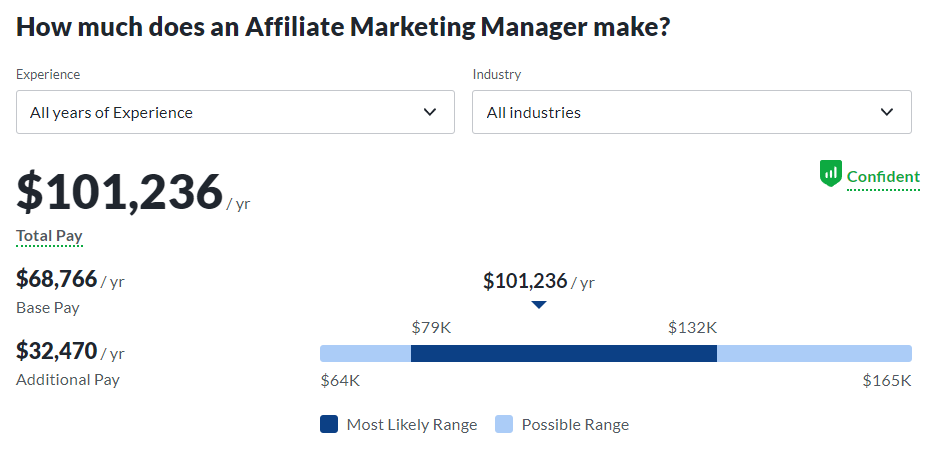 With leadership and technical tasks on an affiliate marketing manager's plate, it is only right that he/she gets paid handsomely. Professionals in this marketing role earn an average of $101,236 per year according to Glassdoor.com.
So, how does one get a job in digital marketing? Learn more by reading our article about it! You can also watch this video to know more about whether this digital marketing role is a good career: