Social Media Marketing Facts You Have To Know
Ever wondered how to make the most out of your digital marketing strategies, most specifically in social media marketing?
This article will tell you everything you need to know about utilizing your social media marketing to the fullest to achieve your business goals as soon as possible!
Social Media Marketing Definition
Social Media Marketing is a form of digital marketing that uses social media platforms to build brands, increase sales, boost website traffic, and even create a community or viewership.
According to research, there are over 4.26 billion people in the world that is using social media. That number is expected to grow to almost 6 billion in the year 2027. If billions of people are active on these social platforms, then it is only logical to put all marketing efforts here more than in traditional marketing campaigns.
Social Media Platforms
If traditional advertising can be found on billboards or newspapers, then social media marketing strategies and campaigns can be found on social media platforms or social channels. Every single social platform has its own unique features, trends, main purposes, and management systems.
For example, let's take a look at Facebook. It is the largest social media platform with over 2.958 billion monthly active social media users. Yet it is not only the number of monthly users that makes it unique but also the features it has that can greatly affect your social media campaigns.
First off, Facebook advertising is highly affordable and only costs $12.07 per 1,000 impressions. Second, Facebook advertising is highly targeted because it has a strict algorithm that targets precisely the right audience demographics. Lastly, the user interface of Facebook is highly versatile! Whether you want to create engaging content through text or pictures, engage with existing and potential customers, etc., Facebook can accommodate all of these with ease.
TikTok plays off of creating content that capitalizes on human attention span, and if used properly, can be a good help in your social media marketing. Twitter is probably the most conducive place to interact with your target audience. Instagram users post amazing pictures to capture the attention of the target audience and therefore increase awareness. Other social media platforms are great too, especially if you know how to use the right social media marketing strategy.
Social Media Marketing Job Opportunities and Job Salary
Social media marketers are tasked with promoting products, services, and content all over multiple platforms of social media. They execute their tasks in a way that every content they post or blog post they reshare is consistent with their social media strategy and overall business goals!
They are also responsible for scheduling when said social media posts are to be posted, interacting and answering the queries of internet users, and even monitoring social media marketing success through social media analytics.

According to LinkedIn, there are 28,418 results for entry-level social media marketer roles in the U.S.A. That's a lot of people looking for an opportunity to earn money while simply managing social media accounts!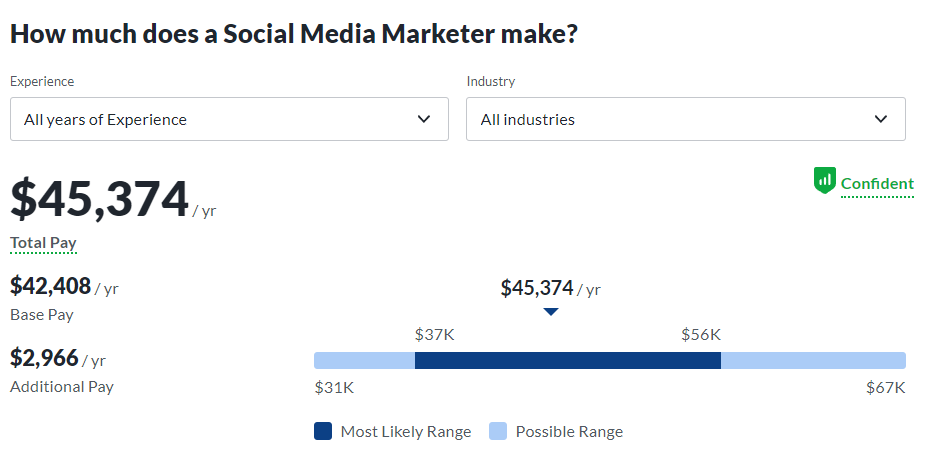 There are a lot of social media marketing courses on the Internet right now, and you don't really need a diploma to be a social media marketer! With these facts being said, it is only logical for this digital marketing career path to have an average of $45,374 per year.
Of course, finding a generous employer or a complex job opportunity can easily lead you to bigger yearly pay!
Advantages of Social Media Marketing
Listed below are a few of the most visible advantages when a business uses social media marketing.
SOCIAL MEDIA MARKETING ADVANTAGE #1: Increase Brand Awareness
Using social media and posting high-quality relevant social media content allows the opportunity of having more people know about the business. The possibility of sky-rocketing your business' brand awareness in just a few days' time is highly feasible if you use social media effectively and you find ways to ride on the up-and-coming social media trends!
SOCIAL MEDIA MARKETING ADVANTAGE #2: Opportunity for Competitive Analysis
Leading social media platforms are also used by most of your competitors. They are also trying to exhibit their products and/or businesses through social media marketing which gives you the chance to understand their business goals. Use this knowledge to find ways to outcompete them!
SOCIAL MEDIA MARKETING ADVANTAGE #3: Easier Means to Generate Leads
Social media is a marketing platform that is home to internet users all over the globe that spends hours of their daily lives consuming content. Making the most out of social media marketing allows you to reach millions of these people in just a few clicks making lead generation for your business easier.
SOCIAL MEDIA MARKETING ADVANTAGE #4: Opportunity to be More Close Engaged With the Community
Every business has its own strategy and marketing activities, however, you can never remove the "SOCIAL" aspect of using social media and social media marketing.
Being able to engage with your community in every marketing channel you are on allows you to have easier means of understanding consumer behavior easily and receive information regarding customer satisfaction quickly.
As fast as you can send information all over the globe through social media platforms, you can receive information as quickly too– that's the greatness of social media!
SOCIAL MEDIA MARKETING ADVANTAGE #5: Overall Greater Return on Investment
Another great thing about social media marketing is that little to no expenditure can get you far! Social media marketing offers you all the aforementioned advantages above in a consistent and timely manner without ever needing to bleed your wallet out to dry!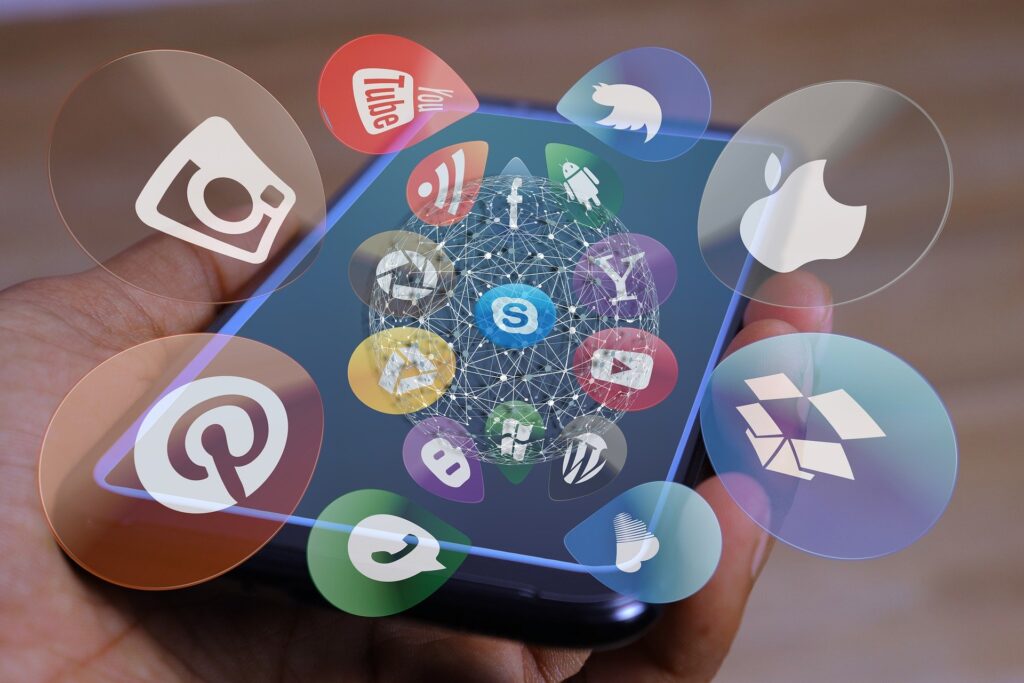 DISADVANTAGES OF USING SOCIAL MEDIA MARKETING
Listed below are the three most visible disadvantages when a business uses social media marketing.
SOCIAL MEDIA MARKETING DISADVANTAGE #1: Tight Competition
As mentioned earlier, your competitors are making the most out of these social media channels too! Whoever has the most knowledge and can implement better social media marketing will be the business that stands tall among the rest!
SOCIAL MEDIA MARKETING DISADVANTAGE #2: Algorithm Always Changes
Social platforms have algorithms in their system. Every content, advertisement, demographics, and all other aspects of social media is subject to changes in a social platform's algorithm which leads to either a positive or negative impact on your social media marketing strategies.
SOCIAL MEDIA MARKETING DISADVANTAGE #3: Mastery is Difficult
Getting started in social media marketing is very easy. I mean, how hard is it to create an account for your business, right? The real challenge is the mastery of using social media marketing!
Aside from the constant changes in algorithms, the trends in social media always changing too. Not to mention the possibility of new social media platforms being developed and you have to learn them from the ground up again just to stay in the competition!
The state of "missing out" is highly probable in this type of digital marketing.
How to Build a Solid Social Media Marketing Strategy
Listed below are highly feasible and effective ways to create a solid social media marketing strategy consistently!
Set Definite Goals
Having a social media marketing plan is an imperative move! You can have multiple social media platforms, ask help from social media influencers, and hire a lot of social media marketers but without a definite goal then your social media marketing efforts have a high possibility of just going to waste.
Having definite goals allows your business to have stable metrics and a business system to follow so that all business resources and labor actually lead somewhere.
Definite goals are also a prerequisite if a company intends to build a brand. The goals set do not only serve as a business target to hit, but they, through time, also mold the business identity that can set you apart from the competition.
Use Analytical Tools to Measure Social Media Performance and Automate Social Media Marketing Processes
Most social media platforms have built-in analytics and dashboards which can immensely help social media marketers in their social media marketing campaigns. Remember to make use of these so that you can gather relevant data and draw out accurate insights consistently and in a timely manner.
A few examples of social media marketing tools are Hootsuite, Sprout Social, Zoho Social, Keyhole, and Buffer are of great use for social media marketers in performing their daily marketing tasks.
Use Multiple Social Media Channels
As mentioned earlier, there are a lot of social media websites and each of them has its own unique sets of features which can greatly boost the effectiveness of your social media campaign.
The more, the merrier!
Utilizing the power of each of these social media sites will surely aid your overall business growth. From backlinking from one of your social media accounts to another, riding the trend of all the social media platforms, increasing the reach of your marketing campaigns, and a whole lot more can be derived from making the most out of multiple social media channels!
However, it is important to note that each social media account must be managed properly to ensure that overall social media marketing performance does not suffer and the brand's reputation as a whole will not be dragged down by a single mismanaged social media network/platform.
Increase Community Engagement In Every Social Media Platforms
Marketing is basically engaging with people so that you can entice them into buying your company's products and/or services.
Increasing your community engagement by responding to comments, diligently replying to direct messages, posting polls and surveys, and all other ways of interacting with your social media followers will most likely help you have successful social media marketing campaigns in the long run!
Set Excellent Response Time In All Social Media Channels
Complimentary to the "Increase Community Engagement" tip, make sure that you respond in a timely manner- CONSISTENTLY.
An inquiry that you weren't able to reply to quickly enough may have been a million-dollar sale or a client may stop renewing her/his hundred-thousand monthly subscription to your business due to slow customer service.
Of course, there are modern marketing tools that can automate community engagement but businesses must never forget that nothing can replace actual human supervision and intervention in every marketing effort.
Post Relevant Content in Every Social Media Platforms
Most social networking sites allow people to create and post content that exhibits what the business intends its target audience to see. In creating and running a personal brand or business, the content you produce must always be aligned with your business goals and objectives.
I mean, you don't see Nike posting contents that encourage laziness nor do you see gasoline companies endorsing the use of bikes instead of cars, right?
Consistency in posting relevant content greatly improves brand reputation too, because it allows people to see that your business has established both its goals and identity.
Understand Consumer Behavior
Social media marketing requires not only social network engagement but also an understanding of consumer behavior. Through the aid of multiple analytical tools and digital marketing techniques, social media marketers are given the capability to analyze thoroughly who are their consumers and what are their reasons for continued purchase of products and/or services.
Improving customer satisfaction, increasing the chances of customer retention, optimizing business processes, and boosting brand reputation are a few of the many other great things than can be derived by simply understanding consumer behavior.
Conclusion
Social media marketing offers a lot of benefits to any business that applies it. However, whether it be traditional or digital marketing, THERE IS NO SUCH THING AS THE PERFECT MARKETING STRATEGY!
Social media marketing has its own disadvantages too, and if not monitored properly, may cause your overall marketing campaign to fall short of its goals!