Prehired Tech Sales Bootcamp Review: Will it Really Land you Lucrative Tech Sales Jobs?
Are you looking to get a jumpstart on your career in tech sales? The Prehired Tech Sales Bootcamp is an excellent way to launch yourself into the world of technology and start making real money.
Getting into the tech industry nowadays is a wise move. Securing one of those tech sales positions, or any tech sales career, for that matter, is a wise move for your career path. The tech industry is brimming with a lot of tech sales jobs nowadays, and it's up to you to grab the opportunity!
In this comprehensive review, we'll cover everything from the program structure, curriculum, cost and more so that you can decide whether or not it's right for you. With our help, you can make an informed decision about whether or not Prehired's Tech Sales Bootcamp is worth your time and money. So let's dive in!
Prehired Tech Sales Bootcamp: What it Offers
While Prehired is fashioning itself as a sales community more than being a BootCamp, but I'd like to think that it is. I included it in my list because what it offers is similar to the ones being offered by other tech sales boootcamps. Prehired offers a comprehensive program that teaches students the ins and outs of tech sales. It's designed to give you the skills and knowledge you need to land a job in the industry quickly and with confidence.
The core of the program is teaching you how to sell technology solutions, from market analysis to competitive positioning. You'll learn how to find customers, understand their needs, and pitch solutions. You'll also learn how to use industry-standard tools like Salesforce and LinkedIn for lead generation, qualifying prospects, building a pipeline, and closing deals.
Along the way, you will be exposed to sales engagement tools and software sales tips and tricks to make you excellent tech sales professionals. The sales strategies concerning technology sales used by tech companies are also taught in the various modules of PreHired.
Prehired will bring you into the tech sales industry in a mere 12 weeks, regardless of background. You will benefit from training and mentorship to secure your dream role at an esteemed B2B software company, plus gain lifetime access to courses with up-to-date content, job references and their members' network for continued support along the way.
Prehired's Delivery of Instruction and Curriculum
Prehired boasts more than 40 hours of video content in its course offerings. This means there will be no live session and that this curriculum will be purely delivered in modular form. The only exception to this is the one on one session with a mentor where you be taught firsthand how to become a better tech sales professional. This will surely be a job guarantee that will prepare you to become either a tech sales representative or a sales engineer in tech companies.
Since you will be working on your own pace, you can very well finish the course in 2 weeks if you really have the luxury of time. You can stay up to date to software engineering and other industries that will surely make you a better tech sales professional.
Tech sales professionals who have graduated in Prehired are now holding amazing jobs in the tech industry. For you to be prepared for a sales job, the curriculum of Prehired will rely on your own pace to have a better grasp of the sales process and all its sales training programs. The Prehired courses are specifically designed with you in mind, with extensive knowledge being shared by industry experts.
Prehired Cost: is it Affordable?
Prepare a hefty sum as the Prehired membership will cost you up to 30,000 USD. That is relatively expensive compared with other bootcamps, but with the benefits that come with it, I think it is fair.
Their $0-upfront option and cash payment options allow you to select a plan based on what best suits your needs. Plus, once you sign up then, no matter the choice, receive lifetime access to all of their amazing membership benefits.
You can cancel your Prehired membership after 7 days as long as you have not consumed more that 30 percent of the course.
While I think it is not affordable for some, but you can think of it as a worthy investment for your career path in the tech industry.
Job Search Made Easy: Will Prehired really get me a tech sales job?
Prehired takes the extra lot to ensure that all their students are well-equipped to land a job in the tech industry. Their services include career guidance, interview preparation and resume review. From there, Prehired's team of recruiters helps you network with potential employers and land your desired job.
Prehired boasts that it will only take around six weeks after completing the 12-week technology sales courses. So how does Prehired prepares you to be a member of any technology sales teams in different companies?
With the help of your mentor, you can get an edge in interviews by mastering key sales tools, skills, and workflows. Customize your outreach to make sure hiring managers take notice! Your Mentor doesn't stop there – they also show you how to craft a compelling story that will land multiple job offers from tech companies at market-rate salaries with great benefits. Not content? They'll even guide you through negotiation for further improvements or serve as a solid reference for future employment opportunities.
Simply put, Prehired will put a premium on your communication skills to project yourself as highly knowledgeable in connecting customers to tech products, software solutions, computer software or technology packages that will make a difference in their lives. As a tech sales rep, you are guaranteed that all of these are being taught by Prehired.
Quality of Prehired to Prepare you to Tech Sales Positions
At Prehired, you will get much more than just a course. The team behind it is composed of experienced recruiters, business strategists, and mentors that are passionate about helping people become successful technology sales professionals. They are committed to providing top-notch resources to ensure that every student gets the best job opportunity available in the tech industry.
You will gain access to a wide range of learning materials, including video lectures, assignments and quizzes, as well as exclusive eBooks from Prehired's content library. Additionally, you can join webinars and virtual workshops hosted by tech experts who have mastered the art of sales.
This is all in addition to the personalized guidance and support from your mentor, who will be available to answer all of your questions on how to make the most out of each learning experience.
Prehired is the right choice for those looking to break into tech sales and quickly land a job. With its comprehensive curriculum, quality resources and enthusiastic mentors, Prehired is the perfect platform to help you prepare for a successful career in tech sales. Many tech sales reps who are now working in a tech company, who are either doing software sales or with previous no sales experience, have been helped by this Prehired program that is undoubtedly their gateway to tech sales jobs.
Why Venture into Tech Sales?
Tech sales is a lucrative career option. As tech products and services are in high demand, many companies are willing to pay top dollar for talented and experienced technology sales reps. With Prehired, you'll have the opportunity to start your own business or join an established company to sell cutting-edge technology solutions.
Technology sales professionals can earn a competitive salary and receive generous benefits, such as health insurance, retirement plans, and flexible work schedules. In addition to financial rewards, tech sales reps get the chance to be part of a rapidly changing industry and enjoy the satisfaction of helping customers use technology to make their lives better.
Prehired's program gives you the tools and techniques to become a successful tech salesperson. With its comprehensive curriculum, quality resources and enthusiastic mentors, Prehired is the perfect platform to help you prepare for a successful career in tech sales. So don't hesitate any longer start your journey towards a rewarding career in technology sales with Prehired!
But, are tech sales bootcamps really worth it? Watch this video:
Tech Sales Professionals in the Tech Industry and Average Salary
Granted you already finished the Prehired program and all its courses, here are the different tech sales position you can land:
Tech Sales Representative
A tech sales representative is primarily responsible for selling technology-based products, services, and solutions to customers. They are expected to establish relationships with potential customers and understand their needs so that they can effectively present the most appropriate product offerings.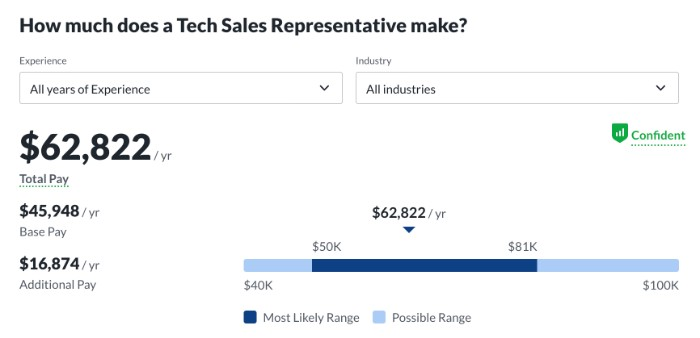 Working as a Tech Sales Representative in the United States can be an enriching experience. This position offers median pay of nearly $46,000 per year and estimated additional compensation of almost $17,000 goes above and beyond that for those willing to go the extra mile! If you're looking for more potential upside than your typical salary job could provide, this is definitely one opportunity worth exploring.
Tech Sales Manager
A tech sales manager is responsible for creating strategies to drive sales success, developing customer relationships, and managing teams of technology sales representatives. They are usually expected to set budgets, determine pricing models, and monitor performance metrics.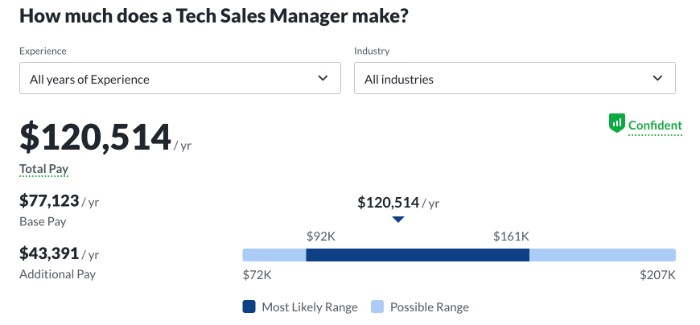 A Tech Sales Manager in the U.S can look forward to a median annual income of $77,123 – but that estimate is just the midpoint! With additional bonuses, commissions and more on offer there's scope for an extra pay-out of up to $43,391 annually; elevating total remuneration packages beyond six figures — up towards $120K per year.
Tech Sales Director
A tech sales director is responsible for developing and executing a comprehensive sales strategy to meet the goals of the organization. They are expected to analyze competitive landscape, lead teams of tech sales managers and representatives, create budgets, develop pricing models, and be knowledgeable about the latest industry trends.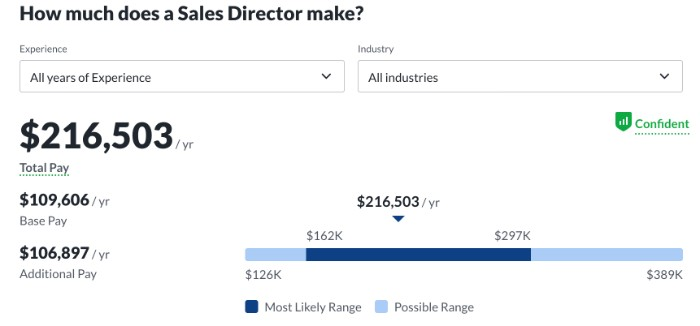 As a Tech Sales Director in the US, you can earn an impressive annual salary of $216,503 – with the average being around $109,606. Our Total Pay Estimate model puts this figure right at the midpoint; taking into account salaries collected from users across America! On top of that sum there is also potential to receive additional pay such as bonuses and commission – adding up to approximately another six figures' worth each year.
Account Executives
Account executives are responsible for developing and maintaining relationships with clients. They must be knowledgeable about the company's products and services in order to identify customer needs, develop proposals, and close deals. They need to be knowledgeable in the computer hardware they are selling, tech accessories, physical devices, and more.
As a Tech Sales Account Executive, you could be looking at an income of up to $101K per annum – with the median salary sitting comfortably in the middle around $67K. But don't forget about all those extras that can fatten your wallet! An estimated additional pay packet for this role is approximately $33,916 on top of base-pay – which may include bonuses and other incentives such as commission or profit sharing.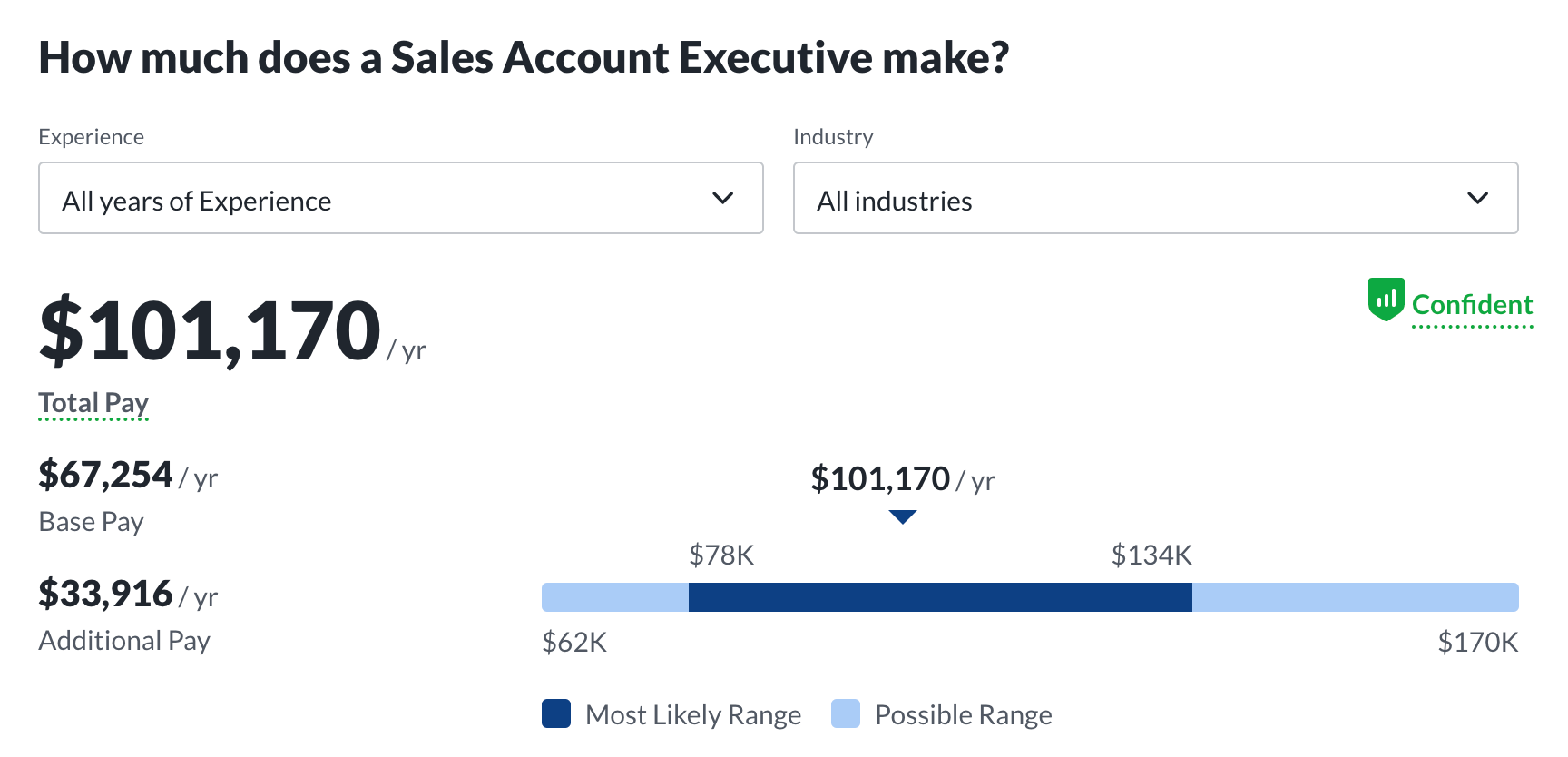 To land in any of these jobs, a sales experience that you can get by enrolling in Prehired is surely an advantage. The sales experience you will get from Prehired is a guarantee that you position yourself well in the job market and to make you attract existing customers and potential ones. Technology salespeople are earning reasonably well because of their experience, and surely, the training program offered by Prehired made all the difference.
PreHired Tech Sales Bootcamp: The Ultimate Verdict
Overall Rating: 8.2/10
Best Features: lifetime membership, modular delivery of instruction, one-on-one mentoring
Joining Prehired will make you a competitive and highly-efficient member of sales team. Its curriculum, which you can consume at your own pace, will prepare you for a new career path. Even with zero tech background, Prehired's programs will ensure that you can get pretty well in sales industries and be productive in sales teams that you will be in.
Sales opportunities are everywhere, and it only waits for you to tap their potential to get into tech gigs. A job in tech sales is surely a challenging one, and I found that Prehired and the Prehired community makes your work in tech sales an easy one.
What I like about Prehired is that maximizes the potential of those with zero sales experience into making them proficient in selling technology products, from desktop computers, tech hardware, vendor servers, and more. This zero sales experience is thus used to the advantage of its students.
Since it employs industry experts as mentors, Prehired banks on science-based sales strategies to help you be the best you! With this, I can truly say that they are one of the best tech sales boot camps you should try!
Check out the other tech sales bootcamps you can pursue now! However, if you don't want to read, here's a video about the tier list for Tech Sales Bootcamps: