HOW TO GET A TECH SALES JOB
The tech industry is booming, and sales roles are in high demand. Getting your foot in the door at a top tech company can launch your career and provide incredible opportunities. In this blog post, I'll provide actionable tips on how to get a job in tech sales. From leveraging your network to nailing the interview process, we'll cover the must-know strategies to transition into this fast-paced, lucrative field.
With the right preparation and persistence, you can develop the skills needed to succeed in tech sales. With these techniques, you'll be ready to start an exciting new career in this competitive industry.
What is Tech Sales?
Tech sales is the process of selling software, hardware, or an IT service. Tech sales, also known as software sales, is highly known for its distinct aspect of selling software as a service (SaaS). Examples of famous SaaS products are Spotify, Netflix, Zoom, Google Workspace apps, and more!
Compared to the traditional sales practice of promoting, retailing, or wholesaling products, tech sales focuses more on helping an entity solve their daily issues to motivate them to purchase or subscribe to the product or service being sold by the tech sales reps.
Here's a quick video about what is tech sales:
Job Demand and Available Opportunities in Tech Sales
Before we get into answering how to get a tech sales job, we should first know if there are any tech sales positions available.

According to the Bureau of Labor Statistics (BLS), it is estimated that from 2020 to 2030, tech sales and sales engineering jobs will grow at a rate of 8%. That's good news for any sales professionals that are currently involved in sales or any aspiring individual that wants to work for a tech company. Keeping in mind that 49% of the industry employment in our world today is in computer systems design and other related roles, there is an actual huge demand for manpower in the tech industry today!

With a filter of associate, internship, and entry levels, LinkedIn was able to produce 6,327 job opportunities for aspiring tech salespeople. Do note that this is just a single job-searching platform; imagine the number of jobs in tech sales available if you actually search for it on other platforms.
How Much Can I Earn in Tech Sales Jobs?
Joining tech sales secures not only your passion but also your financial stability.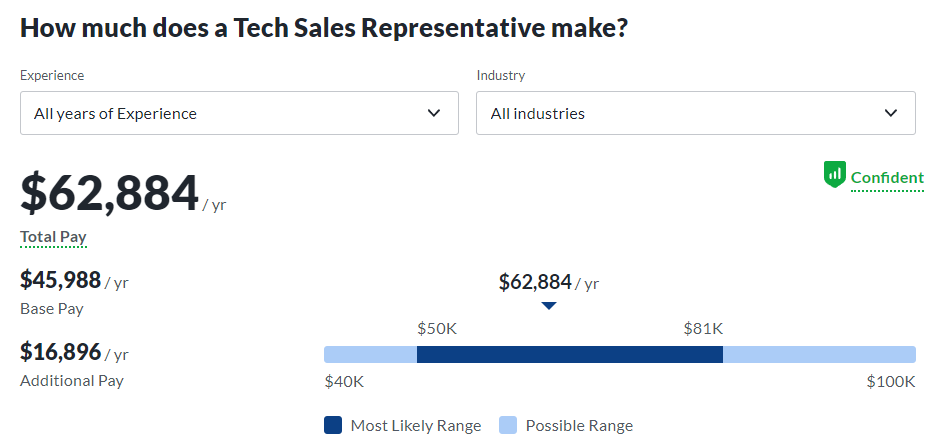 According to Glassdoor.com, tech sales professionals can earn about $62,884 per year!
It should also be noted that a tech sales career path is basically performing traditional sales processes, which also implies the opportunity to have commission in the compensation package!
The presented average salary per year can vary greatly depending on factors such as promotion to higher-paying positions by a tech sales rep, the business size of the tech company applied for, the compensation structure, and other possibilities.
All the information mentioned above just goes to show that tech sales is a great career path for any person who is willing to put in the work!
How to Get a Job in Tech Sales: Required Education and Skills
A tech sales career path does not necessarily require a person to have specific tech industry knowledge. However, having a degree in sales or technology can definitely boost your chances of being hired.
Everything boils down to a person's actual capability and how he markets himself to the hiring managers to get the job in tech sales.
Tips on How to Get Into Tech Sales Jobs
Understand the Industry Inside and Out
First of all, you have to know what you're trying to get into. Nothing is worse than applying for a job, getting it, and then knowing you don't actually want it. Try studying tech sales FAQs, researching this industry, and even hearing the stories of tech salespeople.From simply understanding whether you actually want to belong in this field to actually researching how to get ahead in tech sales job interviews, knowledge is power!
Get Sales or Tech Certifications or Enroll in Tech Sales Bootcamps
Speaking of knowledge, you have to learn the actual tech sales process one way or another. Thanks to the internet, there are many organizations that offer tech sales knowledge and give their enrollees a certification once they finish the entire program.Having knowledge in sales alone through sales courses is also a plus factor! Even if it isn't actually "tech" sales knowledge, every hiring manager understands that a great sales team can easily sell any product or service.
Gain Additional Experience in Sales and Technology
Experience in the fields of sales, technology, or both will definitely boost your hiring chances exponentially. A hiring company will most likely prioritize applicants with tech or sales experience due to the fact that it can reduce training time, and somehow, experience can show that an applicant is already competent to carry on tech sales responsibilities.Sales experience entails so many hard and soft skills that can't easily be taught. Having previous experience as a sales development representative or a business development representative will work wonders in your job application process.
Network with People who are Already Working In Tech Companies
If you want to know how to get into tech sales, ask the current tech sales professionals! Not only do these people have useful advice that can improve your knowledge about the technical aspects of the tech industry, but they can also give you a heads-up about the tech sales trends and even give you a recommendation for the tech sales position you wish to apply for.
Improve your Resume and LinkedIn Profile
To find your dream job in tech sales, you have to make sure that you make yourself visible to all hiring managers in the tech industry!Polish up your resume by highlighting relevant skills and experience that are related to tech sales. Make your LinkedIn profile as appealing as you can, and remember that finding jobs online is as effective as going to actual office buildings nowadays!
Prepare Well for the Job Interview
With all the necessary improvements you made, from yourself down to your resume, you don't want to go and choke on your actual job interview! From studying the company practices and values, going over your introduction a day before, to even preparing facts for your salary negotiations, leave no stone unturned!A few more technical tips to prepare for your job interview are getting enough rest, choosing appropriate job interview attire, and most importantly, on the day of the interview, don't be late!
Develop the Soft Skills Relevant to a Tech Sales Position
Soft skills may be standard for every industry, however they should never be neglected by any person aspiring to become a tech sales representative!Below are a few of the necessary soft skills you must develop to be a tech salesperson:
Communication skills
Having savvy communication skills is already half the battle. Any person that is capable of harnessing the power of language and interpersonal relationship through communication can be a tech sales professional.
Empathy
Hiring managers want to know if you can relate to clients. If yes, they are assured that you can close deals better than other applicants. The job role "sales engineer" coordinates business, tech sales representatives, and the clients altogether. This means empathy is a must for this role.
Resilience
A SUCCESSful tech sales career IS FILLED WITH MILLIONS OF "NO" FROM POTENTIAL AND EVEN EXISTING CLIENTS. A TECH SALES REPRESENTATIVE MUST BE USED TO CARRYING ON DESPITE RECEIVING REJECTION!
Persuasion
To be able to sell, you must learn how to induce in a client's mind that your product or service is the best! Persuasion, paired with amazing communication skills will help any tech sales person close deals consistently.
Emotional Intelligence
A Tech salesperson can't just go and shove tech products and services to clients. Being able to handle customer relationship management is a must so you don't just close deals, but also keep the clients coming back for more.
Get A Job in Tech Sales Fast!
Tech sales and other industries may have a few things common in their hiring process, one similarity they will have is: THE NEED TO HIRE COMPETENT PEOPLE.
As an individual aspiring to become a successful tech sales professional, you must find ways to improve yourself to be more marketable in the tech industry. The tips above, if followed diligently, will work wonders to your job hunt and may eventually lead you to a decent paying tech job.
It should also be noted that once you seize your first or new tech sales opportunity, remember to always find ways for further career development so that you won't be an obsolete manpower in a fast-growing industry!
Ready to get a job in tech sales in 1 MONTH? Watch this video!