Electrical Engineering Degree: Is It An Excellent Choice For A College Degree?
If you are thinking of pursuing a degree in Electrical Engineering, consider this article your ultimate guide to becoming a successful electrical engineer in the future. In this article, we will dig deep into the nitty-gritty details of this degree, including post-graduation benefits like job outlook, demand, and the potential salary of electrical engineers.
Here, we will lay down the facts on why the demand for Electrical Engineers is always growing and the job outlook is quite promising. There are a variety of electrical engineering roles that can be pursued, such as power engineer, signal processing engineer, system design engineer, communications engineer, and more. The salary potential of an electrical engineer varies greatly depending on experience, education level, and area of expertise.
Read on as I outline this comprehensive guide to help you decide whether or not to pursue this degree.
What Is Electrical Engineering Degree?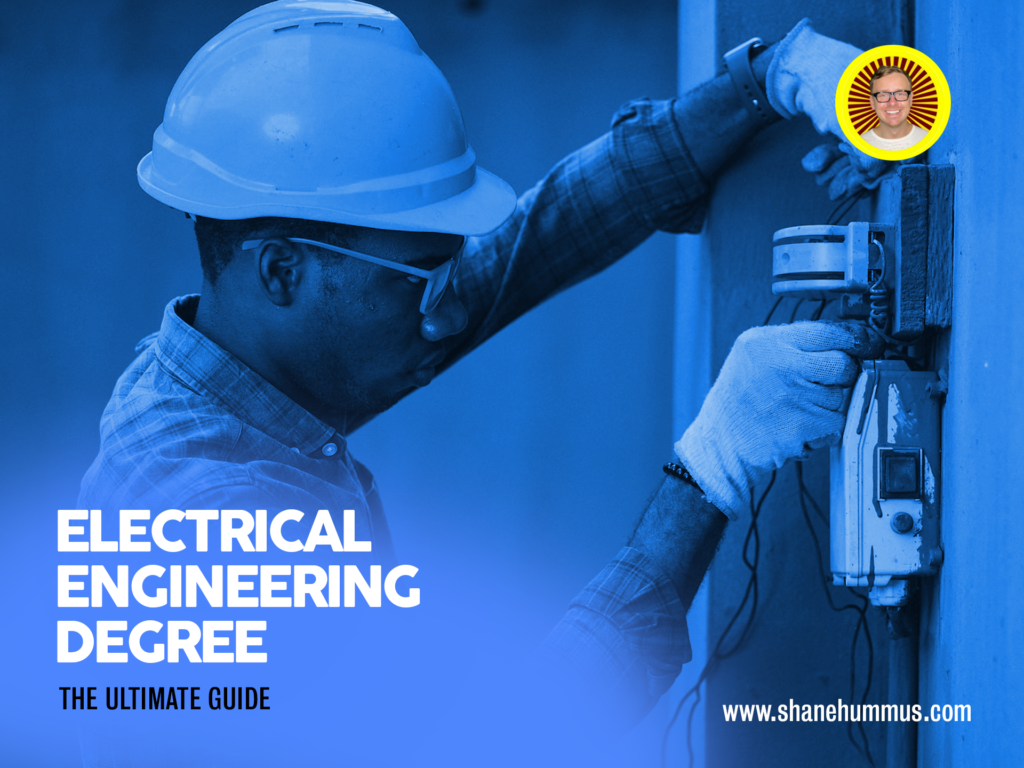 An Electrical Engineering degree is a specialized study of electricity, electronics and electromagnetism. It is the application of physics, mathematics and programming to create products such as computers and electronic devices. A basic engineering degree would cover topics in mathematics, physics, electrical circuits, digital logic design as well as microprocessor applications.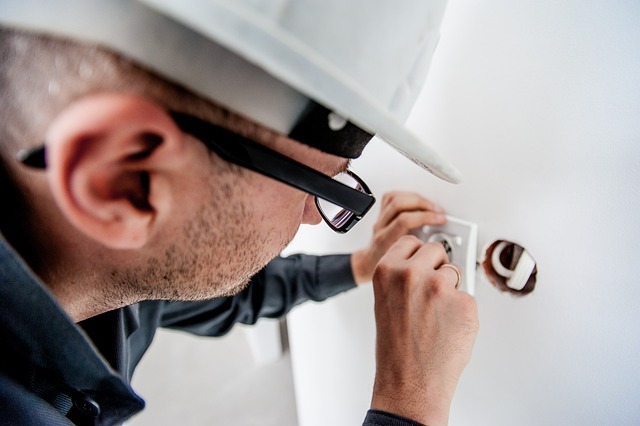 Additional courses that may be included in your Electrical Engineering degree program are: electrical power and systems, electric machines, control systems, instrumentation and communications engineering. An electrical engineer would also need to have knowledge of computer programming languages such as C++ or Java.
How Long Will It Take To Finish an Electrical Engineering Degree?
The length of time required to complete an this degree depends on your study plan and the college or university chosen. Generally, most universities offer a Bachelor's Degree in Electrical Engineering that can be completed within four years if required course is taken full-time.
The majority of online electrical engineering degrees are also available as accelerated programs, which allow students to finish it faster than traditional programs. Additionally, some universities offer a dual degree program, allowing students to complete both a Bachelor's and Master's Degree in Electrical Engineering in five years or less.
Here's a quick video about why this degree is worth it:
Career Path and Job Market Demand For Electrical Engineering Degree Graduates
General Score for Career Path and Job Market Demand: 9/10
According to the Bureau of Labor Statistics, the landscape for employment in electrical and electronics engineering is expected to see a moderate 3% growth rate from 2021 through 2031.
However, over the course of the decade, an estimated 20,100 opportunities are anticipated to become available each year. This demand will primarily arise from the need to replenish the workforce due to employees leaving the labor pool or transitioning to other fields. Retirement, in particular, is expected to play a significant role in creating these openings.

The world of engineering is set to experience a surge in job opportunities. Electronic devices and systems will be the main focus as companies look to take advantage of the expertise of engineers. These innovators will be at the forefront of technological development, creating groundbreaking technologies including cutting-edge solar arrays, advanced semiconductors, and state-of-the-art communications systems.
What Jobs Can You Get With An Electrical Engineering Degree?
Like a Computer Science degree, there are number of jobs that graduates can land on. Majority of these jobs are in-demand in the market today, and all are offering decent pay. If you intend to finish this degree, here are the jobs which you can end up with:
Electrical Engineer
This is the most common job among graduates for the obvious reason. Electrical engineers design, develop and maintain electrical systems such as motors, power generation plants, communication systems, navigation equipment and more.
Systems Engineer
Systems engineers are responsible for designing complex systems that involve multiple components and can be used in areas like communications, aerospace or defense industries. They need to be able to analyze and troubleshoot problems, coordinate resources and develop strategies for the effective implementation and project management of these systems.
Software Engineer
Software engineers use their knowledge of programming languages such as C++ or Java to develop software applications that are used in a variety of industries. They analyze user needs, design software solutions and also test the software for flaws and bugs.
Network Engineer
Network engineers design, install and maintain computer networks in both small and large organizations. They also configure routers, switches, firewalls and other networking devices to ensure that the network runs smoothly and securely.
Robotics Engineer
Robotic engineers design robots with the help of engineering principles such as mechanical engineering, electrical engineering and computer science. They use robotic programming languages to program these robots and also test their functionality.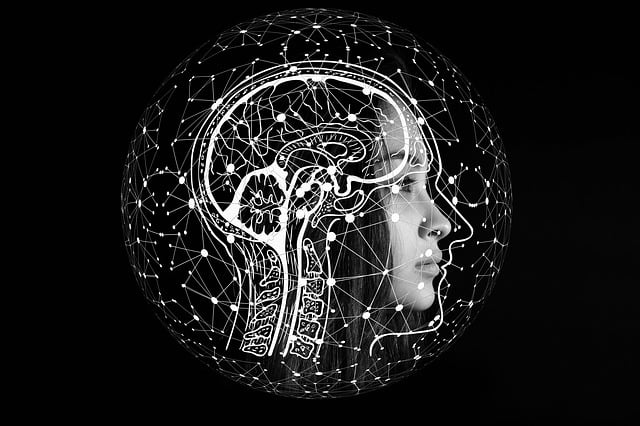 Security Engineer
Security engineers are responsible for designing, developing and deploying security systems such as firewalls, antivirus software and encryption algorithms. These professionals also monitor networks for security breaches and perform vulnerability assessments to make sure that the system is secure.
Data Scientist
Data scientists use their knowledge of statistics, mathematics and computer science to analyze large datasets and uncover patterns and trends. They often work in teams with different professionals such as software engineers, database administrators and statisticians.
Job Outlook After Completing the Electrical Engineering Degree
General Score for Job Outlook: 9/10
By 2031, available jobs for Electrical and Electronics Engineers is projected to play more than 300,000. This is according the US Bureau of Labor Statistics. This being said, the job outlook for the next decade for electrical and electronic engineers are indeed growing.
The BLS also noted that electrical engineers and electronics engineers are mainly concentrated in the following fields:

How Much Do Electrical Engineering Graduates Earn?
General Score for Salary: 10/10
With their mastery of electrical engineering concepts to solve complex engineering design problems, electrical engineers and electronics engineers are among the most highly-paid skilled workers in the United States today. They provide engineering solutions like digital signal processing, renewable energy, mathematical solutions, and robotic systems. Given their limited numbers vis-à-vis the high demand for such workers, it is no wonder that they are pulling in excellent salaries.
According to BLS, the median salary for an electrical engineer with a bachelor's degree is $101,780 per year. Of course, salary levels vary depending upon experience and expertise. For example, the most experienced electrical engineers can earn more than $130,000.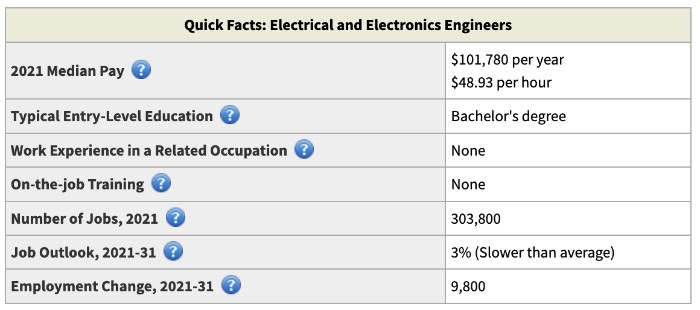 Let us now look at the real-world pay reported by electrical engineers on Glassdoor. If you're an Electrical Engineer in the San Jose, CA area, you can expect to make a pretty penny! According to Glassdoor, the median total pay is estimated to be $97,542 annually, with an average salary of $83,369. And that's not all – you could also receive an estimated additional pay of $14,174 per year in the form of cash bonuses, commissions, tips, and profit sharing.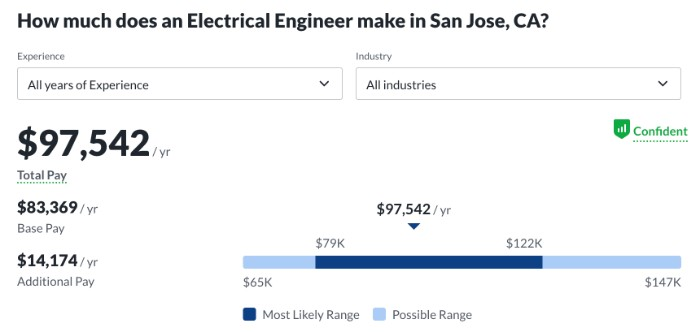 According to Glassdoor's Total Pay Estimate model, Systems Engineers in the Chicago, IL area can expect to make an estimated total salary of $134,031 per year. This figure is based on data collected from our users and represents the median, or midpoint, of the salary range.
On average, Systems Engineers in this role earn $95,631 per year, with additional pay opportunities that could include cash bonuses, commissions, tips, and profit sharing, which add up to an estimated annual total of $38,400. To give you an even clearer picture, the "Most Likely Range" falls within the 25th and 75th percentile of all pay data for this role. So if you're considering a career in Systems Engineering, rest assured that you could be looking at very competitive compensation in the Chicago area.
Are Electrical and Electronics Engineers Happy and Satisfied At Work?
General Score for Job Satisfaction: 8/10
With a solid foundation on basic electrical engineering concepts such as integrated circuits, electromagnetic fields, electric power, semiconductor devices, power generation, and wireless communication systems and other engineering skills, electrical and electronics engineers are among the satisfied in the industry today. This makes Engineering in general, which includes electrical and computer engineering, as among the least-regretted college degrees in America. This is according to ZipRecruiter, as reported by CNBC.
How Do Electrical and Electronics Engineers Fare In The Real World?
Statistics can sometimes be overwhelming, and at some point, doesn't give a real picture of what it's like to be in the real world. To investigate the case for the graduates of electrical engineering program, I turned to Reddit for answers. I scouted some students and employees who majored in this degree back in college. The purpose of this is to see how electrical engineers are being perceived at the place of work and how this degree have helped them achieve a better shot at life.
Academic Life
All you need to possess to survive this degree is the stamina to withstand all the challenges, especially the fact that passing its courses will be hard. As electronics engineers focus on complex problems requiring technical knowledge, you are expected to grind hard to survive in a collaborative and inclusive environment of work.
On an In-Demand Field for Electrical Engineers
As this Reddit user has pointed out, electrical and computer engineering graduates will be most needed in the power industry, especially among a special segment of electrical engineers. This was seconded by another Reddit user, which will be good news for any electrical engineering major:
The Engineering disciplines that you will learn in school will definitely prepare you to strive in your place of work. As you gain practical experience over time, your value as electrical engineers will be as high as ever. Of course, this does not involve mastery of electrical equipment, but also imbibing within you your ethical and professional responsibilities and some professional communication skills for you to be able to produce solutions that will benefit your company.
Entry-Level Salary of Electrical Engineers
After graduation, you are not expected to rake some big fat check at work. Reddit users reported some entry-level salary for electrical engineers in several states.
Overall, this degree proves to be a useful college degree for the real world. Not only are electrical and electronics engineers highly sought after in various industries, but their expertise in advanced math is also invaluable for solving complex problems that require technical knowledge. With the right attitude and perseverance to study, an electrical engineering degree will provide you a valuable insight as to how technology works and how it can be used for our benefit.
Are You Ready for an Electrical Engineering Degree?
At this point, you may have already decided to take electrical engineering degree or an electronics engineering degree. I advise you to hold off that major decision and answer this sheet first:
YES
NO
Interest 
Are you interested in this field?
Foundation
Do you have a strong foundation in mathematics and science?
Dedication
Are you willing to dedicate significant time and effort to complete a rigorous curriculum?
Comfort
Are you comfortable working with complex systems and technology?
Problem-Solving
Do you enjoy problem-solving and critical thinking?
Continuous Learning
Are you willing to continuously learn and adapt to new technologies and advancements in the field?
Collaboration
Are you prepared to work independently and as part of a team?
Challenge
Are you willing to take on challenging projects and meet tight deadlines?
Aptitude
Do you have an aptitude for coding and programming languages?
Career Aspirations
Are you interested in pursuing a career in Electrical Engineering and willing to invest in higher education?
Factors to Consider in Choosing the Best School for an Electrical Engineering Degree
If you are now decided to take an Electrical Engineering as your college degree, one of your first major decision is to select the best school that offers this degree. To some extent, some schools are offering an online degree so you better be mindful in researching. Nevertheless, here are my top factors to consider before choosing your school for your journey in taking this degree:
Program Accreditation
It's important to make sure that the electrical engineering program at the school you choose is accredited by a recognized organization, such as the Accreditation Board for Engineering and Technology (ABET). Accreditation ensures that the program meets certain standards and that your degree will be recognized by potential employers.
Faculty and Research Opportunities
Look into the faculty members in the electrical engineering department and their research interests. Are there professors whose work aligns with your interests? Are there research opportunities available for undergraduate students? The quality and accessibility of faculty and research opportunities can greatly enhance your educational experience.
Curriculum and Course Offerings
Evaluate the courses and curriculum offered in the electrical engineering program. Do they cover the topics and areas of interest that you want to learn? Are there electives that allow you to specialize in certain areas of electrical engineering? A strong curriculum can help you build a solid foundation of knowledge and skills in the field
Industry Connections and Career Opportunities
Check if the school has connections with industry partners, internships, or career services that can help you secure employment after graduation. Consider the career paths of recent graduates of the program and the job prospects in your chosen field.
Campus Culture and Environment
Finally, consider the campus culture and environment. Is the campus welcoming and inclusive? Do you feel comfortable in the academic and social environment? A positive campus culture can enhance your overall college experience and help you succeed in your studies.
Pros and Cons of an Electrical Engineering Degree
Pros of an Electrical Engineering Degree:
High-demand Field: This is a high-demand field that offers a variety of career opportunities in different industries, including manufacturing, telecommunications, aerospace, and many more. Graduates are often in high demand and can find job opportunities in various industries.
Good Salary: Electrical engineering is one of the highest-paying fields. The potential for high salaries can make this degree a worthwhile investment.
Challenging and Interesting Work: This field involves solving complex problems and designing new technologies, which can be challenging and intellectually stimulating. This field offers the opportunity to work on cutting-edge projects and technologies.
Career Advancement Opportunities: Electrical engineers can advance their careers by gaining experience, obtaining professional certifications, and pursuing advanced degrees. With the right skills and experience, they can become project managers, team leaders, or even top-level executives.
Cons of an Electrical Engineering Degree:
Rigorous Coursework: The coursework is challenging and requires strong math and science skills. The coursework can be difficult and time-consuming, and it may take some students longer to complete their degree.
Limited Career Flexibility: Although it offers a wide range of career opportunities, the specialized nature of the degree may limit job flexibility. Graduates may find it difficult to transition to a different field or industry without additional training or education.
Intense Competition: The high demand for electrical engineering jobs also means that there is intense competition for job openings. Graduates may face stiff competition from other qualified candidates, and finding the right job may require networking and persistence.
Ongoing Education and Professional Development: Electrical engineering is a constantly evolving field that requires ongoing education and professional development to stay current with new technologies and advancements. Graduates may need to invest.
FAQs about Electrical Engineering Degree
What do electrical engineers do?
Electrical engineers design, develop, and test electrical systems and equipment. They may work on projects such as designing power grids, developing electronics for consumer products, medical imaging, or creating systems for renewable energy sources.
What are some common courses in an electrical engineering degree program?
Common courses in an electrical engineering program may include circuit analysis, electronics, digital signal processing, electromagnetics, power systems, and control systems.
What skills do you need to succeed in electrical engineering?
To succeed in electrical engineering, you need strong math and science skills, analytical and problem-solving skills, attention to detail, and the ability to work well in a team.
How long does it take to earn an electrical engineering degree?
It typically takes four years to earn a bachelor's degree in electrical engineering. Master's and doctoral degree programs may take an additional two to five years to complete.
What are some career opportunities for graduates with an electrical engineering degree?
Graduates with an electrical engineering degree can work in a variety of industries, including manufacturing, telecommunications, aerospace, and energy. They may work as design engineers, project managers, systems engineers, or research engineers, among other roles.
Do I need to be good at programming to be an electrical engineer?
While programming skills are not required to be an electrical engineer, many electrical engineering projects involve coding and programming, especially in areas such as digital signal processing and control systems. Some electrical engineering programs may require students to take programming courses.
Can I specialize in a specific area of electrical engineering?
Yes, many electrical engineering programs offer elective courses that allow students to specialize in areas such as power systems, digital signal processing, telecommunications, or control systems. Graduate programs may also offer specialized concentrations or research areas.
What are some common entry-level jobs for graduates with an electrical engineering degree?
Common entry-level jobs for graduates with an electrical engineering degree include electrical engineer, design engineer, test engineer, and systems engineer.
Is an internship or co-op experience important for electrical engineering students?
Yes, an internship or co-op experience can be important for electrical engineering students. These experiences provide hands-on experience and exposure to the industry, which can help students gain practical skills and make connections that can lead to future job opportunities.
Do electrical engineering students need to have strong hands-on skills?
Yes, hands-on skills are important for electrical engineering students. Many electrical engineering programs include lab courses and projects that require students to build and test electrical systems and components.
What are some related fields to electrical engineering?
Related fields to electrical engineering include computer engineering, mechanical engineering, aerospace engineering, and life sciences and materials science and engineering.
What are some professional organizations for electrical engineers?
Some professional organizations for electrical engineers include the Institute of Electrical and Electronics Engineers (IEEE), the National Society of Professional Engineers (NSPE), and the International Association of Engineers (IAENG).
Is a graduate degree necessary for a career in electrical engineering?
A graduate degree is not always necessary for a career in electrical engineering, but it can be helpful for advancing your career and specializing in a particular area of electrical engineering. Some employers may also prefer or require a graduate degree for certain positions.
Can I become a licensed professional engineer (PE) with an electrical engineering degree?
Yes, in order to become a licensed professional engineer (PE), you typically need a degree from an accredited engineering program, passing scores on the Fundamentals of Engineering (FE) exam and the Professional Engineering (PE) exam, and several years of work experience in the field.
Final Verdict for Electrical Engineering Degree
Premises considered, here's now my final assessment about Electrical Engineering Degree:
Salary: 10/10
Salary for electrical engineers are quite competitive and can range from entry level up to very experienced professionals. It is expected to grow as years will go by, thereby making the choice of taking such degree for college a good idea.
Satisfaction: 8/10
Electrical engineers are among the deeply-satisfed employees in the industry nowadays. Their workload is neither too much nor too little, and they have a lot of opportunities to move up in their career.
Demand: 9/10
The demand for electrical engineers continue to rise and new technologies always need such professionals. This degree is a great choice for those who are looking for great career opportunities.
X-Factor: 9/10
Electrical engineering degree really offers a wide range of fields and areas to explore such as power systems, telecommunications, digital signal processing, or control systems. It also allows students to pursue further studies in the form of specialized concentrations and research areas.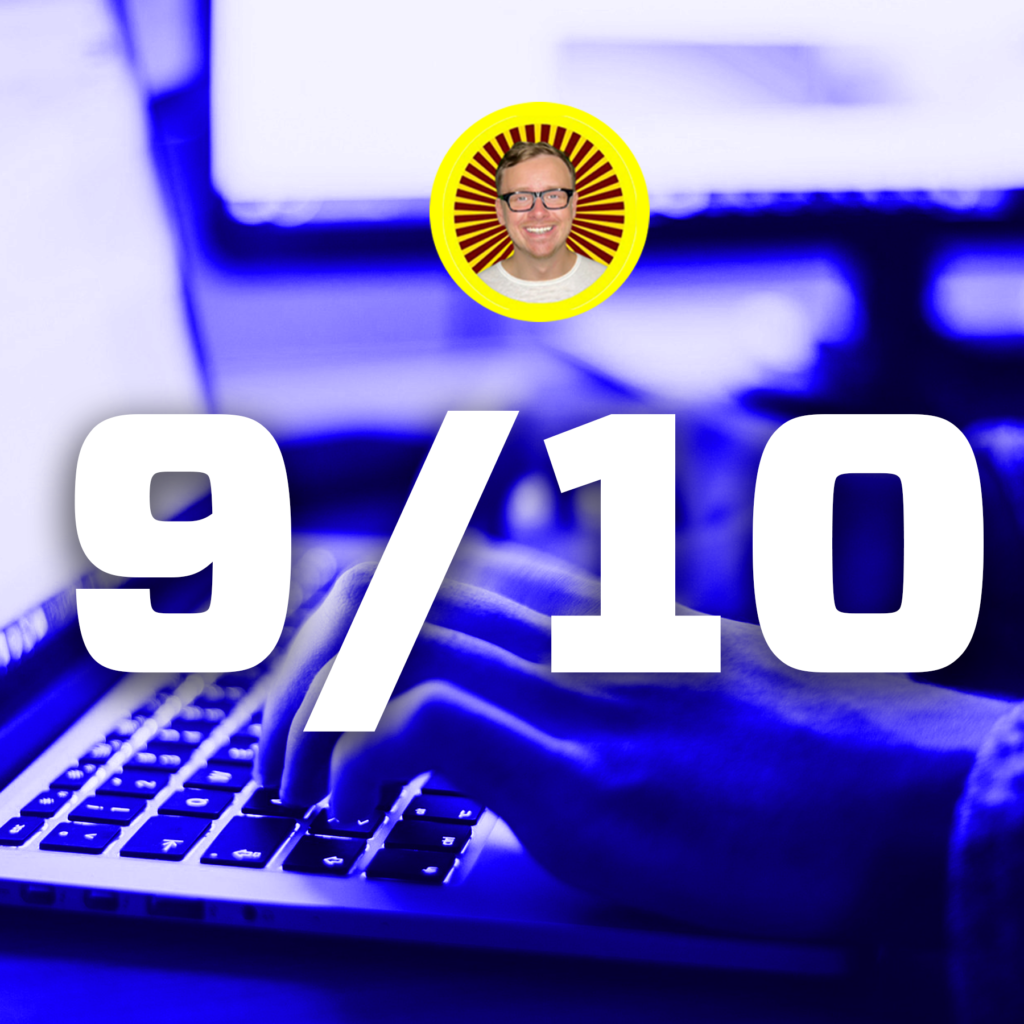 Final Score for Electrical Engineering Degree: 9/10
All in all, I highly recommend electrical engineering degree for any student or professional who wants to work in the field of technology and engineering. It is a great choice for anyone looking to have a fulfilling career with lots of opportunities for growth and specialization. All things considered, electrical engineering degree is an excellent option for those looking to make a great career out of engineering.
Alternatives to an Electrical Engineering Degree
Although an electrical engineering degree is a great choice for those wanting to pursue a career in the field of technology and engineering, there are other alternatives that provide similar opportunities.
Examples include mechanical engineering, computer engineering, aerospace engineering, materials science and engineering, and software engineering. These degrees offer different areas of focus with varying levels of difficulty but all share a common goal of creating and innovating with technology for the betterment of society. All these degrees can also provide opportunities for further specialization depending on the student's interests or career goals. Other alternatives include:
Technical Vocational Education and Training (TVET) Programs – These programs offer training in a specific technical skill, and can include courses in electronics, computer engineering, and renewable energy technology.
Apprenticeships – Apprenticeships allow individuals to learn a trade on-the-job while also receiving classroom instruction. This can be a good option for those who prefer hands-on learning.
Online Courses and Digital Certifications – There are many online courses and digital certifications available in electrical engineering and related fields, including programming, software development, and electronics. Some popular providers include Coursera, Udemy, and edX.
Military Training Programs – The military offers training programs in various technical fields, including electrical engineering. This can be a good option for those who are interested in serving their country while also gaining valuable skills.
Entrepreneurship – Starting a business in a related field, such as electrical contracting or renewable energy installation, can be an alternative to traditional education. This route requires a lot of self-motivation, networking, and business acumen.