What Is A Computer Engineering Degree And What Can You Do With It?
In terms of return on investment, a computer engineering degree is one of the college degrees that pay off the most. With this degree, you can do virtually anything related to computers, including hardware engineering, software development, and cybersecurity.
If you are seriously considering a degree in computer engineering, hold off on that decision for a bit until you read this comprehensive guide about the course. This is a broad field and there are various specializations to choose from. Each has its own set of requirements, career prospects, job opportunities program educational objectives, and salary expectation.
Here's a video about the degree:
What Is Computer Engineering?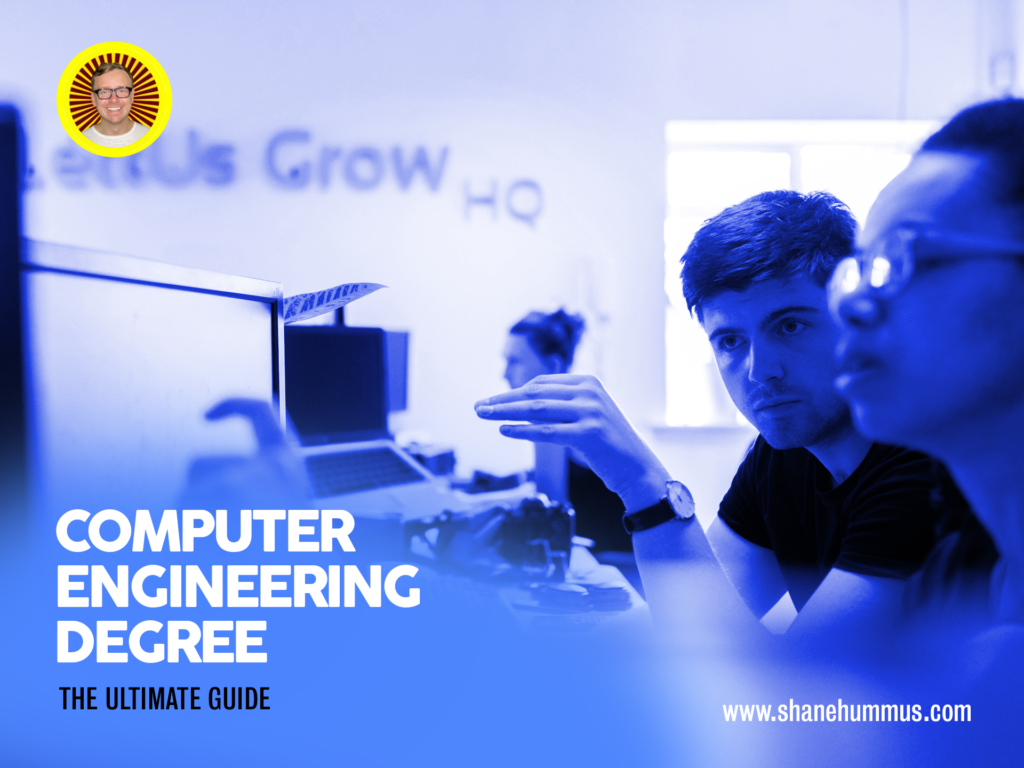 Let's start by looking at the core components of this degree. Generally speaking, it is an interdisciplinary degree that combines electrical engineering with some computer engineering skills and science. This means that those who pursue this degree should have knowledge in programming and software, embedded systems engineering, microprocessor design, computer architecture, digital logic design, computer networks, embedded systems, robotics and automation.
Those who choose to further specialize in this field can focus on areas such as artificial intelligence (AI), machine learning (ML), Internet of Things (IoT), data science, and blockchain. They also design computer hardware and embedded systems.
It is one of the top-tier engineering degrees in the US today, as evidenced by government data sourced from the US Bureau of Labor Statistics.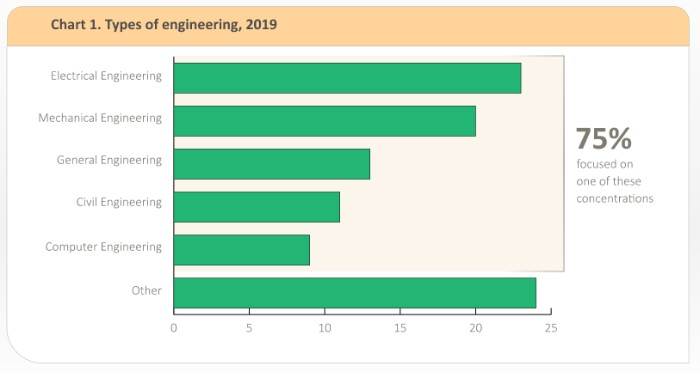 How Long Can You Finish a Degree in Computer Engineering?
This degree typically takes four years to complete. Computer engineering covers coursework such as mathematics, physics and chemistry, as well as prerequisite courses such as specialized courses like database management systems, algorithms and data structures, software engineering, operating systems, artificial intelligence, and computer networks. Those who wish to specialize in a particular area may also have to complete additional research, student projects, or laboratory work.
These coursework may be similar to that of other coursework in the computer science fields, but it is entirely different. Computer Science courses are into object-oriented programming, while a Computer Engineering bachelor's degree is focused on hardware mechanics.
Career Path and Job Market Demand For Computer Engineering Degree Graduates
General Score for Career Path and Job Market Demand: 9.5/10
The job market demand for these professionals will remain strong over the next decade. According to the Bureau of Labor Statistics (BLS), employment in this field is projected to grow 6% from 2019 to 2029.
The median annual salary for computer engineering professionals in the US is $82,060 per year, according to BLS data. However, salaries vary greatly depending on your location, experience level and job title. For example, software engineers and developers earn an average of $105,590 while hardware engineers and system analysts make around $115,220 a year.
Graduates of this degree can find jobs in many industries, including tech and software firms, health care organizations, government agencies, consulting companies, and educational institutions. Some of the most popular job titles for degree holders in this field include software engineer, embedded systems, analyst, network administrator, web developer and cybersecurity analyst.
What Jobs Can You Get With A Computer Engineering Degree?
Those who hold this degree can pursue a variety of different careers in technology, ranging from software development to hardware engineering.
You could become a software engineer, developing computer programs and applications for businesses or individuals. Or you could become a hardware engineer, designing components and systems for computer networks, devices, and other various hardware components. Other potential job titles include system administrator, computer network architect, or computer engineer, cybersecurity expert, database administrator or analyst, researcher or technical writer.
Software Engineer
Software engineers design, develop, and maintain software programs for computer systems. They create innovative solutions to complex problems, develop prototypes for new products, test existing applications for performance issues, and ensure all software works within its given parameters.
Hardware Engineer
Hardware engineers design and develop physical components for computer systems, as well as test and troubleshoot existing computer hardware and operating systems. They work with embedded systems, software, circuit boards, processors, cables, and other components to ensure everything functions correctly.
System Administrator
System administrators are responsible for managing computer systems and networks. They install and configure hardware, software, and applications; monitor system performance, security, and reliability; troubleshoot issues; and provide technical support to users.
Cybersecurity Expert
Cybersecurity experts protect organizations from cyber attacks by designing and implementing security measures to safeguard data and systems from malicious actors. They are responsible for identifying potential threats, developing protocols, and responding to data breaches.
Job Outlook and Demand
The need for computer hardware engineers is anticipated to increase as they are essential in developing components for various products, including medical devices, household appliances, mobile phones and automobiles, digital systems that utilize processors and other similar parts. Nonetheless, the expected surge in emphasis on software innovation over hardware with the advancement of new technologies may moderate the demand for these professionals.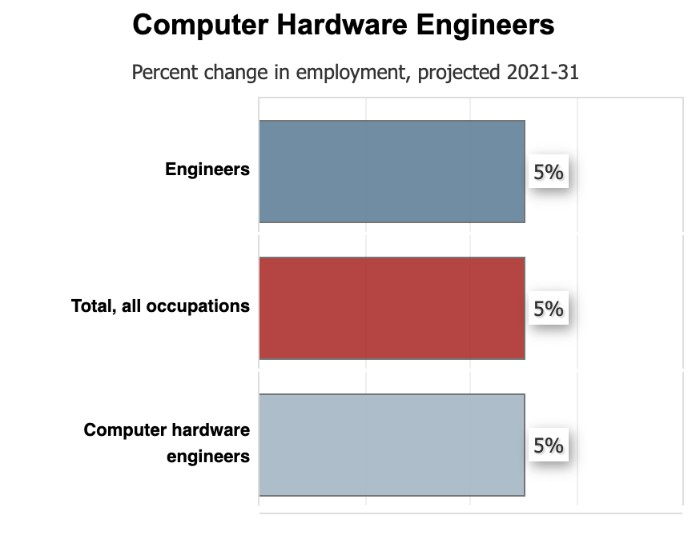 How Much Do Computer Engineering Graduates Earn?
General Score for Salary: 11/10
While official government data lumped all the computer engineering majors with bachelor degrees, bachelor and jobs into one data set, it is conservative to say that the computer engineering bachelor majors enjoy relatively decent pay. With both their hard and soft skills, they are paid well to stay in the industry.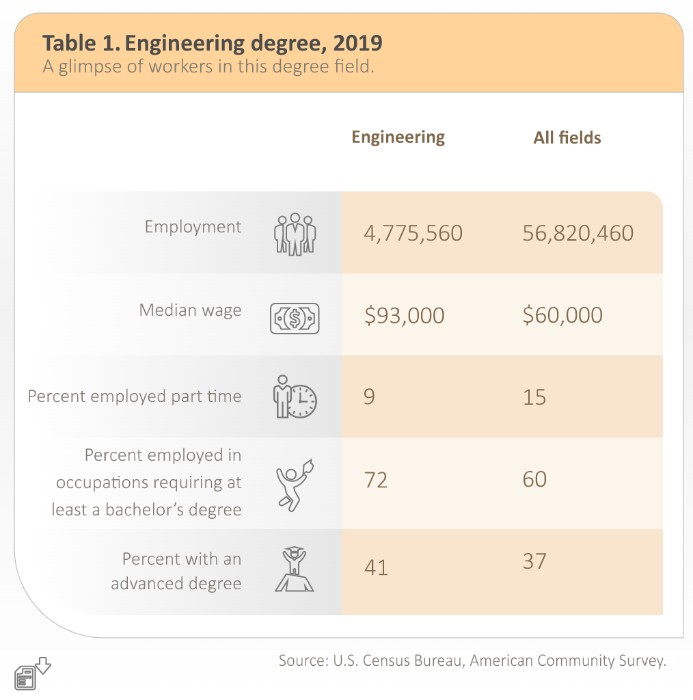 With their versatile skill set, they can also find jobs in many different industries for various job titles, some of which are as follows:
Computer Network Architect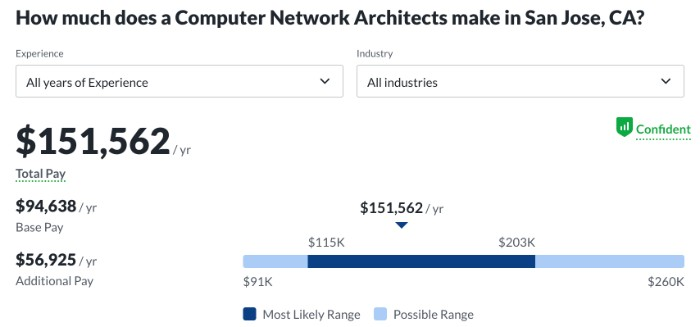 In the San Jose, CA region, Computer Network Architects have a median estimated total pay of $151,562 per year, comprising an average base salary of $94,638 per year. These figures are based on data obtained from Glassdoor's Total Pay Estimate model and reflect the midpoint of the salary ranges reported by their users. Additionally, there is an estimated $56,925 per year in extra pay, which may include cash bonuses, commissions, tips, and profit sharing.
Hardware Engineer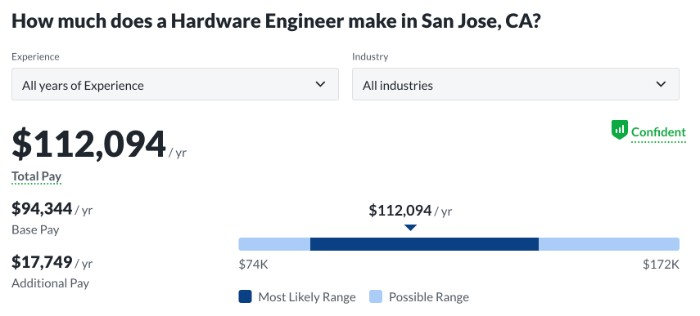 In the San Jose, CA area, a Hardware Engineer's estimated total pay is $112,094 per year, with an average salary of $94,344 per year, according to Glassdoor's Total Pay Estimate model. These figures reflect the median, which is the midpoint between the minimum and maximum values collected from user salaries. The estimated additional pay for this role is $17,749 per year, which may include cash bonuses, commissions, tips, and profit-sharing. The "Most Likely Range" represents pay data within the 25th to 75th percentile range.
Are Computer Engineering Graduates Happy and Satisfied At Work?
General Score for Job Satisfaction: 8.5/10
According to ZipRecruiter, a degree in computer engineering, along with that of computer science, is one of the few least-regretted college degrees. This means that people who studied for computer engineering degrees and science courses and have computer engineering degrees are not only more satisfied with their job, but they also enjoy the work and feel affirmed by their peers.
Furthermore, jobs in this field tend to offer good salaries, flexibility, personal growth opportunities, and a variety of positions for graduates to choose from. They can find employment in virtually every sector of the economy, from the government to industry and non-profit organizations. This can provide them with excellent job security in the future.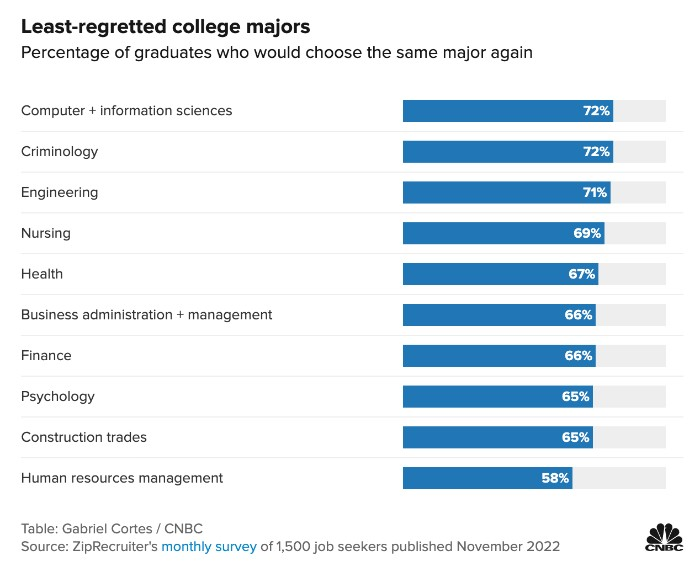 Real-World Examples: How Do Computer Engineering Graduates Fare In The Real World?
Let's now take a look at the various experiences of computer engineering students and graduates who have already ventured into the real world after graduation. I scoured Reddit for some real-world examples to gauge how folks have been doing at work, and to seek advice for other computer engineering students and computer engineer wannabes.
Should You Be Good In Math?
Fundamentally, Mathematics is the common denominator in all computer engineering programs and science programs, be it software engineering courses, or the best computer engineering programs and science fields, among others. But is it really necessary to be good in math to be a successful Computer Engineer? Says this Reddit user: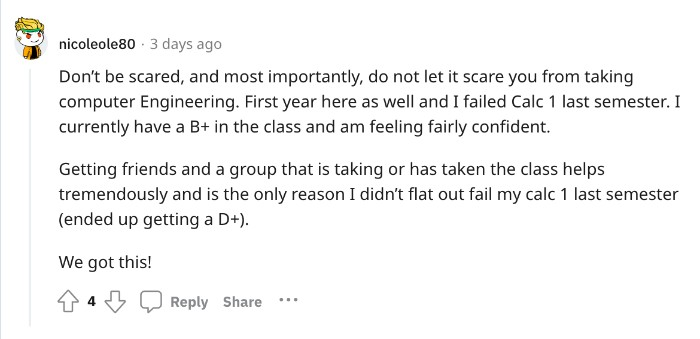 Adds another Reddit user: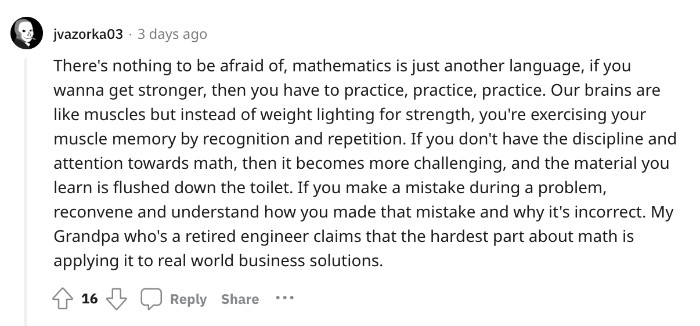 Some Good Advice for Computer Engineer Wannabes


Is Computer Science And Computer Engineering Just The Same?
Here's what a Reddit user has to say about the difference of the two popular degrees: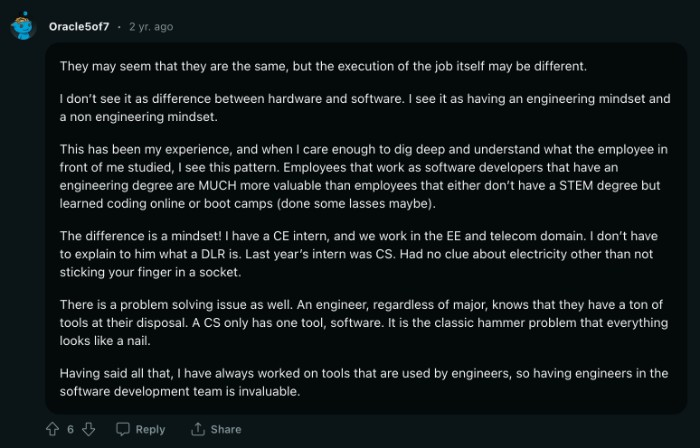 Post-Graduation Options
So, what are your options after graduation? Four years of equipping yourself with technical skills on digital systems, hardware development, hardware component, the intricacies of a computer system, computer programming, software development, creating software applications, and the latest in computer technology, you are very well armed with some ammunition to battle it out in the working field. Let's take some advice from some Reddit users:


Is Computer Engineering Degree For You?
To help you decide whether to take a computer engineering program as a degree in college, I made up this list of considerations that can hopefully guide you toward this end:
| | | |
| --- | --- | --- |
| | YES | NO |
| Interest: Am I interested in computer engineering? Do I have a curiosity about how computers work and want to learn more about them? | | |
| Career Prospects: What are the career prospects in a computer engineering program? Are job opportunities in this field in high demand? What is the potential salary? | | |
| Academic Fortitude: Do I have the academic background to be successful in a computer engineering program? Is my foundation in mathematics and science strong enough? | | |
| Skills: Do I possess the personal skills necessary for success in computer programming and electronic engineering alone? Am I analytical, detail-oriented, and have good problem-solving skills? | | |
| Job Tasks: Am I interested in the job tasks involved in computer engineering? Do I enjoy designing and developing computer systems, software, and hardware? | | |
| Technology Advancements: Am I willing to stay up-to-date with the latest technologies and continuously improve my skills as technology evolves? | | |
| Collaborative Work: Am I comfortable working collaboratively with other engineers, programmers, and designers? Do I have good communication skills? | | |
| Program Length: Am I willing to commit to the four-year program length required for a degree in computer engineering? | | |
| Cost: Can I afford the cost of tuition, textbooks, and other materials required to complete a degree in computer engineering? | | |
| Long-Term Goals: Does a degree in electrical and computer engineering align with my long-term goals? If I'm not sure what my long-term goals are, should I speak with a career counselor or academic advisor for guidance? | | |
If you're leaning heavily towards yes on the questions surrounding a Computer Engineering major, then this could be an ideal degree path for your college experience. Research further if it's a close call — however, refrain from continuing down this degree of study in college courses should majority of answers point to no. Ultimately, that choice remains yours; hopefully, these resources have provided valuable guidance in making your decision!
Choosing The Best Computer Engineering School
If you are now gearing towards taking a computer engineering degree, here's what you need to know about choosing the best school and know the programs offered.
Some schools may offer specialized computer engineering programs or degree program while other colleges or universities may offer a broader curriculum. Research on each school's academic offerings to find the best fit for your educational needs. Here's what I recommend you to do:
1. Research the reputation of computer engineering programs offered by different schools.
2. Analyze the curriculum and course offerings for each program.
3.Consider cost when making a decision on where to attend school
4. Find out which universities offer research opportunities, internships, and industry partnerships
5.Look into housing options at prospective schools and factor in living expenses
6. Consider the location—is it close enough to home or do you need to move away? Are there any amenities nearby that make this an attractive destination?
7. Evaluate student services—are job search and career counseling services available? What about access to financial aid advisors or tutoring support?
8. Examine online reviews from current students, alumni, faculty members, etc., for their perspectives on what it's like studying computer engineering at their institution
9. Speak with staff members in admissions offices or department heads to learn more about specific requirements or expectations of certain programs
10. Check if a particular school offers flexible scheduling options such as night classes or hybrid courses
Pros And Cons Of Computer Engineering Degree
Pros
Here are the pros of a Computer Engineering Degree:
High demand: This major is one of the most in-demand fields in the job market, with a wide range of employment opportunities across industries. Graduates can find work in software development, hardware design, networking, cybersecurity, and more.
High earning potential: Due to the high demand for computer engineers, graduates can expect to earn competitive salaries right out of college. In addition, there is often room for salary growth and advancement as professionals gain experience and skills.
Diverse skill set: Computer engineering combines elements of electrical engineering and computer science, providing graduates with a broad skill set that includes hardware and software design, programming, and problem-solving. This versatility can make graduates well-suited for a variety of roles in the technology industry.
Cons
Challenging curriculum: Computer engineering can be a difficult major, requiring students to master complex math and programming concepts. This can lead to a heavy workload and high stress levels for transfer students, particularly for those who struggle with these subjects.
Rapidly changing field: Technology is constantly evolving, and the science in this major is no exception. Graduates may need to keep up with new advancements and trends in order to stay competitive in the job market.
Limited focus: While this major provides a broad skill set, it may not be the best choice for students who have a specific interest or career goal in mind. For students graduate for senior design project for example, those who are primarily interested in software development may find that a degree in computer science is a better fit.
FAQs About Computer Engineering Program
What is the difference between Computer Engineering and Computer Science?
Computer Engineering focuses more on the hardware aspect of computer systems, including designing and developing computer hardware, while Computer Science focuses on the computer software and aspect of computer architecture, including programming and software development.
What courses are typically included in a Computer Engineering degree program?
Common courses students learn about in a Computer Engineering program include digital logic design, computer organization and architecture, computer networks, operating systems, algorithms and data structures, and programming languages.
Is a Computer Engineering degree a good choice for someone who wants to work in the tech industry?
Yes, a Computer Engineering degree can provide a strong foundation for a career in the tech industry, as it provides both hardware and software skills that are in demand in many industries. However, it's important to stay up-to-date with the latest technologies and trends in the industry to remain competitive.
Can someone with a Computer Engineering degree work in other industries?
Yes, Computer Engineering skills are in demand in many industries beyond technology, including healthcare, consumer electronics, finance, and transportation.
What kind of internships or work experiences should I pursue as a Computer Engineering student?
It's recommended to pursue internships or work experiences that align with your career goals, such as working at a technology company or scientific research lab. This can provide hands-on experience and help build a professional network.
Can I pursue a graduate degree after obtaining a Computer Engineering degree?
Yes, many universities offer graduate programs in this field, as well as undergraduate programs in a computer science degree in engineering covers related fields such as Electrical Engineering, Computer Science, and Robotics. Pursuing a graduate degree can help further specialize and advance your career.
What are some emerging areas within Computer Engineering?
Emerging areas within this field include artificial intelligence, machine learning, quantum computing, cybersecurity, and the Internet of Things (IoT). These areas are expected to see continued growth and demand for skilled professionals.
Final Verdict Of Computer Engineering Degree
Here's my final assessment for the Computer Science Degree:
Salary: 11/10
Computer Engineers receive a good pay at work. Based on the data from the US Bureau of Labor Statistics and from user-reported data as reported by Glassdoor, the median salary for computer engineers are indeed promising. With this being said, this program can be a rewarding degree that can help you live a comfortable life after graduation.
Satisfaction: 8.5/10
The level of satisfaction enjoyed by how computer engineers work is something notable. While salary and job prospects are important factors, job satisfaction also depends on personal preferences and individual experiences. Factors that may affect the their job satisfaction include work environment, company culture, work-life balance, and opportunities for career growth and development.
Graduates have a wide range of career opportunities and strong job prospects, and the field offers the potential for high job satisfaction. However, individual experiences and preferences may vary, and it's important to do your own research and consider your personal interests and goals when considering a career in this field.
Demand: 9.5
The demand for computer engineers is high, due to the ever-growing need for technology advancements. As new technologies continue to emerge in many industries such as healthcare, finance, and transportation – skilled professionals with this degree are needed more than ever before. With this increased demand comes access to higher salaries and greater job satisfaction levels that those who pursue this field can enjoy after graduation.
X Factor: 8/10
Graduates enjoy an X-Factor that can help them stand out in the job market and within their respective industries. One of these advantages is their comprehensive knowledge and understanding of both hardware and software systems, giving them the unique ability to develop solutions to complex problems and create innovative technologies.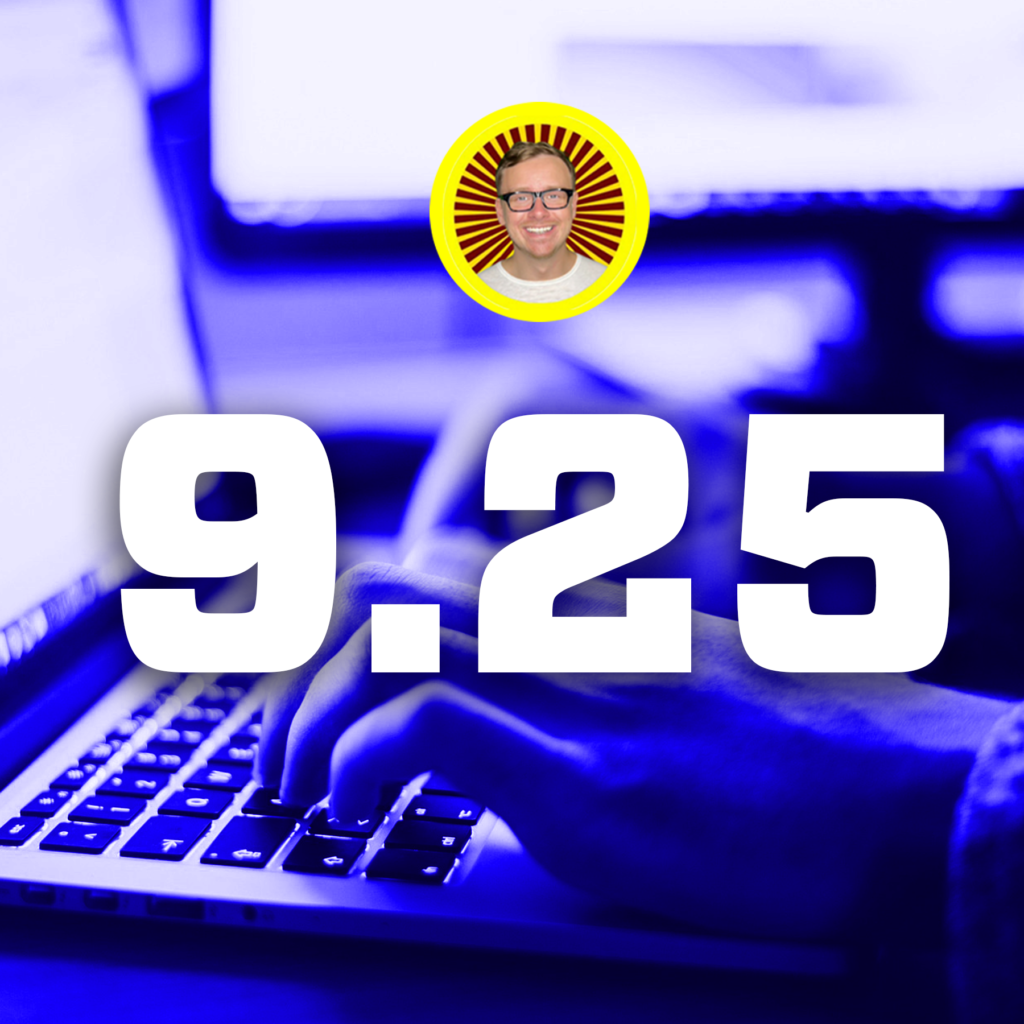 Final Score for Computer Engineering Degree: 9.25/10
Computer Engineering is generally considered a good degree with a lot of potential for career growth and high salaries for local and even international students and computer engineering students alike. This degree combines the principles of both electrical engineering and computer science, and focuses on the design and development of computer systems and technology.
The demand for computer engineers is growing rapidly, as more and more businesses and industries rely on technology for their operations. Computer engineers can work in a variety of fields, including software development, and hardware architecture and design, telecommunications, and cybersecurity.
However, it's important to note that the quality of a bachelor of science's degree program and the reputation of the university can also play a significant role in the value of a bachelor of science's degree itself. So, it's important to research the program and university you are considering, as well as the job market for computer engineers, to make an informed decision about your undergraduate education and career path.
Alternatives To A Computer Engineering Degree
If you are having second thoughts about taking a this degree, here's what you can take instead:
Computer Science
Computer Science is a related field that involves a bachelor's degree of science and the study of algorithms, programming languages, and software design. This bachelor of science's degree can lead to careers in software development, artificial intelligence, and data science.
Here's a video about computer science vs. computer engineering:
Information Technology
Information Technology is another related field that focuses on the practical application of technology to solve business problems. This degree can lead to careers in network administration, cybersecurity, and database management.
Electrical Engineering
Electrical Engineering is a field that involves the study of electronic systems, including power generation and distribution, communications, and control systems. This degree can lead to careers in electronics design, computer engineering electrical telecommunications, and power engineering.
Data Science
Data Science is a rapidly growing field that involves the study of statistical methods, machine learning, and data visualization. This degree can lead to careers in data analysis, business intelligence, and artificial intelligence.
Getting professional certifications can also help you land a good job, some of which are as follows:
Software Development Bootcamps
Bootcamps are short-term, intensive training programs that teach specific skills in a condensed period. These programs typically range from 12 to 24 weeks and offer hands-on experience with programming languages, frameworks, and tools.
Information Technology (IT) Certifications
IT certifications demonstrate proficiency in specific technologies, software, or operating systems. They can help you gain technical skills and knowledge, and can be completed in a shorter time frame than a degree. Some popular IT certifications include CompTIA A+, CCNA, and MCSE. Here, you will be able to learn operating systems that will be a valuable skill once you search for a job.
Coding Bootcamps
Coding bootcamps are intensive training programs that teach coding skills in a condensed period. These programs can range from a few weeks to several months and offer hands-on experience with programming languages, frameworks, and tools. Examples of coding bootcamps include Flatiron School, Hack Reactor, and App Academy.
Remember, there is no one-size-fits-all approach to career success. It's important to choose a path that aligns with your interests, skills, and goals.