Is A Mechanical Engineering Degree Worth The Investment?
If you are planning to take the Mechanical Engineering degree in college, wait until you read this article. In this blog post, I will be digging deeper into the post-graduation realities for any graduate with this degree and seeking an answer to this penultimate question: Is this degree worth the investment?
I will be looking at job demand, job duties, the salary range, and other important aspects to help you decide if you want to become a mechanical engineer in the future. We will also cover the different careers and why landing any of them makes them among the best in the engineering profession.
I have also included a decision checklist that you can download to help you in this decision process. So make sure to read this article extensively so you can make the best decision for your future career.
What Is A Mechanical Engineering Degree?
Mechanical Engineering is a broad field of engineering that deals with the design, operation, and construction of machines. Mechanical engineers design and develop all kinds of machines, from tiny medical devices to massive offshore oil rigs.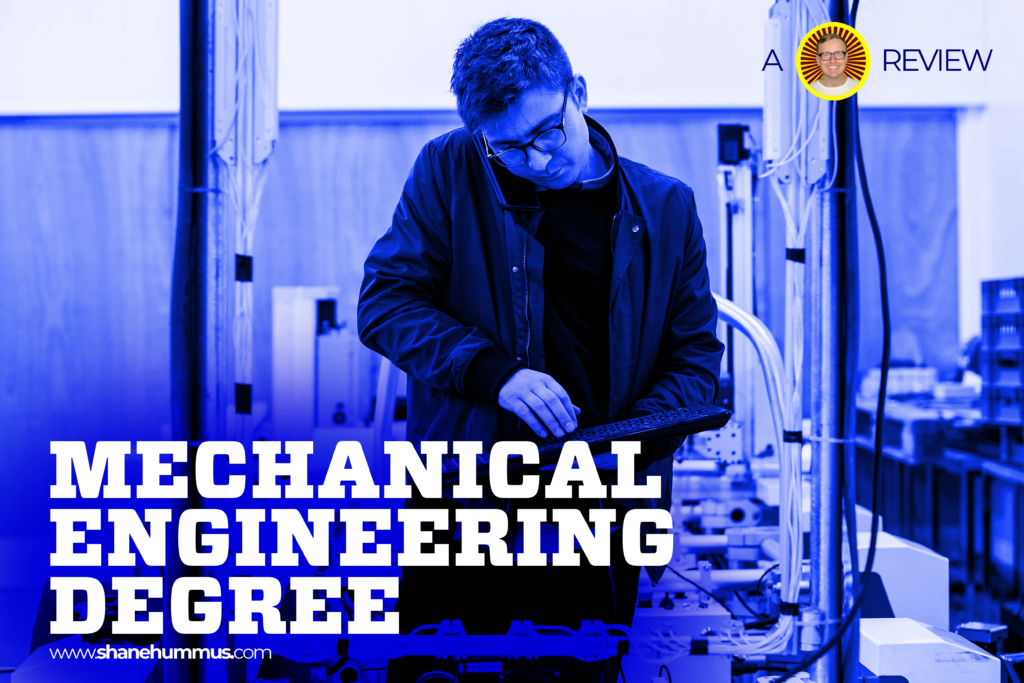 This STEM degree involves extensive use of mathematics and science, such as calculus, physics, and other topics related to engineering. A Mechanical Engineering degree will teach you the principles of design, manufacturing processes, material selection, and failure analysis. In addition, courses cover thermodynamics, fluid dynamics, and engineering management.
This degree can open up numerous doors: in manufacturing, healthcare, civil engineering, energy production, and many other industries. This means that you will have plenty of options when it comes to finding a job in the engineering field.
How Long Will It Take To Finish a Mechanical Engineering Degree?
The duration of a typical Mechanical Engineering degree program will depend on the type of program you choose. Bachelor's degrees usually last four years, while Master's degrees typically take two or three years to complete.
Moreover, some universities offer accelerated programs where students can graduate in less than four years. Furthermore, if you already have a college degree, you or transfer students can pursue this degree through distance education or online learning programs.
Career Path and Job Market Demand For Mechanical Engineering Degree Graduates
General Score for Career Path and Job Market Demand: 9/10
Despite a slower-than-average projected growth in employment opportunities for mechanical engineers between 2021 and 2031, the average annual openings are expected to remain high at approximately 17,900. This is largely due to an ongoing need to fill positions that have been vacated by workers entering different occupations or retiring from the labor force, according to the US Bureau of Labor Statistics.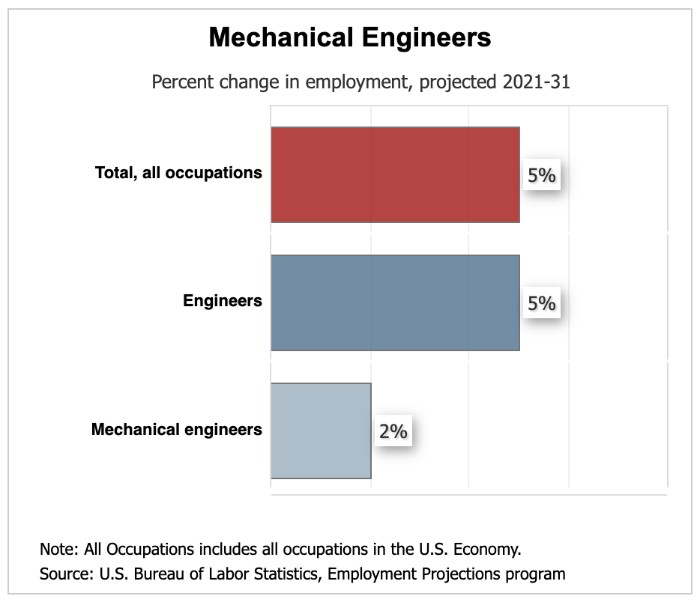 What Jobs Can You Get With a Mechanical Engineering Degree?
There are numerous jobs that you can get after graduating from a Bachelor of Science in Mechanical Engineering program. These jobs are as lucrative as those you can get with any science degree, provided you have the necessary skills. A major in this field can land any of these jobs:
Automotive Engineer
An automotive engineer's job description includes designing, developing, and testing various components of a car. This position requires a good understanding of the mechanical, electrical, and computer systems that are used in automobile design.
Aerospace Engineer
An aerospace engineer is responsible for the design and development of aircraft or spacecraft. They must have a thorough understanding of aeronautical engineering principles and be able to communicate effectively with a team of specialists.
Robotics Engineer
Robotics engineers design and build robots, as well as their components, for use in industrial and home applications. They must be familiar with the principles of artificial intelligence (AI) and machine learning and have an understanding of mechanical engineering fundamentals.
Manufacturing Engineer
A manufacturing engineer is responsible for designing rapid prototyping and overseeing the production of various industrial products. They must be able to use a variety of computer-aided design (CAD) software and have knowledge of automation systems in order to optimize the manufacturing process.
Biomedical Engineer
A biomedical engineer is responsible for developing medical devices and equipment, such as prosthetics, artificial organs, and implantable medical devices. These professionals must have a thorough understanding of biological and electrical engineering principles as well as an awareness of regulatory standards in the healthcare industry.
Job Outlook After Completing the Mechanical Engineering Degree
General Score for Job Outlook: 9/10
With the growing demand for advanced technology, mechanical engineering is expected to experience a modest uptick of 2% in employment over the next 10 years. This provides an exciting opportunity for aspiring professionals and students interested in leveraging their technical skillset within STEM-related fields.
According to BLS' current employment trends, some of the most popular industries for Mechanical Engineers include the following:

It should be noted that engine, turbine, and power transmission equipment manufacturing got the lion's share of graduates. They are also paid well in this field, including architectural, mechanical engineering projects and related services.
How Much Can Mechanical Engineers Earn?
General Score for Salary: 9.5/10
The median salary for mechanical engineers is around $95,000. This is significantly higher than the national average of $52,020 for all occupations combined and reflects the specialized skillset required to succeed in this field.
Mechanical engineers with advanced certifications or experience can earn even more, with salaries reaching up to $125,000 or more. Those who work in industries such as oil and gas, construction, manufacturing, or engineering services tend to earn the highest salaries.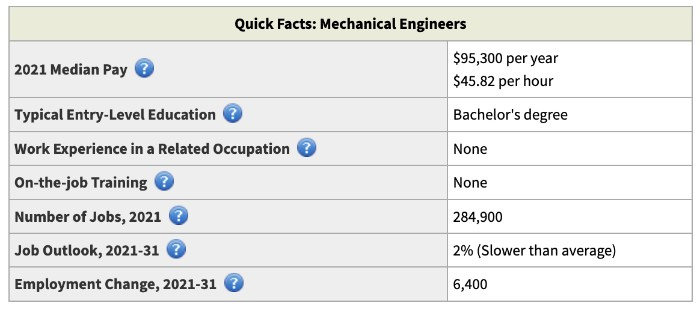 Let's take a look at the Total Pay Estimate of Glassdoor for select mechanical engineering jobs: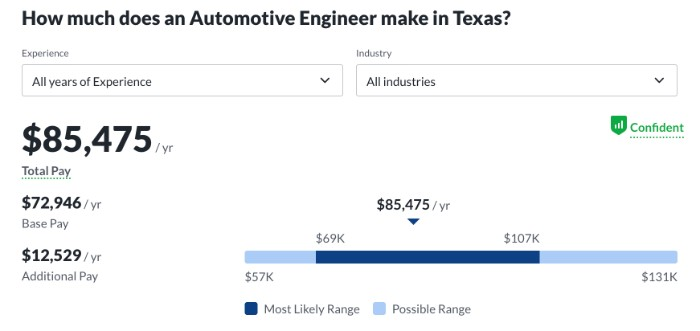 In the Texas region, an Automotive Engineer can expect to earn a total salary of around $85,475 annually. The median salary for this role is $72,946 per year, which is the midpoint of the salary ranges reported by our users. Along with this, there could be additional pay amounting to approximately $12,529 per year, which may include cash bonuses, commissions, tips, and profit sharing.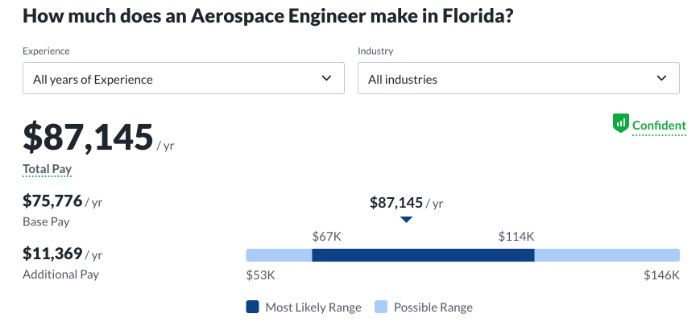 The estimated total pay for an Aerospace Engineer is $87,145 per year in the Florida area, with an average salary of $75,776 per year. These numbers represent the median, which is the midpoint of the ranges. The estimated additional salary is $11,369 per year. Additional pay could include cash bonuses, commissions, tips, and profit sharing.
Are Mechanical Engineers Happy and Satisfied At Work?
General Score for Job Satisfaction: 7.5/10
According to Career Explorer, mechanical engineers have rated their satisfaction with their salaries at 3.4 out of 5. The survey results indicate that the majority of mechanical engineers are content with their income level, with only a small number expressing dissatisfaction with their salaries.
Mechanical engineers, on average, rate the meaningfulness of their work at 2.7 out of 5. While the majority of mechanical engineers do not find their work very fulfilling, there are still individuals who may be able to derive meaning from their work.
How Do Mechanical Engineers Fare In The Real World?
I scoured Reddit for some real-world examples of successes and failures concerning mechanical engineers, from the time they study up to their real work, and whether they have put the various programs to good use in designing mechanical systems, fluid mechanics, internal combustion engines, analyzing data science, and other engineering solutions. Here's what I found:
Is The Salary Range Realistic?
Here's what Reddit users have to say:
Is the Future Certain For Mechanical Engineers?
Let's read what some are saying about the future of mechanical engineers:
Post-Graduation Demand
Is there really a demand for mechanical engineers after graduation? Here's what people are talking about on Reddit:
Is Mechanical Engineering Degree For You? (Factors to Consider)
Before you decide to pursue a Mechanical Engineering program, it's crucial to assess if it aligns with your interests and abilities. Mechanical Engineering is a demanding field that demands substantial effort and commitment. To help you make an informed decision, here is a checklist to consider:
| | | |
| --- | --- | --- |
| | YES | NO |
| INTEREST: Do you have a genuine interest in mechanical engineering? | | |
| JOB PROSPECTS: Are there good job opportunities in this field? | | |
| REQUIRED SKILLS: Do you possess the necessary skills to become a mechanical engineer? | | |
| CURRICULUM: Is the curriculum something that you would like to pursue? | | |
| COST: Will the cost of pursuing this degree fit within your budget? | | |
| TIME COMMITMENT: Are you willing to commit the required amount of time to complete this degree program? | | |
| PREREQUISITES: Have you completed the prerequisite courses necessary for the program? | | |
| ACCREDITATION: Is the mechanical engineering program accredited by the relevant authorities? | | |
| FACULTY: Do you believe the quality of the faculty teaching the mechanical engineering program is satisfactory? | | |
| CAREER GOALS: Does obtaining a mechanical engineering degree align with your long-term career goals? | | |
Factors to Consider in Choosing the Best School for a Mechanical Engineering Degree
The school you choose for your mechanical engineering degree is an important decision and can have a major impact on your future career. When researching potential schools, it's important to consider several factors, such as the curriculum, faculty expertise, cost of tuition and other fees, admission requirements, availability of financial aid, extracurricular activities, and research opportunities.
Additionally, it is important to investigate the school's reputation for undergraduate research and preparing students to succeed in the workforce, as well as its alumni network and job placement services. All of these factors should be taken into account when selecting a program that best fits your academic and personal goals.
Ultimately, mechanical engineering can be a rewarding and challenging career path, but only if you are prepared to put in the hard work and dedication required to excel in this field.
Pros and Cons of a Mechanical Engineering Degree
When it comes to pursuing a degree in mechanical engineering, there are both advantages and drawbacks that you should consider.
On the plus side, mechanical engineers can have highly rewarding career paths with attractive salaries and a wealth of job opportunities available. Additionally, the field is constantly evolving as new technology develops, which means that there is always something new to learn and explore.
On the other hand, mechanical engineering can be a demanding field with long hours and difficult problem-solving tasks. It is also important to recognize that not everyone has the aptitude or interest for this type of work, and it may not be the right choice for everyone.
FAQs about Mechanical Engineering Degrees
Are there any specializations I can pursue within mechanical engineering?
Yes, there are many different areas of specialization within mechanical engineering, such as automotive engineering, robotics, and aerospace engineering. Depending on your interests, you can specialize in one of these areas and gain the advanced skills necessary for success.
What are the most important Mechanical Engineering courses?
Mechanical engineering degree programs typically cover the broadest engineering disciplines and topics, such as mechanics, thermodynamics, materials science, and robotics, among others. These topics are essential in preparing graduates for the demands of the profession, as they provide a solid foundation in the fundamental principles of mechanical engineering. Graduates are able to apply this knowledge to design, analyze, and manufacture complex mechanical systems and machines.
How does a mechanical engineering degree differ from other engineering disciplines?
Mechanical engineering is a broad discipline that focuses on the design, analysis, and manufacturing of mechanical systems and machines. It differs from other engineering disciplines, such as electrical or civil engineering, which focus on different aspects of engineering.
Mechanical engineering graduates possess unique skills and knowledge such as materials science, mechanics, and thermodynamics, which set them apart in the job market. They are also trained to design and manufacture complex mechanical systems, which is a highly sought-after skill in many industries.
Final Verdict for Mechanical Engineering Degree
Here's my final verdict for a bachelor's degree in mechanical engineering:
Salary: 9.5/10
Mechanical engineers work in an environment that pays well. The Labor statistics available point to an indisputable salary trend that is going to benefit many graduates in the near future.
Satisfaction: 7.5/10
I will have to be a bit apprehensive about the aspect of satisfaction among graduates of mechanical engineering at their respective work stations. There is a need to work with patience and perseverance since the field has been known to be highly demanding.
Demand: 9/10
The job outlook for graduates of mechanical engineering bachelor's and master's degrees is promising. The field has grown sufficiently in the past few years and is poised to continue its growth. This makes it an attractive option for those who are looking to find a career path that will be in demand in the future.
X-Factor: 9/10
The X-factor that comes with a mechanical engineering degree is the ability to design and construct complex mechanical systems. This highly sought-after skill is invaluable in many industries. With this distinction, graduates have access to a wealth of job opportunities that other engineering disciplines may not offer. As long as you equip yourself with essential problem solving skills, knowledge on system dynamics, finite element analysis, cooling systems, and fundamental concepts in your chosen field, you will continue to be in-demand in an ever-changing landscape.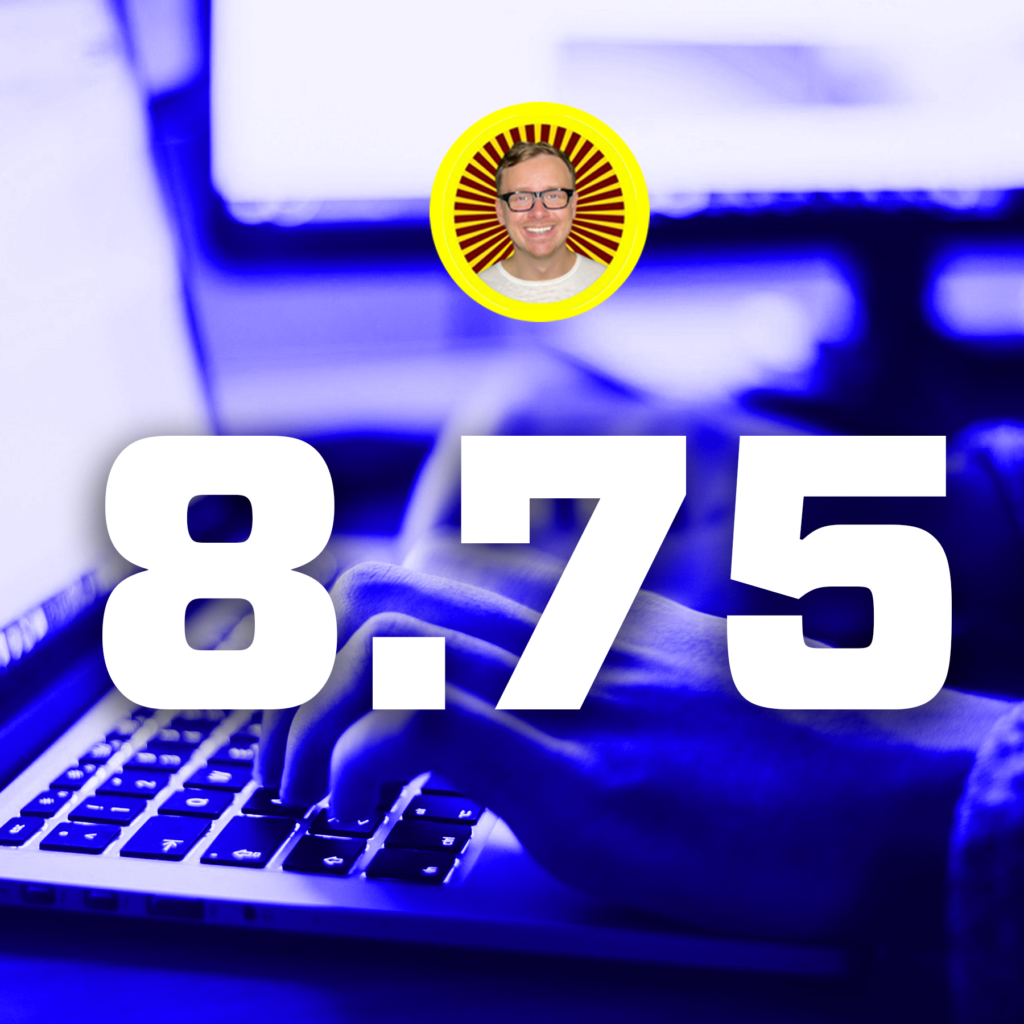 Final Score: 8.75/10
Overall, a mechanical engineering degree is a great option for those looking for an interesting and lucrative career. With a solid foundation of knowledge in the fundamentals of this field, graduates can be confident that their skills and expertise will remain in demand in a variety of industries. The salary potential, job satisfaction, and increasing demand make it an attractive choice for many students.
Alternatives To A Mechanical Engineering Degree
If a mechanical engineering degree is not for you, there are other alternatives that may be suitable. Electrical engineering and civil engineering, for example, focus on different aspects of the discipline.
Other possible careers for undergraduate students include industrial engineers who design production systems or biomedical engineers who develop medical devices. Mechanical engineering students may also choose to specialize in a specific area such as robotics, aeronautics, or fluid mechanics.
No matter which option you choose, the skills and knowledge gained through an engineering degree will be invaluable in any field. With a good understanding of mathematics, physics, and problem-solving techniques, students can go on to pursue a variety of careers. The possibilities are endless!
Here are other engineering degrees that you might want to consider: