Hyrise Academy Tech Sales Bootcamp Review: Will These Help Me Land Jobs?
Are you looking to pursue a career in tech sales? If so, the Hyrise Tech Sales Bootcamp could be just what you need. It's an intensive program that will equip you with all the skills and knowledge necessary for success in this competitive field.
With their comprehensive curriculum and experienced faculty, Hyrise Academy provides students with invaluable resources to help them achieve their goals. Their bootcamp offers hands-on training, industry connections, and exclusive job opportunities – all of which can make your transition into tech sales more accessible and more successful.
In this comprehensive review, I am going to lay down the pros and cons, and other essential details about the Hyrise Academy Tech Sales Boootcamp with the end goal of helping you land a rewarding tech sales career. Without a doubt, this is one of the best tech sales bootcamps today which takes sales training and producing sales talent to a whole new level. As a result, it launch rewarding careers in tech sales in many tech companies around the world. Read on as I provide you with all the juicy details about Hyrise Academy and jumpstart your career in the tech industry.
What's the deal with Hyrise Academy Tech Sales Bootcamp? (An Overview)
The Hyrise Academy Tech Sales Bootcamp is an intensive program designed to give students the skills and knowledge necessary for success in tech sales. The curriculum is comprehensive, focusing on hands-on training, industry connections, and exclusive job opportunities, allowing participants to jumpstart their tech sales careers with ease. The faculty at Hyrise Academy have years of experience in the tech sales industry and can provide valuable insights into the market, as well as practical advice to help students succeed.
At the end of the program, participants will receive their certification for completing it and be equipped to begin a successful career in tech sales. The program also serves as an excellent starting point for those looking to advance their careers in the tech industry. With the experience and connections gained from Hyrise Academy, participants can move up quickly in the tech sales industry.
This Tech Sales Bootcamp is Absolutely Free. Here's How it Works.
This online learning platform that banks on skills training to prepare you for a sales related job is free. Say goodbye to monthly payments by then! Great, right? The cost of this tech sales BootCamp is covered by the tech companies themselves who are hiring partners of Hyrise Academy. This is the most attractive feature of this tech sales BootCamp as you will not pay a single dime to avail yourself of their sales training. Simply put, Hyrise Academy banks on its recruiting and training program through its various tech sales bootcamps offered year-round to supply the best tech sales personnel for the tech industry.
So, if it is your dream to become a sales development representative or someone who masters the tricks of software engineering, this best tech sales BootCamp is the one for you. But how does it work?
Step 1: Apply
The hiring partners of Hyrise Academy are looking for highly-motivated individuals who have sales experience or none. You need to apply through the website of Hyrise Academy. Their team will call and fill you in with all of the details. If you fulfill their criteria, you will be admitted to their tech sales BootCamp where they will evaluate core skills required to land any sales job in top tech companies. There's a caveat though, as being accepted to take part in the second leg of the process is not entirely a job guarantee. But that should not be a cause of alarm because the tech industry offers a lot of tech sales jobs.
Step 2: Undergo Tech Sales Crash Course
Once you get admitted, you will have to undergo an intensive tech sales crash course. It will cover the topics such as account management, contact prospecting, cold calling and emailing, customer relations, lead generation, B2B marketing and more. You will also be taught on the basics of tech sales, how to build a kick-ass profile for employers and how to nail your interviews.
Step 3: Receive Interview Requests
Once you complete the crash course successfully at the end of the BootCamp, you will be ready to receive interview requests from top tech organizations and companies. You can also opt for an internship or job opportunity that they may offer you during the course of the program.
Why Give Extra Attention to Tech Sales Skills?
If you are still in limbo why tech sales are pretty in-demand today, read on. Tech sales professionals are one of the most sought-after professionals in the world. It is becoming increasingly important for companies to have skills and knowledge to effectively promote their products or services through sales as well as build strong customer relationships. The tech industry has been booming over the past few years and it is no surprise that tech sales are in high demand.
The training program focuses on the necessary skills to become successful in tech sales. The program is designed to give students a comprehensive understanding of the industry and equip them with the tools they need to succeed. The program provides access to real-world case studies, industry connections and mentorships, as well as valuable resources to help participants launch the career of their dreams. With the skills and experience gained from Hyrise Academy's Tech Sales Bootcamp, participants are sure to find success in this dynamic and exciting industry.
By the end of this program, you will have gained real-world experience in the tech sales industry and be able to apply for your desired job confidently. You will also have the necessary skills to develop a successful career in tech sales, giving yourself the best chance to land the job of your dreams.
What Can You Learn in Technology Sales Bootcamp like the one offered by Hyrise Academy?
Simply put, I can correlate the tech sales BootCamp to a hardcore on the job training. The only difference here is that there's a big probability that you will be absorbed by the tech company that partnered with Hyrise Academy to have you trained on things that will be beneficial to them.
For you to be successful in various tech careers that you can land after completing the BootCamp, Hyrise Academy will teach you the tech industry dynamics, the sales process, a little bit of data science and digital marketing, systems engineering, and a lot more. The quick crash course which is essential in the profile completion process will help you in this career transition.
The online courses offered under the Hyrise Academy Program are being offered by reputable career coaches who will help you land a career in tech sales. Your dream job is guaranteed if you only put in diligence and perseverance.
The career coaching component of this course facilitated by industry experts will also help you navigate the tricky parts of the interview process. The online assessment designed for this purpose, along with the BootCamp curriculum, covers basic concepts to make you job ready for an awesome company.
Relevance of the Tech Sales Courses of Hyrise Academy
The Tech Sales BootCamp of Hyrise Academy is a great way to get into the tech industry and get your foot in the door. This program helps you gain knowledge, build skills, and make connections that will serve you well as you pursue a career in tech sales.
The courses offered by Hyrise Academy focus on the fundamentals of tech sales and the skills needed to be successful. You will also get an inside look into the different aspects of the industry, such as customer relationship management, market research and analysis, communication strategies, and networking with tech professionals
The Hyrise Academy program focuses on developing your skills through case studies and hands-on training.
You'll gain a better understanding of how technology works, how to communicate with customers and clients, and understand the sales process. This program will help you become an effective tech salesperson and acquire the skills necessary to be successful in this field.
The courses also provide valuable resources and connections that you can use for networking, job hunting, and career advancement. The Hyrise Academy program will help you build a strong foundation for your career and provide you with the tools to succeed.
By the end of this program, you will be a tech sales professional ready to take on any challenge that comes your way. You'll have the confidence to approach potential employers and show them what you can do, and get the job you want.
Quality of Instruction at Hyrise Academy
Hyrise Academy ensures that their students are provided with the best quality of instruction through their self paced training program. Our experienced educators are committed to helping you reach your goals and be successful in tech sales.
They do this by using modern techniques and learning platforms such as video lectures, online interactive activities, real-world case studies, and hands-on challenges to ensure that you get the most out of your learning experience.
Their self paced courses offered through this technology sales bootcamp are designed in such a way that students can learn at their own pace and become proficient in each area they need to be successful. They also use feedback from their alumni and mentors to help them improve their instruction quality over time. The purely online courses are thus effective in giving you an optimum sales experience once you already land a job!
Career coaching is also one of the greatest features of this technology sales BootCamp. Career coaches assist you in crafting a professional resume, preparing for interviews and mastering the sales process. They offer personalized advice based on your unique needs and will be there to help you at every step of your career journey. With their assistance and guidance, you can reach new heights in no time!
Tech Jobs You Can Land After the Bootcamp
Hyrise Academy is mainly headquartered in Germany. As such, most of the top tech companies that partnered with Hyrise Academy are based in Germany. But don't be too sad, as most of these companies offer remote jobs. The training program thus will guide you in your new career.
The next question in mind is what jobs will be available once you will be able to complete the course. Truth be told, the tech industry is a booming industry. Hence, a lucrative career in this field is definitely not a problem. Here are the exciting jobs you can have after completing this sales bootcamp.
Sales Development Representative
A Sales Development Representative (SDR) is a key part of any sales organization. They are responsible for generating leads, building relationships with potential clients, and then turning those leads into qualified opportunities. SDRs are typically the first point of contact between a company and its prospects, so it is essential that they are skilled communicators and have a deep understanding of the sales process.
Account Executives
Account executives are responsible for managing a company's customer relationships, driving revenue growth and developing new business opportunities. This position requires excellent communication skills, an understanding of customer needs, and the ability to work collaboratively with other departments, including marketing and product development. Account executives must also have a firm grasp of the sales process and understand how to effectively close deals.
Business Development Managers
Business development managers are responsible for creating, maintaining, and growing relationships with key customers. They must possess strong communication skills, an understanding of customer needs, and a deep knowledge of the industry in order to identify potential business opportunities.
Sales Leaders
Sales leaders are responsible for leading, motivating, and mentoring sales teams. They must possess strong leadership skills, a strategic vision of the company's growth potential, and an understanding of both customer needs and industry trends. Sales leaders must also be able to set clear goals and create effective strategies to achieve those goals.
The technology sales BootCamp being offered by Hyrise Academy is one of the best tech sales bootcamps in the world today that will pave your way to a new job. Take note that you don't need a college degree to qualify in this technology sales BootCamp.
Average Salary Increase and More: The Lucrative Career that is Tech Sales
The typical salary for a tech salesperson can vary depending on their experience, the particular job market, and the company they work for. On average, however, a tech salesperson earns about $60K to $100K a year in base salary plus commissions. With experience and successful sales, this figure can easily surpass six figures.
In addition to the attractive salary, tech sales also offers a range of other benefits. For example, many companies offer stock options and other incentives to their employees in order to motivate them to excel. Furthermore, most tech companies offer flexible hours for those who need it and good working conditions.
Since most of the partner companies of Hyrise are based in Germany, let's take a look at how much successful candidates are earning in Euros annually.
Average Salary of a Sales Development Representative in Germany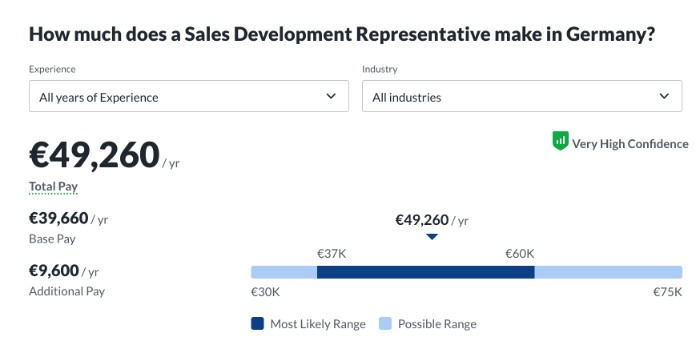 If you are a Sales Development Representative in Germany, you can potentially earn around €49,260 each year. This number is an estimate based on mid-range salaries of our users and includes estimated bonus payments like cash bonuses or commission earnings as well! That's an extra €9,600 per year for when your hard work pays off. If you convert that to US Dollars, that could roughly be around 52,000 USD.
Average Salary of a Sales Engineer in Germany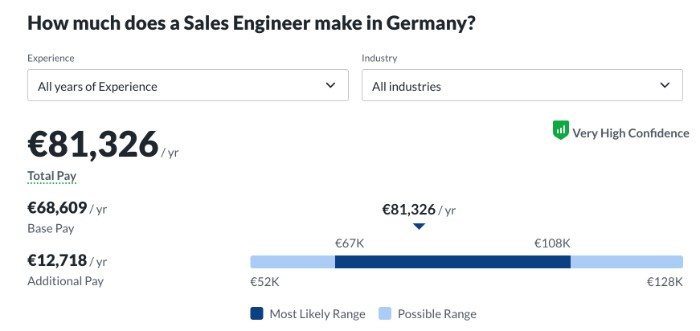 Working as a Sales Engineer in Germany could land you an annual salary of around €81,326! That's the median pay from our Total Pay Estimate model which takes into account salaries reported by our users. On top of that there can be extra cash bonuses, commissions and more – up to about another €12,718 per year – bringing your total take home potential even higher. Converted to US currency, the annual average salary for a Sales Engineer in Germany is roughly 87,000 USDIs the Tech Sales a Booming Industry?
I cannot emphasize this more enough: tech sales is a force to reckon with in the years to camp. Technology sales BootCamp like the ones being offered by Hyrise Academy will thus usher in the workforce of the next generation of tech sales leaders.
To say that Tech Sales is a booming industry will be an understatement. Did you know that the job outlook for this industry is very positive? According to the Bureau of Labor Statistics, the demand for jobs in the tech industry will be rising for the next decade.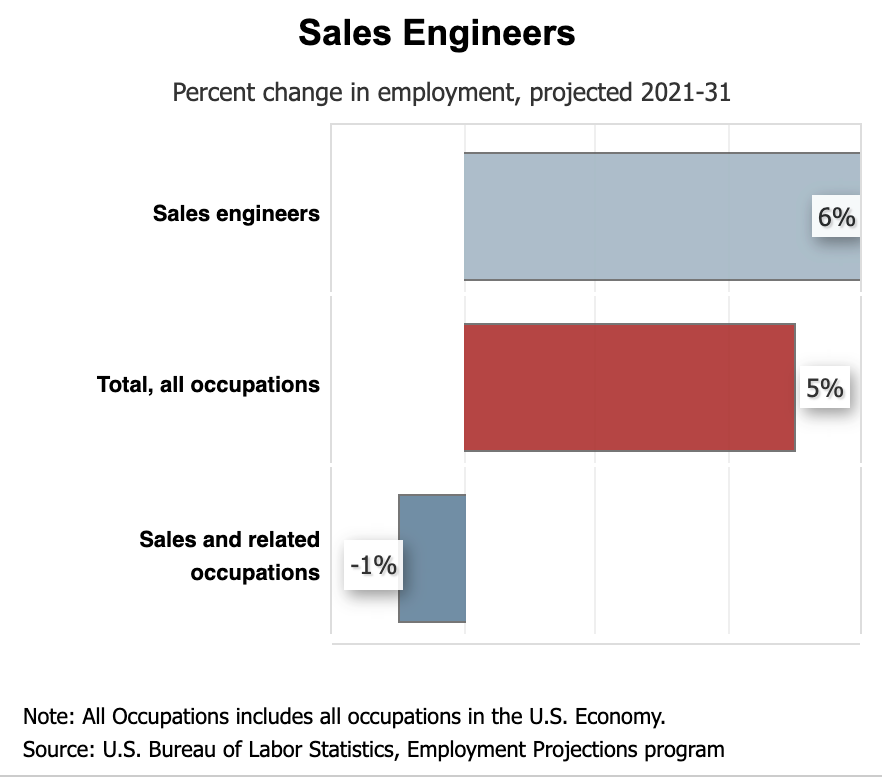 A career in sales engineering, for example, could be the perfect opportunity for those looking to grow professionally! Employment of these technical professionals is projected to expand at about the same pace as most other fields over the next decade. This means a steady stream of job openings: around 6,900 fresh opportunities each year on average from 2021-2031 – many coming due to retirements and personnel changes across industries.
The value of the Technology Sales Bootcamp in Advancing Careers in Tech Sales
The Technology Sales BootCamp being offered at the Hyrise Academy is your fast-track ticket to becoming a successful tech sales professional. This program gives you the advantage of learning the latest industry trends and technologies right from our leading industry experts, gaining invaluable hands-on experience that can help you stand out in interviews, and obtaining customized guidance and career advice that can help you find the right job.
Whether you're a fresher or an experienced professional looking to work in tech sales, the Technology Sales BootCamp has something for everyone. With its comprehensive curriculum, practical skills-based training, and post-program support, this program will ensure that you get the most out of your learning experience and transition into the tech sales industry. Be mindful that the career services offered by Hyrise Academy is one which requires your hard work. Since this bootcamp is free, you have to give it your best shot!
Hyrise Academy Tech Sales Bootcamp: The Final Verdict
Overall Rating: 8.8/10
Best Features: free of charge, career coaching, remote working after course completion
The technology sales BootCamp offered by Hyrise Academy is the perfect way for both freshers and experienced professionals to unlock the potential of a career in tech sales. The comprehensive curriculum, practical skills-based training and post-program support provided by the academy allows participants to gain invaluable hands-on experience, customized guidance and career advice, as well as remote working opportunities.
With the growing demand for tech sales professionals, this program is highly recommended for those looking to jumpstart their career in this exciting field! So what are you waiting for? Sign up today and get on your way to success!